Need to relieve your cold symptoms? Try this homemade smoothie that you make yourself!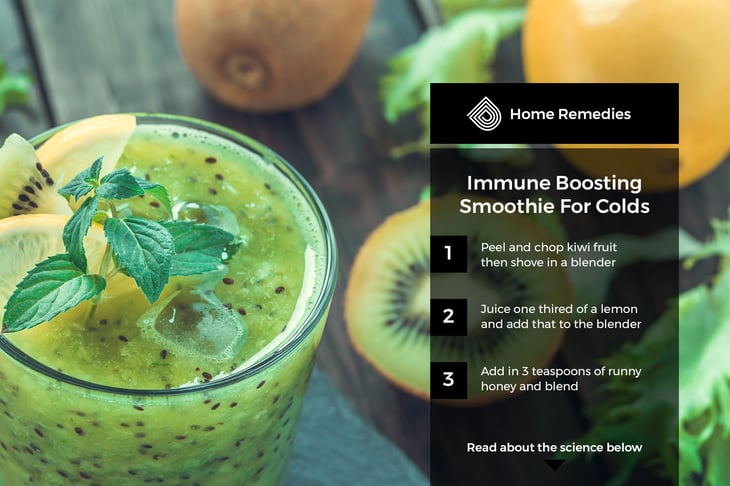 What it's good for
The science behind it:
This blend combines three of the most powerful anti-cold remedies in one potent brew.
Kiwi fruit, particularly the gold variety, has exceptionally high levels of various vitamins, in addition to potassium, fibre and phytochemicals – and studies have found it can reduce the length of colds and stop them cropping up in the first place.
Research has found honey to be more effective in improving the symptoms of coughs than several over-the-counter medications, while the lemon juice will add an extra hit of vitamin C – which has been shown to shorten the duration of the common cold.
Ingredients:
One whole Kiwi fruit (preferably gold)
Runny honey (three teaspoons)
One third of a lemon (juiced)
Instructions:
Peel and chop your kiwi fruit then shove it in a blender – leave it there for now. Juice one third of a lemon and add that to the blender – bonus points if you add any fleshy bits. Add in three teaspoons of runny honey and blend lightly. Be sure not to overdo it, since you want plenty of fleshy bits left over to help your body better absorb all the nutrients within.
Sources:
Benefits of Kiwi
Gold kiwifruit for immune support and reducing symptoms of colds and influenza: http://www.fda.gov.tw/upload/189/Content/2014012817144225758.pdf
Kiwifruit our daily prescription for health: http://www.ncbi.nlm.nih.gov/pubmed/23746068
Exceptionally high in vitamins C, E, K, folate, carotenoids, potassium, fibre, and phytochemicals acting in synergy to achieve multiple health benefits.
Benefits of Honey
Significant differences in symptom improvement were detected between treatment groups, with honey consistently scoring the best and no treatment scoring the worst: http://archpedi.jamanetwork.com/article.aspx?articleid=571638.