Sexual Health & STIs: An Overview
Everything you need to know about sexual health and STIs, including what the terms mean, where you can get tested for them, and how we can treat them.
CQC regulated
Push Doctor is regulated by the Care Quality Commission (CQC), the independent regulator of health and social care in England.
They are the foremost authority in our industry, assessing health providers' ability to provide people with safe, effective, compassionate and high-quality care – be they offline or online doctors.
Push Doctor is registered with the CQC under the name 'Push Dr Limited', with the registration number 1-5345986073.
Our most recent inspection took place in May 2019, concluding that the service we provide is safe, effective, caring, responsive and well-led – gaining a 'Good' rating overall. You can read the report in full on our CQC profile.
Secure data
Push Doctor uses the latest technologies to ensure utmost security. We utilise several layers of firewall security and encrypt all personal data to ensure it's safe.
All users are required to go through a two-step verification process to create and restore an account. Online access to an account is protected with a password that a user creates and PD apps support touch ID technology.
When using the platform, all personal data is transmitted through the internet using secure socket Layers (SSL) technology. SSL technology causes a browser to encrypt entered information before transmitting it to our secure server. SSL technology, an industry standard, is designed to prevent a third party from capturing and viewing Personal Data.
Authorised medicines seller
Push Doctor is registered with the Medicines & Healthcare products Regulatory Agency (MHRA), and fully approved to sell medicines from our website.
We have been approved sellers since our inception, with the company number of C46132. As authorised MHRA sellers, we are approved to sell the following as and when we need to do so:
Prescription only medicines
General sales list medicines
Pharmacy medicines
We regularly review the medications that we prescribe on our service, making sure to meet best practice and only ever provide outstanding care. With this, and our CQC rating, you know you are in safe hands.
GMC-registered GPs
All of our doctors are NHS-trained and registered with the General Medical Council (GMC), ensuring that you are only ever receiving the best possible care and advice.
We encourage you to familiarise yourself with our online doctors, check their GMC profiles for yourself – every doctor on our platform has one, which you can easily search the GMC's database for.
In the majority of cases, we even give a direct link to our doctors' LinkedIn pages so you can see where they have worked in the past and where they were educated.
You can also see who our medical support and data protection teams are as well.
We welcome scrutiny, and encourage you to get in touch if you have any questions, concerns or comments about the people that power Push Doctor.
What is sexual health?
The World Health Organisation (WHO) defines sexual health as "a state of physical, mental and social well-being in relation to sexuality". For the WHO, sexual health is more than just "the absence of disease, dysfunction or infirmity", but rather "a positive and respectful approach to sexuality and sexual relationships". They close their definition by writing that "for sexual health to be attained and maintained, the sexual rights of all persons must be respected, protected and fulfilled".
More commonly, when the term 'sexual health' is used by healthcare providers, it is to refer to the provision of screening, treatment and management programmes for sexually transmitted infections, though the WHO's definition is of course still useful in terms of a more positive overall image of sexual health and our attitudes towards sex and sexuality.
What are sexually transmitted infections (STIs)?
Sexually transmitted infections are infections that are caught or passed on through unprotected sex or genital contact.
What are sexual health conditions?
There are many conditions that can affect the sexual organs, but aren't infections. Sexual health conditions result from urinary tract infections (UTIs), mental health issues or the natural process of ageing. In other words, sexual health conditions impact the sexual organs, but are not necessarily transmitted sexually.
What forms of STI are there?
Some of the most common types of sexually transmitted infection found in the UK today.
Enter a condition or symptom to filter the conditions below.
There are no results for your search. Check your spelling or use fewer words or characters.
What is the difference between STIs and STDs?
STI stands for sexually transmitted infection, and STD stands for sexually transmitted disease. At first, these two terms seem interchangeable, but the "infection" rather than "disease" makes a world of difference. Medically speaking, an 'infection' refers to bacteria, viruses or parasites entering the body. That's all.
An infection can cause symptoms and medical complications, but this is not an essential part of the definition of an infection. A disease, on the other hand, by its very definition will cause symptoms and/or medical complications. An STD is an example of an STI for example, but an STI is not an example of an STD.
What forms of sexual health condition are there?
Some of the most common types of sexual health condition found in the UK today.
Enter a condition or symptom to filter the conditions below.
There are no results for your search. Check your spelling or use fewer words or characters.
How do you get an STI or sexual health condition?
Sexually transmitted infections (STIs) are acquired during vaginal, anal and oral sex, passing from person to person in blood, semen or vaginal and other bodily fluids.
Some STIs or sexual health conditions can be passed through non-sexual means such as via the blood, or even from mother to child during pregnancy. Speak to a doctor if you suspect this to be the case.
Your sexual health and STI questions, answered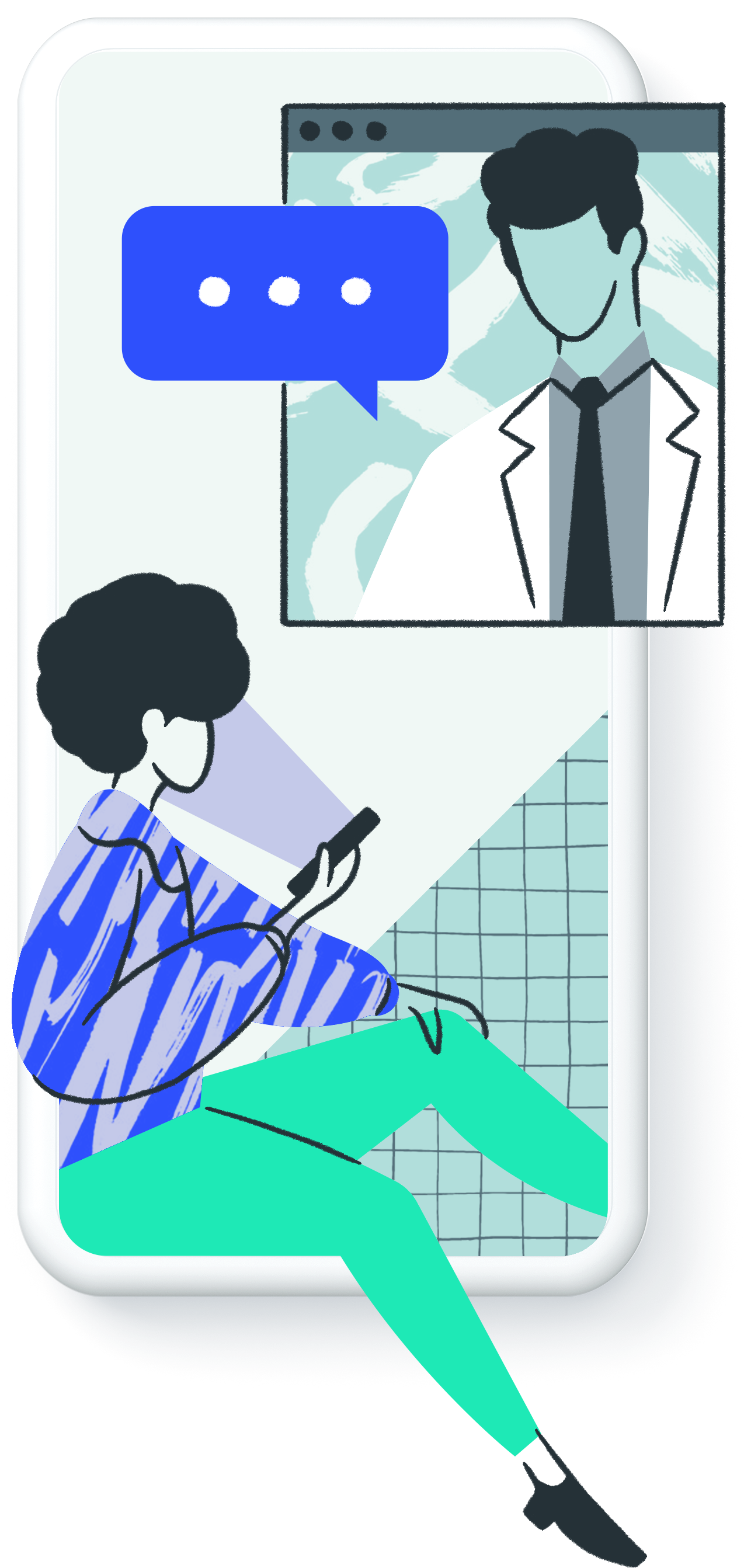 Where can you get checked for STIs?
You can get tested for sexually transmitted infections and sexual health conditions at the following:
How long does it take to get STI test results back?
The results of some STI tests are available the very same day, and treatment can start at the same time. For other tests, you may have to wait 1-2 weeks to hear back – if this is the case, your clinician will ask in what format you would like to receive your results. If you test positive for an STI, you will be invited back to the clinic to talk about what your results mean, and what treatment options are available to you.
How are STIs treated?
More often than not, STIs can be cured with antibiotics – though these will only be prescribed if absolutely necessary, due to increasing concerns around antibiotic resistance (read more here). Antibiotic resistance is already responsible for the creation of 'super gonorrhoea', so we leave it entirely to our doctors' discretion whether they choose to prescribe antibiotics or an alternative treatment path for common STIs.
Unfortunately some STIs like HIV cannot be cured, but there are treatments available to make their symptoms more manageable – your clinician can offer advice around the options available to you, and put you in contact with a counsellor if necessary.
No matter what, if you test positively your current and former sexual partners will need to be informed so that they can be tested and treated as well. You can choose to do this yourself, or ask your clinic to do it on your behalf without disclosing your name.