We've all experienced fatigue at some point. It's that feeling where you have absolutely no energy during the day.
There are many things that can cause fatigue, from insomnia to stress. One of the ways you can help yourself feel less tired is by improving your diet. What you eat (and don't eat) can have a huge impact on your energy levels.
If you're looking for ways to perk yourself up, try these two exclusive recipes at home. The ingredients here will help your body feel more energised and fight off fatigue.
Fatigue Free Smoothie
TASTES GOOD
This banana and walnut smoothie has such a creamy texture, it could almost be a milkshake! The lemon and mint gives it a zesty, fresh flavour that will ensure the start of your day is delicious as well as refreshing.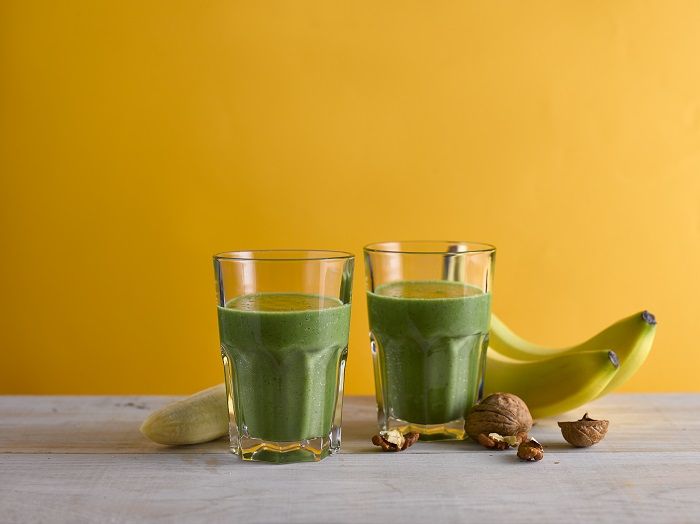 Ingredients
(serves 2)
2 bananas
80g walnuts
15g flaxseeds
100g spinach
80ml lemon juice
50g mint
150ml coconut water
How to make
Wash the spinach.
Blend all the ingredients in a food processor until smooth.
Drink immediately or refrigerate for later.
DOES GOOD
We recommend making this smoothie the night before, as it provides a really great start to the day. It's packed full of nutrients that will help you shake off the cobwebs and get you ready for whatever the day can throw at you.
One smoothie contains
Calories: 451
Carbs: 23.7g
Protein: 11.2g
Fat: 31.8g
Bananas
If there's one thing everyone knows about bananas, is that they're a great source of potassium. Your body needs this to convert carbs into energy. The more energy you have, the less tired you'll be.
Walnuts
Walnuts can also help with one of the key reasons for fatigue - lack of sleep. Walnuts can trigger your body's production of melatonin, the hormone that helps you fall asleep, so if you suffer from insomnia, have a handle before bed.
The benefits continue when you wake up, too. Walnuts have been shown to improve brain function and improve the speed at which we can process information. When your brain is able to handle more, you'll feel less stressed. Stress is one of the key causes of fatigue, so containing it is very useful.
They're also one of the best sources of omega-3 fats (aside from oily fish). While we tend to think of fat negatively, it's actually necessary for our bodies to absorb nutrients such as Vitamins A, D, E and K properly.
Spinach and mint
Spinach and mint provide you with beta-carotene, which is best known for improving your eye health. While it'll certainly help your vision, if you've not slept well, it can also add a bit of life to tired eyes.
Meanwhile, spinach contains many of the vitamins and minerals that the omega-3 fats from your walnuts will absorb and put to good use.
Coconut water
There's a reason for using coconut water instead of plain old H2O in this recipe. It's full of electrolytes that'll help stimulate your concentration and reaction time. As you now know, an active, alert brain is key to avoiding fatigue.
Beetroot Beats Fatigue
TASTES GOOD
This will help you turn your usual couscous salad into something much more interesting. Sweet apple, honey, beetroot and fig is complemented by salty cheese and tangy onion to create a lovely balance of flavours. We can assure you this colourful dish is as big a treat for the taste buds as it is for the eyes.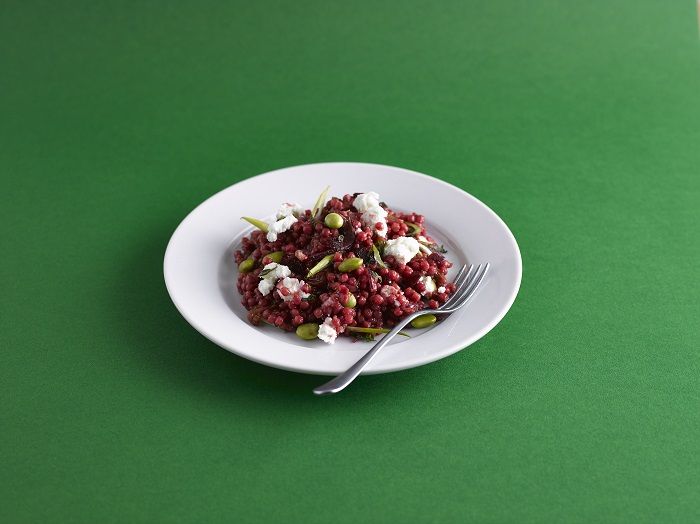 Ingredients
(serves 4)
150g giant couscous
200g cooked beetroot
400ml apple juice
½ red onion
120g edamame
50g goats cheese
50g dried figs
2 tbsp honey
20g parsley
30g mint
How to make
In a saucepan, bring the apple juice to the boil.
Add the couscous and simmer for 8 minutes.
Drain the apple juice into a container and save this for later.
Rinse the couscous under cold water to prevent overcooking.
Put the beetroot, honey and half the apple juice in a food processor and blend into a smooth purée.
Mix the purée into the couscous.
Finely chop the parsley and mint.
Slice the red onion.
Mix half the onion, herbs, cheese, edamame and figs into the couscous and put the rest on top of your salad.
Finish with a drizzle of the remaining apple juice.
DOES GOOD
The energy-boosting ingredients make this the perfect lunch to perk you up in the middle of the day. We've provided enough to make four portions here, so that takes care of most of the working week.
One portion contains
Calories: 454
Carbs: 70g
Protein: 10.5g
Fat: 6.1g
Couscous
You wouldn't think an unassuming bowl of couscous could do much for your health, but it's actually rich in a range of nutrients that are important for brain function, such as potassium, selenium, magnesium, folate, calcium and phosphorus.
Beetroot
Beetroot provides a healthy portion of manganese and vitamin B6, which can boost your mood. This is something that will relieve stress and help you feel less tired. Being in a bad mood can make everything feel like an effort and subsequently increase tiredness.
Figs
Figs are a good source of antioxidant Vitamins A, E and K. You need antioxidants to target rogue cells in your body known as free radicals, which damage healthy cells and have long been associated with fatigue.
Edamame
Then there's edamame, which is an extremely healthy green vegetable for a number of reasons. When it comes to fatigue, it contains lots of B vitamins that will give you energy and improve your brain function.
Feel tired all the time?
Now that we've shown you how certain foods can help with your fatigue, you can start to work this knowledge into your weekly meal plan. Eating the right foods at the right time is one way to help you feel fresh and alert throughout the day.
If you're worried about your lack of energy, our doctors will help you find the source of the problem. There are a number of physical and mental reasons that could be causing your fatigue.
Our doctors can discuss your symptoms and ask you a few simple lifestyle questions. The information you share will allow them to suggest practical steps you can take to feel less tired.
See a doctor
Try more healthy recipes