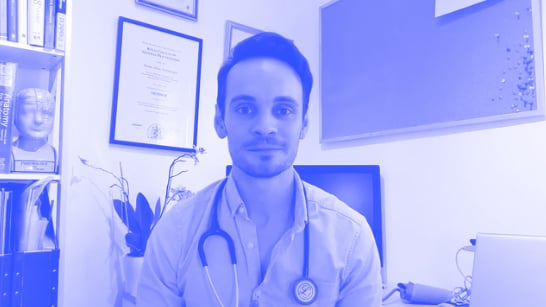 Medically reviewed by:
Dr Tom Micklewright - Medical Officer
Updated: Aug 18, 2021
Next review: Aug 18, 2022
Anxiety in pregnancy is completely normal, especially if you're a first-time mum. After all, pregnancy is a significant, life-changing event and in many cases your stress and worry comes from a natural desire for everything to go well.
However, if you're struggling to keep control of your anxiety symptoms during your pregnancy, our doctors are here to help.
During early pregnancy, there's a huge change in your body's hormonal balance. This can have a short-term impact on your mental health as your body adjusts.
You may feel constantly worried, irritable and unable to relax or control your emotions, even if your pregnancy is progressing exactly as it should.
Many of the physical symptoms of anxiety can be hard to diagnose during pregnancy. Issues such as loss of appetite, headaches, excessive sweating, tiredness and nausea are symptoms of anxiety, but also common during many pregnancies.
During your consultation, our doctors will ask you questions to determine whether or not your anxiety symptoms require treatment.
Post-pregnancy anxiety is relatively common.
Lots of women worry that they're not dressing the baby correctly, have anxiety around breastfeeding and worry that they aren't a good mother. This is all very normal and is a natural part of adjusting to your new situation.
If you already have children, coping with the new arrival and the lack of sleep, along all your normal tasks, can be very stressful.
In some cases, anxiety after your baby is born could be a symptom of postnatal depression, so if you're concerned, talk to a doctor.
Want to know how our doctors can help you? Learn more about treatment for anxiety.
There are certainly lots of myths on this subject. You might hear that anxiety makes it harder to get pregnant, increases the chances of premature birth.
There isn't sufficient evidence to suggest that anxiety during pregnancy will put your pregnancy at risk. However, studies have shown that raised cortisol levels can increase a baby's risk of heart disease or anxiety issues as they get older.
Once again, it's normal to feel nervous about your pregnancy and a small amount of anxiety is unlikely to have any effect on your baby. If you feel like your anxiety is becoming too much to deal with, see a doctor as soon as possible.
If you're trying for a baby, it's a good idea to speak to your doctor about your anxiety medication to check whether or not the medication you're taking could be harmful to you or your baby.
Our doctors will confirm whether or not it's safe to continue your treatment. If it isn't, they can recommend a suitable alternative medication, or suggest a switch to talking therapy.
You shouldn't make any medical decisions or stop taking your medication without consulting a GP first, even if you fall pregnant unexpectedly. Doing so could cause more harm than good, so make sure you get safe, effective advice from an experienced doctor.