Need to relieve your cough symptoms? Try this homemade tea that you make yourself!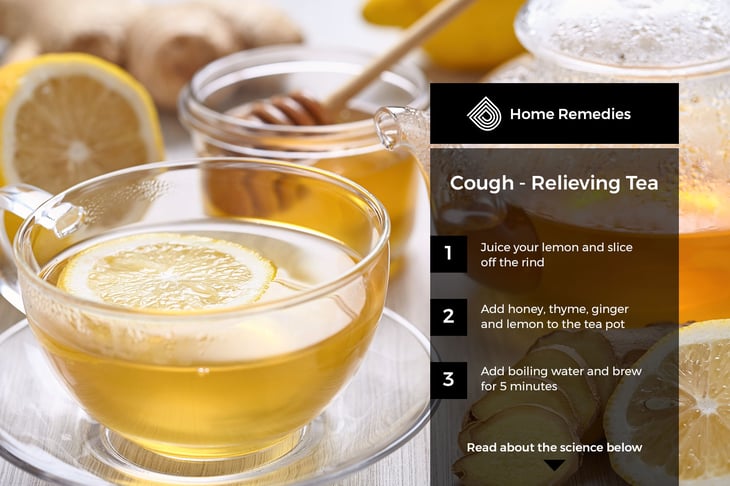 What it's good for
Relieving the symptoms of a cough
Sore throat
The science behind it:
This tea packs a powerful punch that'll provide quick and prolonged relief from the worst symptoms of your cough.
Honey has been consistently shown to outperform over-the-counter medication in terms of cough relief while the lemon will give you a hit of vitamin C, which can help to reduce the severity and length of coughs.
Ginger is a natural anti-inflammatory and the flavonoids in the thyme will help to relax the muscles involved in the coughing mechanism. The addition of warm water will help to hydrate tissues and also help to relax the muscles in your throat.
Ingredients:
One whole lemon, juiced
Half lemon rind, sliced
Runny honey (three teaspoons)
Ginger (one teaspoon)
Thyme (three sprigs)
Hot water
Instructions:
Juice your lemon and slice half of the rind. Pop them into a teapot, along with three teaspoons of runny honey, one teaspoon of ginger and three sprigs of thyme. Pour boiling water over them and leave for five minutes to brew.
Sources:
Benefits of Lemon

- http://www.medicalnewstoday.com/articles/283476.php

Benefits of Ginger

- http://www.webmd.com/vitamins-supplements/ingredientmono-961-ginger.aspx

Benefits of Honey

- http://www.medicaldaily.com/liquid-gold-7-health-benefits-honey-could-heal-your-whole-body-325932