Your skin is pretty important. After all, it's the largest organ you have, so it makes sense to care for it properly.
Skin provides a protective layer for your whole body and protects you against infection. It's essential for your physical health, while we shouldn't forget the psychological perspective too. Having healthy, beautiful skin can make you feel confident about your appearance and ready for anything.
Before you start throwing money at expensive cosmetics, you should consider that your diet may hold the key to the complexion you crave. Your food choices make a big difference, from fighting signs of ageing to keeping your skin hydrated so it doesn't become dry.
To show you how to get good skin and provide the nutrients it needs, we've created these tasty recipes that'll ensure it stays in the best condition possible throughout your life.
Berry Boost Skincare Smoothie
TASTES GOOD
If you've got a sweet tooth, you'll love this smoothie. The combination of fresh berries, beetroot and carrot comes together perfectly to create a drink that's delicious at any time of the day.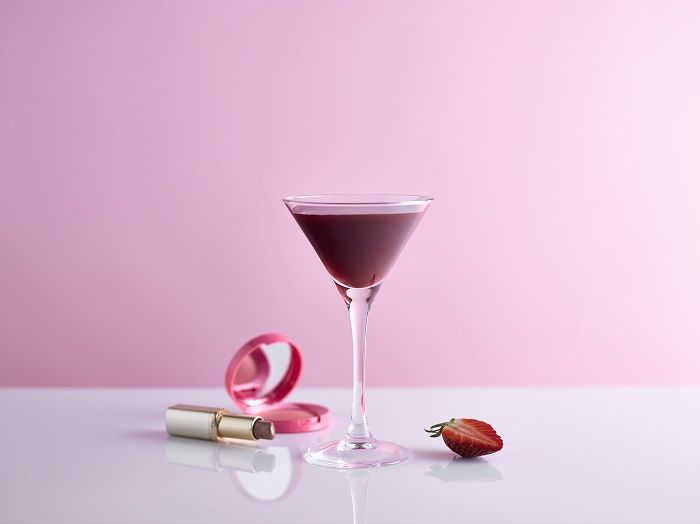 Ingredients
(serves 2)
100g blueberries
50g raspberries
50g strawberries
2 beetroot
2 carrots
Half a fennel bulb
Crushed ice
How to make
Peel and roughly chop your beetroot and carrots.
Blend your beetroot, carrots and fennel in a food processor.
Drain the liquid through a sieve and discard your vegetables.
Blend the liquid from your vegetables with your berries until smooth.
Serve over crushed ice.
DOES GOOD
When you put a lot of fruit and vegetables in a glass, you'd expect it to be pretty healthy - and it is! In this case, the ingredients of our smoothie are great for your skin, giving you a clear, glowing complexion that'll fill you with confidence.
One smoothie contains
Calories: 87
Carbs: 13.4g
Protein: 1.8g
Fat: 0.7g
Berries
The fresh berries in this smoothie all provide you with a healthy dose of Vitamin C. This is one of the nutrients your body needs to produce natural collagen, which improves the elasticity of your skin and keeps it soft.
Vitamin C also acts as an antioxidant that protects your skin against damage from free radicals. Without getting too scientific, these are molecules that cause damage to healthy cells in your body through a process called oxidation, which harms your skin and contributes to the ageing process. Your skin will thank you for stopping them!
Carrots
While we're talking about antioxidants, carrots contain a nutrient called beta-carotene. Your body turns this into Vitamin A that, you've guessed it, is another antioxidant. Vitamin A will reduce the appearance of wrinkles and help wounds heal faster by speeding up skin regeneration.
Beetroot
Then we have beetroot, which cleanses toxins from your skin and gives it a healthy glow. Its anti-inflammatory properties also make it a great ingredient for anyone looking to deal with common skin problems, such as acne.
Tandoori Salmon with Courgetti
TASTES GOOD
We've taken a humble salmon fillet and turned it into something truly wonderful. Allowing it to marinate and absorb all the wonderful spices will leave you with a fantastically flavoursome piece of fish.
We're serving it with a colourful mix of fresh vegetables, which make a great alternative to pasta and provide a palate-pleasing range of flavours and textures.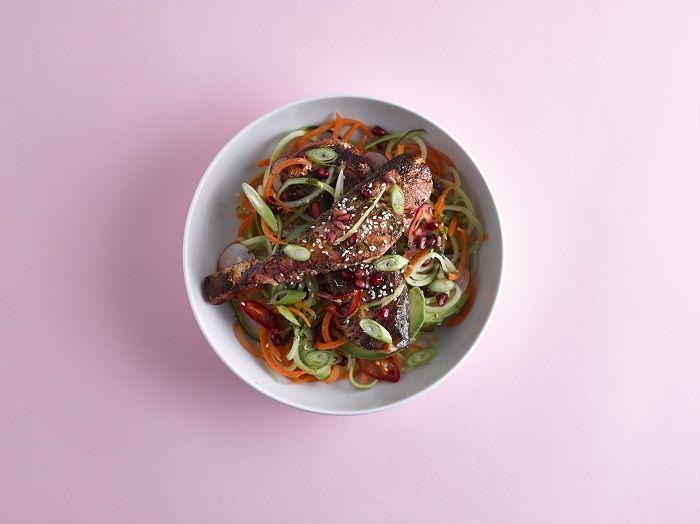 Ingredients
(serves 1)
1 salmon fillet
100g spiralised courgette
80g spiralised carrot
50g edamame
Half an avocado
1 cooked beetroot
1 lemon
Pinch of cumin
Pinch of turmeric
Pinch of chilli powder
Pinch of salt
Pinch of white sesame seeds
Olive oil
How to make
Blend your cooked beetroot, spices and salt in a food processor.
Pour this over your salmon and marinate for 1 hour.
Grill your salmon for three minutes on each side and leave to rest.
Slice your avocado and zest your lemon.
Mix together your courgette, carrot and edamame and drizzle with a little olive oil.
Arrange your vegetables and avocado on a plate.
Sprinkle over your lemon zest and place your salmon on top.
Garnish with your sesame seeds and lemon juice.
DOES GOOD
This dish is easy to make and packed with healthy fats that are essential for soft, smooth skin. Make sure you choose wild salmon over the farm-bred varieties, as these are generally regarded as the healthier, more natural choice.
One meal contains
Calories: 556
Carbs: 8.7g
Protein: 43g
Fat: 37g
Salmon
Health guidelines tell us we should get at least one portion of oily fish a week. Salmon falls into this category and provides many health benefits, not least to your skin. The omega-3 in oily fish is considered a 'healthy fat' and isn't the same as the saturated fat that causes us to pile on the pounds.
Edamame & Avocado
These fats, which are also present in edamame and avocado, ensure our skin produces enough of the natural oils needed to maintain its bounce. These oils ensure your pores don't get clogged, which is one of the main causes of spots.
Avocado, in particular, is found in many beauty products. Its nourishing qualities are used in everything from face creams to hair conditioners, but eating it as part of a healthy diet is a much cheaper option!
Courgette
In addition to providing a great source of Vitamins A and C, courgette contains manganese. This is essential in the production of choline, the amino acid that works with Vitamin C to form collagen. Courgette also has a high water content, so it'll help keep your skin hydrated and prevent it drying out.
Chillies
Finally, if you're after a defence mechanism against outbreaks of pimples, acne or skin rashes, chillies are one of the best foods you can eat. They contain phytonutrients that will combat all of these issues, while they also provide the Vitamin E your body needs to produce its natural skin oils.
We'll help you look after your skin
These recipes are designed to help you maintain healthy skin, but if problems do arise, our doctors are here to help you.
Whether you want to deal with an annoying rash, or you're worried about a mole and would like to get it checked by a professional, our GPs will take a look and provide practical advice.
Skin conditions we treat
See a doctor