If there's one thing everyone loves about Christmas, it's the food.
For the vegetarians and vegans amongst you, we've got something a bit different this year.
We asked Kevin Rivers, head chef at the award-winning vegetarian restaurant 1847, to create a delicious vegan feast for you to try at home.
STARTER
Figs in Blankets
A twist on a festive classic, these figs are infused with a warm, comforting spice and wrapped in a Christmassy chestnut crust.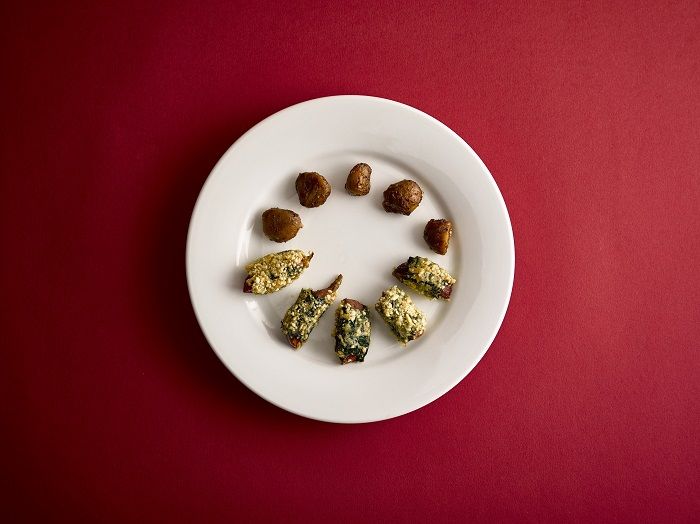 Ingredients
1kg fresh figs
1 litre of water
340g caster sugar
500ml cider vinegar
2 cinnamon sticks
3 slices of ginger, about ¼-inch thick
9 whole allspice
4 cloves
2 cardamom pods, crushed
Half a cabbage
1 tbsp miso soy butter
1 pack of cooked chestnuts, crushed
How to make
Pour the water and vinegar into a large saucepan.
Add the sugar and spices and simmer for 20 minutes.
Add the figs and simmer for a further 25 minutes, then set aside.
Boil the cabbage leaves for three minutes, then allow them to cool and dry.
Wrap each fig tightly inside a cabbage leaf.
Pan fry in miso soy butter for a 2 minutes.
Roll in crushed chestnuts.
MAIN COURSE
Veggie Wellington
The nice thing about Christmas dinner is a lot of it is already vegetables. As a vegan, what you need is an alternative to turkey that's equally delicious and still looks spectacular.
This Veggie Wellington is just what you need. It's easy to make (you can use ready-made pastry) and is bursting with different flavours and textures. Even meat-eaters will love it!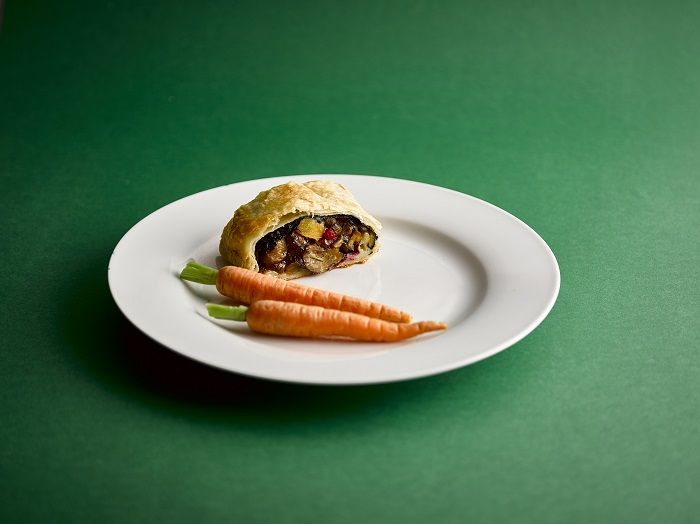 Ingredients
250g tinned lentils
180g whole cooked chestnuts
1 red onion
50g fresh cranberries
½ a butternut squash
2 garlic cloves
6 tbsp olive oil
1 tbsp fresh thyme
1 cavolo nero, blanched
100g kale
1 pack of ready-roll puff pastry
Juice of ½ a lemon
Soya spread
How to make
Heat the oven to 200C.
Dice the butternut squash and chop the onion.
Add it to a roasting tin along with the whole garlic cloves, thyme and three tablespoons of olive oil.
Roast for 45 minutes, or until the vegetables are soft but still holding their shape.
Add the lentils and half the chestnuts, remove a garlic clove to use in your pesto and leave the mixture to cool.
Boil the kale for 1-2 minutes until wilted. Run it under cold water to cool it, then squeeze out any excess water.
Put the kale, garlic, lemon juice, 3 tablespoons of olive oil and the rest of the chestnuts in a food processor.
Blitz to form a thick pesto.
On a floured table, lay a pastry sheet out.
Spread over a layer of pesto, then add a layer of cavolo nero, followed by a layer of veg and lentils.
Brush the edges of the pastry with soya spread, roll it over and tuck in the ends.
Lightly brush the top with soya spread and chill for 30 minutes.
Turn the oven up to 220C.
Bake for 30 minutes.
Serve with vegan gravy.
DESSERT
Vegan Popcorn Panna Cotta
We're sure you want to round off your Christmas dinner in style, and as you can see, this dessert is a real show-stopper.
Kevin's delicious Popcorn Panna Cotta has four different elements to it, but don't let that worry you. Each one is very quick and very easy. Not that your guests need to know that, of course!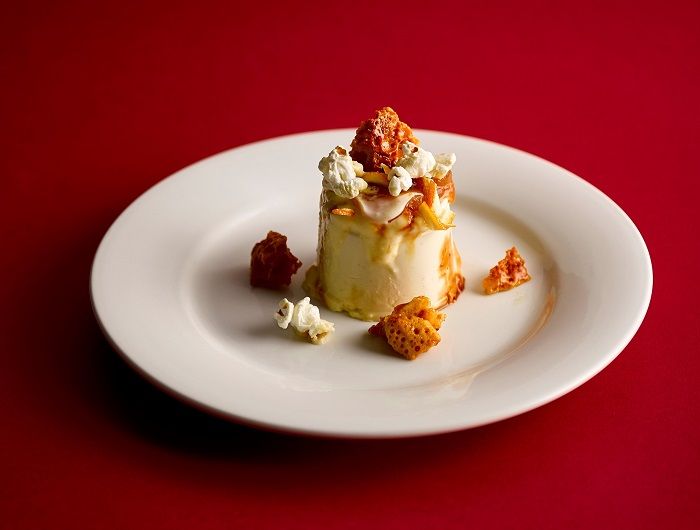 For the panna cotta
Ingredients
300ml of your preferred double cream alternative
250ml rice milk
50g granulated sugar
1 tonka bean, finely grated
2.5g vegan agar gelatin
How to make
Combine the cream, milk, sugar and tonka bean in a pan and bring to the boil.
Remove from the heat and whisk in the agar gelatin.
Simmer for a further minute.
Pour into glasses or bowls and leave in the fridge to set.
For the jelly
Ingredients
300ml orange juice
150ml water
70ml soy sauce
85g caster sugar
6g vegan agar gelatin
How to make
Combine the juice, water, soy sauce and agar gelatin in a pan and bring to the boil.
As soon as this happens, remove from the heat and pour into a flat, non-stick tray.
Leave to chill until set.
Blend on the lowest setting to break it down into a gel.
Pass through a sieve and store in a squeezy bottle.
For the garnish
Ingredients
250g sweet or salted popcorn
200ml of your preferred vegan double cream alternative
400ml rice milk
50g caster sugar
How to make
Bring the coconut milk, cream and sugar to the boil.
Add most of the popcorn and heat until it softens. Keep a few pieces back for garnishing.
Blend the mixture in a food processor until smooth.
Pass it through a sieve.
Blend again with a stick blender and scoop off the foam to use as a garnish.
For the honeycomb
Ingredients
200g caster sugar
5 tbsp golden syrup
2tsp bicarbonate of soda
How to make
Grease a 20cm square baking tin with olive oil
Mix the sugar and syrup in a deep saucepan (to leave plenty of room for the honeycomb to expand) and stir over a gentle heat until the sugar has melted. Try not to let the mixture bubble until the sugar is completely dissolved.
Once the sugar has melted, turn the heat up to a simmer until the mixture turns the colour of caramel. This won't take long, so don't go anywhere!
Take the mixture off the heat as quickly as you can.
Add the bicarbonate of soda and beat in with a wooden spoon until it has all disappeared and the mixture is foaming.
Scrape the mixture into the tin straight away. Take care, as it will be extremely hot.
Leave it in the tin for about an hour and a half, then break into chunks for garnishing.
What's on your menu?
If you're enjoying a meat-free Christmas, we'd love to know what you'll be cooking. Perhaps you'd like to give one of these tasty recipes a try?
Let us know on Twitter and Facebook and we'll share the best ones!