Now that you've sampled our delicious healthy pancakes, it's time for some more delicious, healthy snacks to keep your cravings at bay.
Of course, avoiding temptation is easier said than done, but luckily we're here to help. If you're craving chocolate, cake, crisps and cocktails, try these delicious healthy alternative recipes and enjoy a little guilt-free indulgence!
Skip to food:
Skip to drinks:

Ginger Sweet Treats with Date Caramel
TASTES GOOD
As you well know, sweets are bad for you. They rot your teeth, spike your blood sugar and expand your waistline, so eating less of them is a great idea.
Of course, that doesn't mean you can't satisfy your sweet tooth. Just try these delicious ginger, pecan and almond treats instead.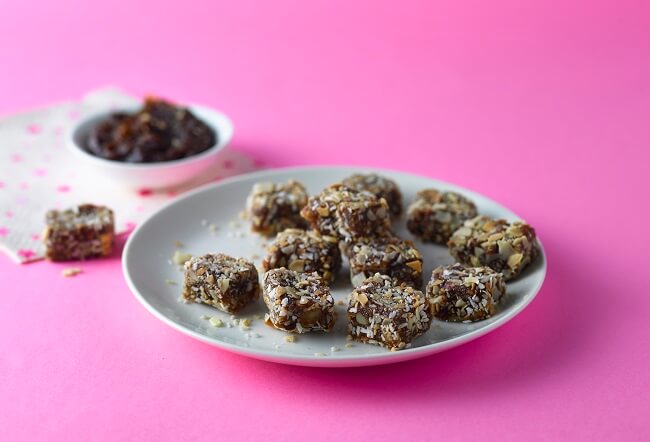 Ingredients
(makes 15 treats)
For the treats
130g pitted dates
30g chopped pecan nuts
30g flaked almonds, toasted
2 tbsp warm water
Pinch of ginger powder
Pinch of cinnamon
100g ground or crushed almonds
For the caramel
200g softened pitted dates
1 tsp honey
1 tsp coffee essence
Nutritional Value
(per treat)
Calories: 95
Carbohydrates: 18g
Protein: 1g
Fats: 3g
How to make
Put 130g of the dates in a microwaveable dish with a little water and microwave for 30 seconds to soften.
Toast the almonds in a dry frying pan on a gentle heat until golden.
Blend the dates, almonds, pecans, water, ginger and cinnamon in a food processor until smooth.
Spoon the mixture into a dish and leave it to set in the fridge for one hour.
Now it's time to make your caramel. Microwave the remaining dates for 30 seconds to soften them.
Add the honey and coffee essence.
Blend in a food processor until smooth. Set the finished caramel aside for later.
Take your treats from the fridge and cut the mixture into squares.
Coat them in the crushed almonds and ginger powder and serve with a small pot of caramel for dipping.
DOES GOOD
Controls your blood sugar
Conclusive research has shown that cinnamon has insulin-reducing properties, so it helps to regulate your blood sugar and boost energy levels.
Ginger is also known for its anti-diabetic properties. You can see how these treats are already looking healthier than a bag of sugary sweets!
Save the date
Dates are rich in magnesium, a mineral known for its anti-inflammatory benefits. They're also high in fibre, which helps the digestive process, and Vitamin B6, which is an important nutrient for a healthy brain.
Look after your muscles
The pecans and almonds in these treats are a good source of protein, which as you probably know, is important for building and repairing muscles.
If you regularly feel sore after a workout or run, ginger will help prevent exercise-induced muscle pain.
Important source of fat-soluble vitamins
Nuts are high in fat-soluble vitamins. These are essential nutrients that don't occur naturally in the body, meaning we have to get them from food sources. They perform many useful functions, such as improving your immune system, helping with muscle and bone reproduction and encouraging healthy skin.

Pick n' Mix Power Bites
TASTES GOOD
If you're one of those people who can't open a box of chocolates without scoffing the whole lot, this is the recipe for you. These bite-sized beauties provide all the texture and sweetness of chocolate without the sugar and saturated fat.
There are four tempting flavours to choose from, so all that's left is for you to pick your favourite!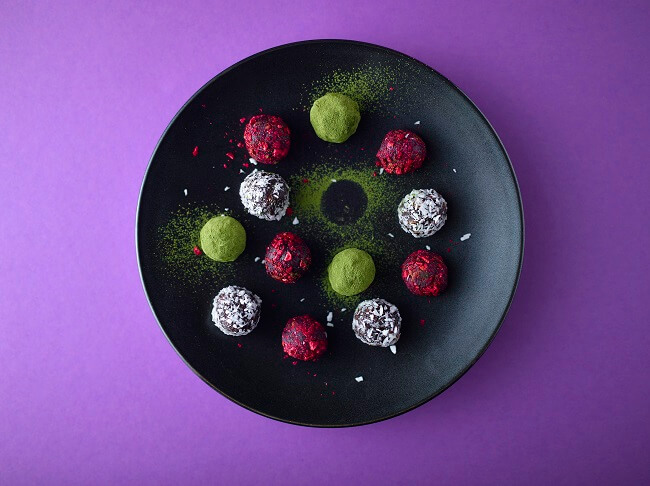 Ingredients
(makes 18 bites)
200g dates
40g chopped walnuts
1 tbsp coconut oil
1 tbsp warm water
1 tbsp honey
Pinch of salt
80g dried raspberry, crushed
100g desiccated coconut
50g matcha powder
100g cocoa powder
Nutritional Value
(per bite)
Calories: 47
Carbohydrates: 9g
Protein: 0.5g
Fat: 2g
How to make
Put your dates in a microwaveable dish with a little water and microwave for 30 seconds to soften them.
Put the dates, walnuts, coconut oil, water, honey and salt into a food processor and blend until smooth.
Roll the mixture into balls. Each one should weigh roughly 15g.
Dust or roll each one in either the raspberry, coconut, matcha or cocoa.
DOES GOOD
High in fibre
Fibre is important for a healthy gut and dates are one of the best sources you can find. They contain soluble fibre, which in addition to helping with digestion, can also lower cholesterol.
Government health guidelines suggest we should be eating 30g of fibre a day, so this is a good place to start. If you want to pack even more into this recipe, the matcha flavoured bites are your best option.
Stay healthy with omega-3
Omega-3 is an essential fatty acid that's associated with lowering our risk of a range of illnesses, including heart disease and arthritis. It also helps keep your hair shiny and your skin smooth.
Normally associated with fish, it's also found in walnuts. If you're not a fan of fish but you're quite keen on looking and feeling healthy, getting more walnuts into your diet is a good idea.

Toasted Coconut Cashew Chips
TASTES GOOD
Looking for a something to graze on while you watch the match, or settle in for a TV boxset marathon? Leave the crisps in the cupboard and try these quick and easy coconut cashews instead.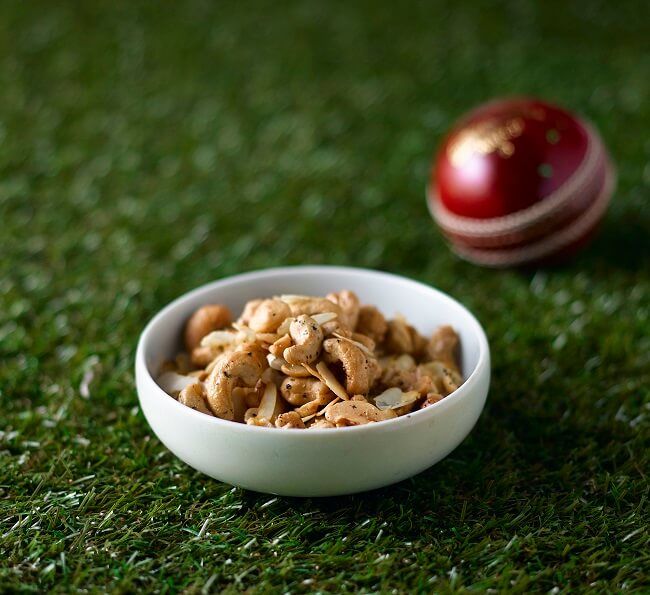 Ingredients
(serves 4)
150g plain cashew nuts
100g coconut chips
5g black pepper
Nutritional Value
(per serving)
Calories: 298
Carbohydrates: 28g
Protein: 11g
Fats: 19g
How to make
Pour the cashew nuts into a dry frying pan.
Season them with black pepper.
Toast them for 4-5 minutes until golden.
Remove the nuts from the pan and give it a clean.
Return to a low heat and and pour in your coconut.
Lightly toast it for 2-3 minutes - be careful, this cooks quickly and you don't want to burn it!
Mix the coconut and cashews together and serve.
DOES GOOD
Say nuts to weight gain
Cashews are a very nutritious nut and are very welcome in any reduced-calorie diet. A 2015 study suggested that enjoying two servings of cashews per week meant people less likely to gain weight than those who didn't.
Coconuts are packed with nutrients
You might not think it to look at them, but coconuts are packed full of nutrients that will do you the power of good. They contain (deep breath) vitamin C, potassium, phosphorus, magnesium, calcium, zinc, iron, copper and the B vitamin inositol, which is often used as a mood booster.
These vitamins and minerals combine to perform a variety of important functions, from improving your immune system to building strong bones and teeth.

Perfect Pumpkin Brownies
TASTES GOOD
Come on now, there's no way to can make cake healthy, surely? Well, we've given it our best shot here with these delicious low-sugar pumpkin brownies. You'll get the same gooey, indulgent texture of a brownie, without the calories.
Best of all, you'll fill your kitchen with the delicious smell of home-baking. Don't surprised if the rest of the family turn up wanting a piece of the action!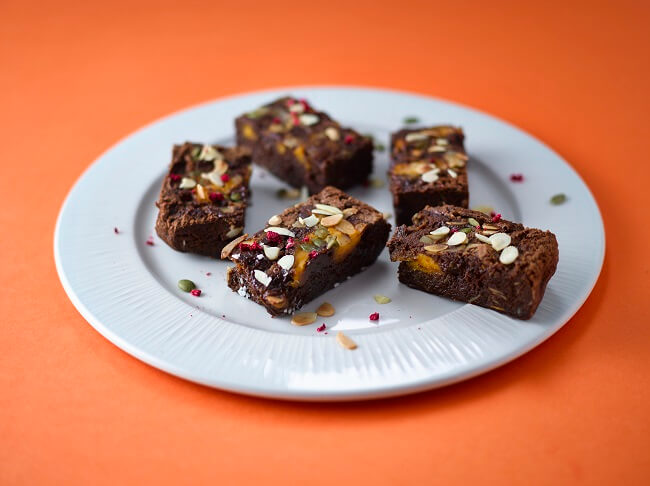 Ingredients
(makes 18 brownies)
300g pumpkin, diced
150g dark chocolate
120g almond butter
30ml coconut oil
130g flour, sieved
120g desiccated coconut
200g dates, chopped
5 eggs
60g cocoa
100g flaked almonds
80g pumpkin seeds
Pinch of cinnamon
Pinch of ginger powder
50g crème fraiche
120g toasted almonds
Nutritional Value
(per brownie)
Calories: 227
Carbohydrates: 20g
Protein: 10g
Fat: 15g
How to make
Preheat your oven to 180°C.
Lightly sauté the pumpkin in a saucepan with a splash of coconut oil and pinch of cinnamon and ginger powder for 2-3 minutes.
Cover with water and bring to a simmer.
While your pumpkin cooks, place a mixing bowl on top of your saucepan to create a bain marie. The bottom of the bowl must not be touching the water.
Put the chocolate, almond butter and coconut oil into the bowl and melt them together, stirring continuously.
Stir in the chopped dates and remove from the heat. Be aware that the bowl will now be hot!
By now, your pumpkin will be soft and tender, so drain away the excess liquid and set it aside.
In a new mixing bowl, whisk the eggs and coconut together. Add the chocolate gradually whilst whisking. Don't add too much at once, or you risk scrambling the eggs.
Fold in the flour, cocoa, flaked almonds and pumpkin seeds.
Line a 3-inch deep baking tray with greaseproof paper and pour the mixture in.
Purée the pumpkin with the crème fraiche and swirl it through the mixture.
Bake in the oven for 20-25 minutes.
While you wait, toast the flaked almonds in a dry frying pan for 2-3 minutes until golden.
Remove the brownie from the oven and sprinkle with the almonds.
Leave to cool before removing from the baking tray.
Cut the brownie into squares and enjoy!

And to drink?
After trying all these treats, you'll probably need something to wash it down. However, if you've banned yourself from the bar, an alcoholic beverage is out of the question. What to do?
Well, these two tempting alcohol-free cocktails are easy to make and absolutely delicious. They're perfect for parties, or even if you just fancy treating yourself!

Marvellous Mojito Smoothie
TASTES GOOD
A mainstay of any cocktail menu, the mojito is a true classic. But what if we told you you could enjoy all the flavours of a mojito without the alcohol? Well now you can, with this quick and easy fresh fruit and mint smoothie.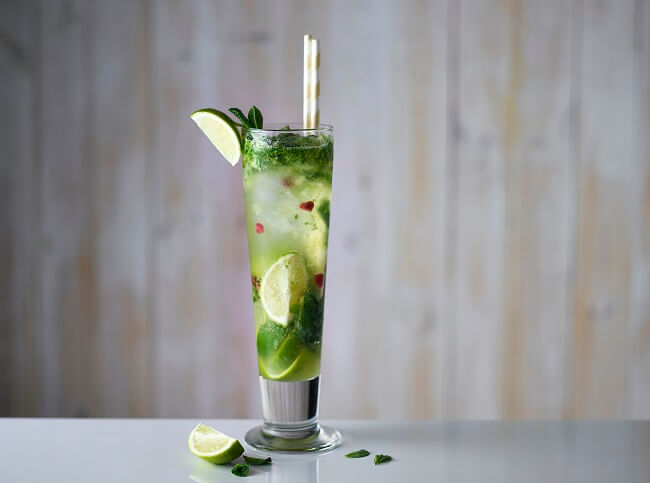 Ingredients
(serves 2)
1 banana
100g pineapple (fresh or tinned)
40g mint leaves
Juice of 1 lime
100ml coconut water
50ml water
50g spinach
Nutritional Value
(per serving)
Calories: 168
Carbohydrates: 41g
Protein: 2g
Fat: 0g
How to make
Mix all the ingredients together in a blender.
If you'd prefer your mojito sweeter, add a little honey.
For a colder cocktail, blend in one cup of ice.
DOES GOOD
Things you never knew about pineapples
Pineapples contain a unique chemical compound called bromelain, which has a number of health benefits including reducing the risk of cancer, improving gut health and facilitating wound healing.
They also provide anthocyanins, which are a powerful antioxidant and reduce your risk of heart disease.
Green is good
Both spinach and mint are rich in iron, which is important for red blood cell production. Red blood cells are important as they help your blood carry oxygen around your body.
Look after your brain
The flavonoids in citrus fruits may help ward off neurodegenerative diseases, such as Alzheimer's and Parkinson's, which result from the breakdown of cells in the nervous system.

Beetroot & Berry Smoothie
TASTES GOOD
This vibrant, colourful smoothie packs in bags of flavour and nutrition, while the addition of yoghurt gives it an indulgent, creamy texture.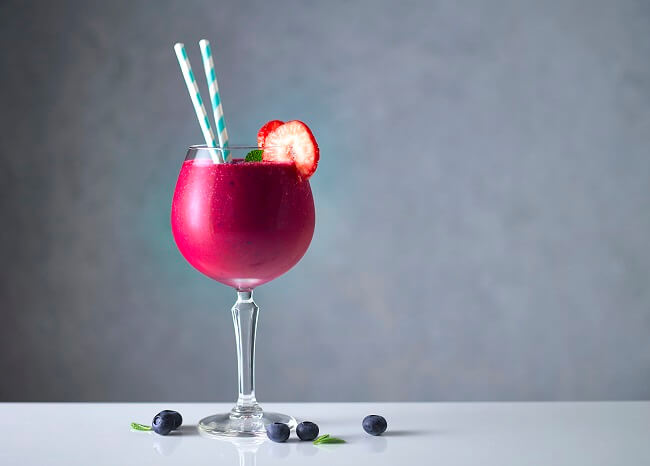 Ingredients
(serves 2)
1 pack of cooked beetroot
150ml apple juice
125g mixed berries (fresh or frozen)
1 tbsp plain Greek yoghurt
Nutritional Value
(per serving)
Calories: 116
Carbohydrates: 25g
Protein: 3g
Fat: 0g
How to make
Mix all the ingredients together in a blender.
If you'd prefer your mojito sweeter, add a little honey.
For a colder cocktail, blend in one cup of ice.
DOES GOOD
Protect yourself with berries
Berries contain antioxidants, which help keep free radicals under control. They're also a great source of antioxidants, such as anthocyanins, ellagic acid and resveratrol. In addition to protecting your cells, these plant compounds may reduce the risk of disease.
Brilliant beetroot
It might leave a stain if you spill it on your shirt, but it's a small price to pay when you consider what beetroot can do. It's full of nitrates, which create nitric oxide. This is important for removing free radicals from the blood and lowering your blood pressure, while it also makes you less susceptible to fatigue.
Good for your gut
Yoghurt contains natural probiotics, which are important for gastrointestinal health. They're also thought to encourage weight loss.
Stay healthy and happy
Have you tried one of our healthy snacks? If so, we want to hear about it! Let us know what you thought and feel free to send us your own suggestions for healthy recipes using the comment box below.
See more healthy recipes