There are all sorts of reasons students avoid cooking. The cheap supermarket deals. The lure of the takeaway. You might just not know how to cook.
However, one of the biggest reasons is time. There's so much to do and you probably don't want to spend an hour hunched over the stove. We get that.
Of course, it's still important that you eat a balanced diet, so we've asked our expert food engineers to provide a few dishes that you can make in only 10 minutes. Just pick your favourite and give it a try!
Skip to:
Baked sweet potato with homemade beans
Cajun chicken with crunchy veg salad
Tasty turkey burger with mustard mayo
Super-quick scrambled eggs with smoked salmon
Banana and oat pancakes with maple syrup and blueberries
1. Baked sweet potato with homemade beans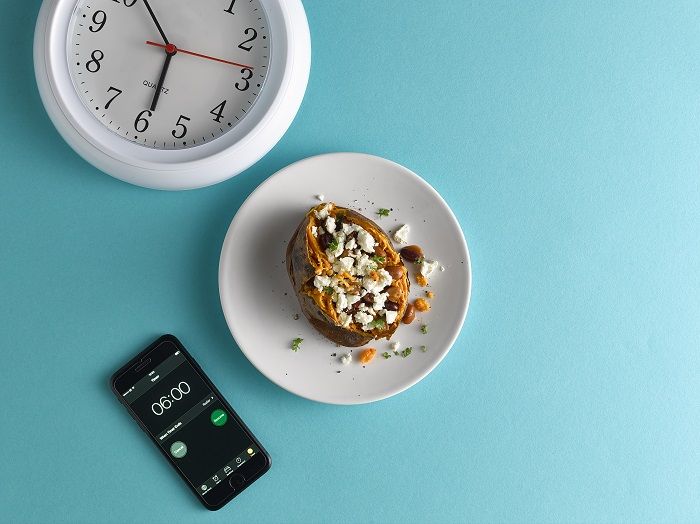 Need a hearty, filling lunch to power you through an afternoon of lectures? There's nothing better than a baked potato. Except perhaps a baked sweet potato!
With barely any prep required, making this dish involves very little interruption to your day. Both the sweet potato and beans will provide you with enough complex carbs to keep your energy levels up for even the most demanding seminar.
Ingredients
1 sweet potato
200g tinned mixed beans
2 tbsp tomato purée
1 tsp clear honey
20g feta cheese
How to make
Pierce your sweet potato with a fork and put it in a microwaveable dish.
Microwave on full power for 4 minutes.
While the potato is cooking, drain your beans and wash them under cold water.
Mix in the tomato purée and honey.
Microwave the beans on full power for 1 minute and stir.
Split the sweet potato in half and fill with the beans.
Crumble the feta over the top and serve.
2. Cajun chicken with crunchy veg salad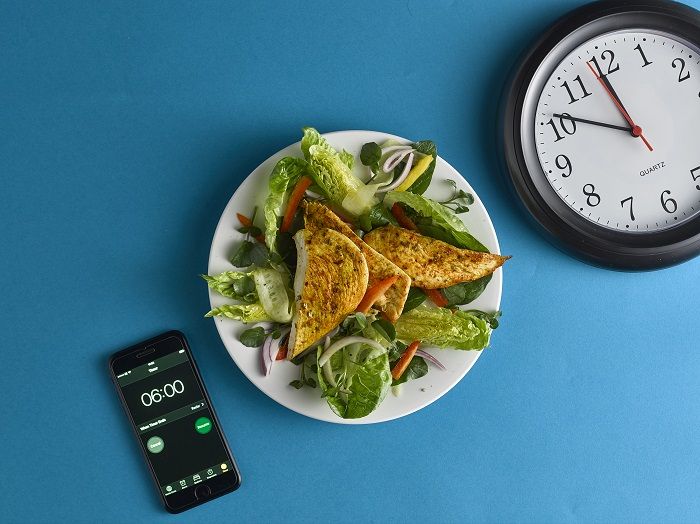 If you like your chicken with a bit of a kick, this spicy cajun salad is the recipe for you. It's as simple as cooking a chicken breast and chopping some vegetables. Even if you've never cooked before, this is easy stuff.
So, we know it's quick. What else? Well, a chicken breast and some veg won't cost more than a fiver, so it's cheap. You'll get a healthy portion of protein from the chicken and plenty of vitamins from the veg, so it's also really nutritious. In other words - a winner all round!
Ingredients
1 chicken breast
1 tsp cajun spice
80g spinach
1 red pepper
¼ of a cucumber
½ a red onion
1 tbsp olive oil
How to make
Butterfly your chicken breast. No idea what we're talking about? Here's a quick guide!


Put the breast smooth side down on a chopping board and place your hand flat on top of it.

Take a sharp knife and slowly cut into the thicker side of the breast.

Stop cutting about half an inch before you get through it completely.

You should now be able to open up your chicken breast so that it looks like - you guessed it - a butterfly.

Coat the chicken in cajun spice.
Heat the oil in a pan on a medium heat and fry one side of the chicken breast for three minutes.
Turn the chicken over and cook the other side for another three minutes.
While the chicken cooks, slice your red pepper, cucumber and red onion.
Wash the spinach.
Mix all the vegetables in a bowl with a small drizzle of olive oil and arrange on a plate.
Top with the cooked chicken breast and serve.
3. Tasty turkey burger with mustard mayo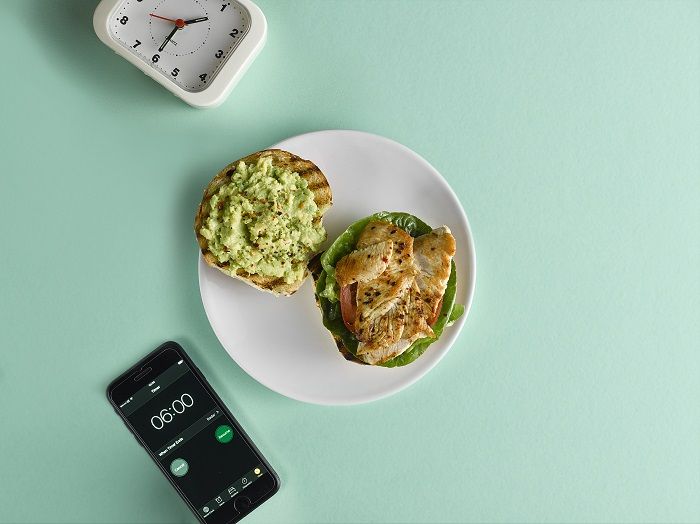 Who said burgers had to be unhealthy? This delicious turkey treat is miles better than any of the greasy, overpriced fare you'll find at that takeaway round the corner.
And think about it. This burger is ready in 10 minutes. By the time you've walked to the takeaway (quite possibly in the rain), queued up, ordered, waited and walked back again (still in the rain), you could've cooked and eaten your own home-made burger in the comfort of your flat. We'll let you decide which of those two options is better.
Ingredients
200g turkey escalope
1 wholegrain burger bun
1 large tomato
Handful of spinach leaves
2 tbsp half fat mayonnaise
½ tsp English mustard
1 tbsp olive oil
How to make
Butterfly your turkey (not sure what that means? We've explained here!).
Heat the oil in a pan on a medium heat.
Season the turkey with a pinch of salt and pepper and fry for three minutes on each side.
While it's cooking, mix the mayo and mustard together in a bowl.
Cut your burger bun in half and spread the mustard mayo onto it.
Slice your tomato and arrange it on the bottom half of the bun, along with the spinach.
Place the turkey on top of this, add the top of the burger bun and enjoy!
4. Hawaiian tortilla pizza
We've gone for a bit of fusion cooking with this one! Trust us though, the tropical flavours work just as well across a Mexican tortilla as they do with a deep dish pizza dough. The only difference is you won't have quite as many calories to burn off.
If you're the sort of person who thinks pineapple on a pizza is the work of the devil, simply replace it with mushroom for an equally tasty farmhouse-style tortilla.
Ingredients
1 wholemeal tortilla wrap
2 slices of ham
2 tinned pineapple rings
3 tbsp tomato paste
30g grated cheddar cheese
60g spinach
2 tbsp pesto
How to make
Preheat your oven to a 180C.
Bake your tortilla for 2 minutes.
Remove from the oven and spread the tomato paste over it.
Wash the spinach and add this to your tortilla.
Cut the pineapple and ham into bite-size chunks and scatter these across the top.
Sprinkle the cheese over everything.
Return the tortilla to the oven for 4 minutes until warm and crisp.
Drizzle pesto on top
5. Super-quick scrambled eggs with smoked salmon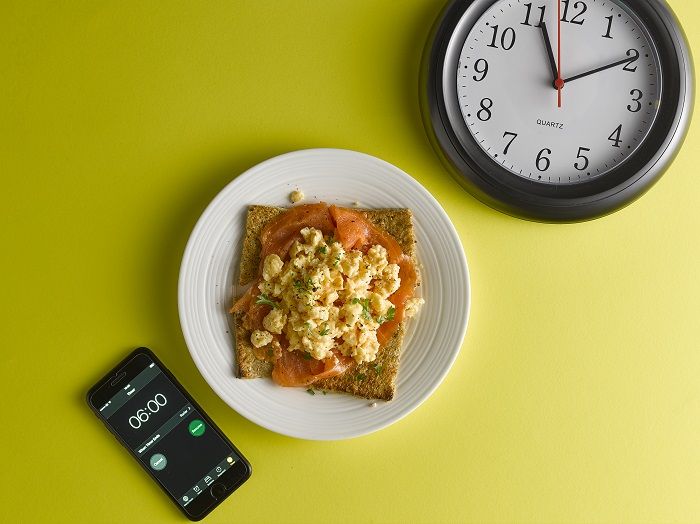 This is a real breakfast of champions. We're meant to eat at least one portion of oily fish a week, so this is your chance. Oily fish is full of omega-3, a healthy fat that helps brain function. Our bodies can't make this naturally, so getting it through food is your only chance to boost your brain power.
True, smoked salmon isn't the cheapest thing in the world, but as an occasional treat, this will do just fine. Perhaps you can reward yourself after a particularly tough day's revision?
You'll also look how to make scrambled eggs in the microwave, which is just a nice skill to have.
Ingredients
3 medium eggs
30ml milk
15g butter
80g smoked salmon
How to make
Crack the eggs into a microwaveable bowl.
Whisk in the milk. Microwave for 45 seconds on full power and mix with a fork.
Add the butter and microwave for another 45 seconds on full power.
Mix again with a fork and season with a pinch of salt and black pepper.
Serve alongside the smoked salmon.
6. Banana and oat pancakes with maple syrup and blueberries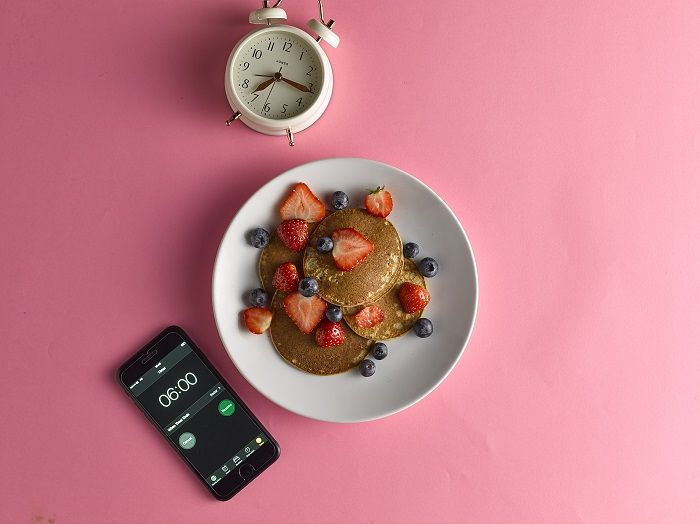 Do you prefer your breakfast American-style? When it comes to cooking, there are few things more satisfying than making pancakes.
You can get your batter ready in just a couple of minutes, then it's just a case of perfecting your flip technique. After you've had a few practice goes, you could even wait until your flatmates are around and impress them with your new skills!
Making your mixture with bananas and oats ensures you start the day with a healthy portion of fibre, which helps digestion, and potassium, which helps with muscle function and blood pressure.
Ingredients
6 x tbsp oats
2 bananas
100 ml milk
2 eggs
5 tbsp plain flour
1 pinch of baking powder
Handful of blueberries
1 tbsp maple syrup
How to make
Blend the eggs, milk and banana in a food processor until smooth.
Add the oats and leave to rest for 30 seconds.
Add the flour and baking powder and blend again until smooth.
Heat a dry pan and pour a third of the mixture into the centre.
Cook the batter for around 90 seconds. You should see the mixture rise slightly and little bubbles should pop on the top.
Flip your pancake with a spatula and cook the other side for 45 seconds.
Repeat steps 4-6 until all your mixture is used. You should have enough for three large pancakes.
Top with the blueberries and maple syrup.
Show us your best efforts
Have you tried your hand at one of our 10-minute recipes? If so, we want to hear about it! Send us your pictures and we'll share the best ones on Twitter or Facebook.
Got a question about one of these recipes? Leave your comments in the box below and our experts will be happy to help.