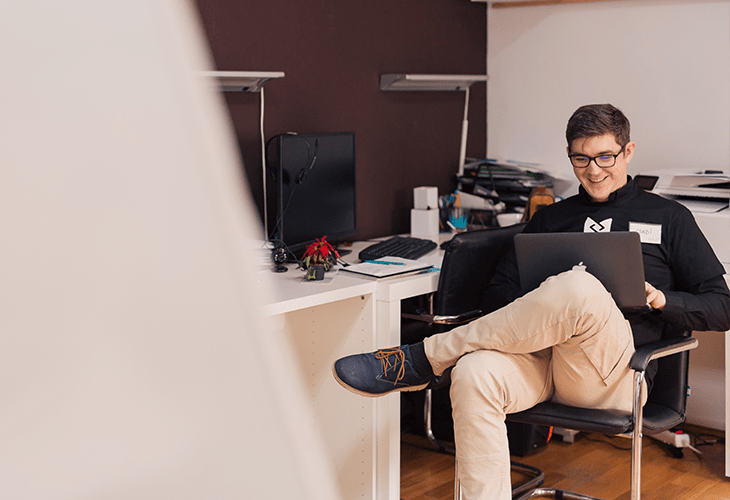 Productivity has long been the concern of HR and office managers, key stakeholders and decision makers. At any one moment, there are several wheels in motion behind the scenes to improve employee productivity, first and foremost. Retention, loyalty, job satisfaction and so on are but secondary. Productivity is, in the majority of cases, the primary concern of senior figures in business. But it shouldn't be.
Fundamentally, HR professionals care about the team around them. The basic principle that HR operates from is the notion of personnel being one of any company's valuable assets. But do your employees feel as valuable as they are? How can you show that workplace wellbeing is a priority within your company?
Where Employee Benefits Fall Short
Offering employee benefits is the first avenue that is typically explored by HR professionals looking to counteract staff turnover. The problem is, the options that companies tend to pursue are peripheral at best. We have all heard stories of ping pong tables, comfy chairs, provided breakfasts and birthdays off, which make for fine bullet points on job advertisements – but how many of these initiatives have created meaningful internal change?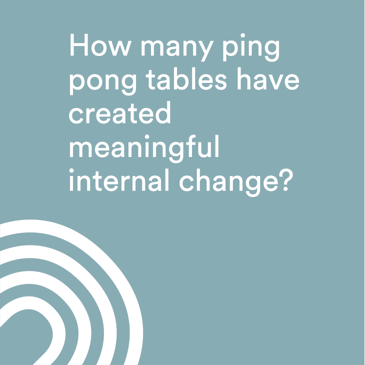 Making Employee Benefits Meaningful
From where I'm sitting, an employee benefit needs to be about more than lunchtime entertainment, or a moment's respite from desk-based working. These are short-term solutions, quick fixes and tick-boxes to momentarily boost workplace wellbeing. Benefits like these are, arguably, implicit admissions that there is little you can do to improve job satisfaction or the day-to-day status quo of working for your company.
Once the ping pong table is folded back up, the Friday beers drained and disposed of, nothing has really changed. It's a flash in the pan, a fleeting moment of respite that fails to address the bigger picture. An employee benefit, for me, needs to meet some (but ideally all) of the following criteria:
Apply outside of work
The very best employee benefits are not relegated to use in working hours. Subsidised gym memberships, life insurance policies, staff discounts and so on are entirely unrelated to work – but palpable, valuable benefits that team members might not choose to invest in themselves, but will appreciate having access to through the company.
Be unrelated to work
A benefit related to work is barely a benefit at all, I would argue. A benefit that enables someone to do their job more effectively should be a given – certainly not something you should be promoting as something unique to your company. Offer benefits that make staff members better, happier people, not better workers – the former leads to the latter anyway.
Have a lasting impact
As alluded to above, any employee benefit needs to last. Paid-for lunches and post work drinks are a nice gesture, but fleeting by their very nature. They are enjoyed and appreciated by staff, but then they move on. These perks do not make them feel any more valued, and certainly won't create a sense of loyalty. It's a short term win, and nothing more.
There is a running theme to the most successful employee benefits, and that is them being centred around an employee's health and wellbeing. The direct impact for the company is less clear, in the short term at least. But that is exactly the point – by prioritising health, and therefore introducing longer tail initiatives, we can't expect to see an impact immediately.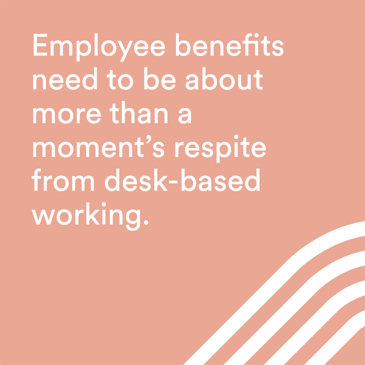 Uptake might be slow at first, but gradually the benefit that you provide becomes an inextricable part of their day-to-day lives – improving their health prospects, and their mental health as a direct result. This naturally translates to improved productivity, reduced absences and greater loyalty, but as a by-product of a broader, more well intentioned focus.
Examples of Benefits for Employee Wellbeing
Of course, it would be churlish to rubbish employee benefits aimed at improving productivity, without offering some recommendations of our own that clearly prioritise employee wellbeing instead:
Gym memberships
Whether you opt for a subsidised or entirely complimentary membership, offering staff access to a local or national gym is a clear statement prioritising employee wellbeing. While you obviously can't force team members to make use of the membership, the mere fact that you are making them available is inarguable evidence that you care.
Cycle to Work
Cycle to work schemes allow staff to buy bikes worth up to £1,000 through the company, spreading the cost on a monthly basis, and saving at least 32% on their tax contributions as a result. This requires no input on your part, all you need to do is choose a provider, and they will do the rest. A green initiative and a benefit around employee wellbeing, all at once.
Staff healthcare
With corporate membership packages like our own, you can provide on-demand healthcare for your entire team. Staff can see an NHS-trained GP at a time that suits them, in a place where they feel comfortable (at home or at work), with free prescriptions, referral letters and sick notes as a matter of course.


Life insurance
A different approach to employee benefits, targeting their families and loved ones rather than the employees themselves. Life insurance is an offering often overlooked by companies, and it shouldn't be. What better way to show how valued your staff are than by doing your part to take care of them if the worst happens?
These four suggestions are but the tip of the iceberg. You may well find solutions that better fit the company you are, and the culture you want to cultivate. The main takeaway from this is simple: employee benefits should impact health, not productivity. Show you care about your employees themselves, and not just the work that they produce – it's the only way.