Here's something you may or may not know. White chocolate isn't actually chocolate at all.
That's because it doesn't contain any cocoa solids. Instead, it's made up of cocoa butter (the yellow fat extracted from the cocoa bean), sugar and milk solids.
Suddenly doesn't sound quite so tasty, does it? While there are lots of people who love white chocolate, even its strongest defender can't really claim it has any health benefits.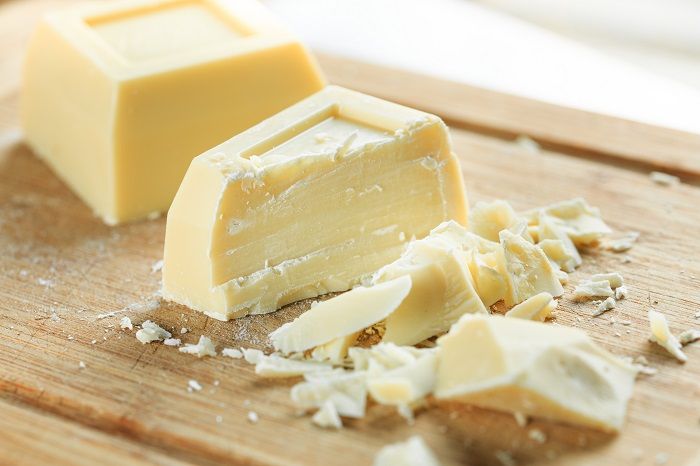 Let's take a look at some of the issues you need to watch out for.
1. Check the label
Cocoa butter contains a mix of saturated and unsaturated fats, it is at least a natural, plant-based fat. It retains a small amount of the antioxidant properties present in cocoa solids, while it's also used effectively in skincare products.
In other words, while cocoa butter isn't exactly a health food, it's not all bad.
What a shame, then, that many commercially available white chocolate bars don't actually use it. Instead, they opt for vegetable fats or palm oil, the latter of which is high in saturated fat.
Then, because cocoa butter is naturally yellow, rather than pure white, artificial colouring is added to make the bars look more appealing. Whenever you buy white chocolate, always check the label to make sure you know what you're eating.
2. Fewer antioxidants than dark chocolate
When choosing which chocolate to enjoy, it's worth noting that white chocolate misses out on a huge potential health benefit when compared with dark chocolate or milk chocolate.
While we've already noted that white chocolate contains some antioxidants, these are mostly found in the cocoa powder used in darker varieties of chocolate. Antioxidants can help prevent heart disease and protect your body against cell damage, so in that respect, white chocolate isn't the best choice.
3. Sugar overload
Generally speaking, the lower the cocoa solid content of chocolate, the more added sugar it will contain. Given that we've already established white chocolate doesn't contain any cocoa solids, you can probably guess where we're going with this.
Your average bar is about 60% sugar, which is terrifying for your teeth, your waistline and your blood sugar.
4. Watch out for fat
It won't surprise you to learn that something made of butter and milk is pretty high in fat. 100g of white chocolate contains about 32g of fat, which is nearly half of your recommended daily allowance (RDA) of 70g.
Of this 32g, 19g is saturated fat. Here, your RDA is 20g, so once you've scoffed all your chocolate, you shouldn't be going anywhere near saturated fat for the rest of the day. Too much saturated fat could result in high blood pressure and could seriously damage your long term health.
Nutritional value of white chocolate
100g of white chocolate contains:
Calories: 539
Fat: 32g
Saturated fat: 19g
Sugar: 59g
Fibre: 0.2g