We hope you all enjoyed Part 1 of our Inspiring Women's Health Stories. In Part 2, we have two more stories from women who have overcome serious health challenges to lead successful, happy lives.
The Health Blogger
Emma-Louise Renton - relatablemissrenton.com
Emma-Louise started the Relatable Miss Renton blog in 2014, where she shares her thoughts and experiences with anxiety. She also owns a dog-walking and sitting business called Pals on Paws.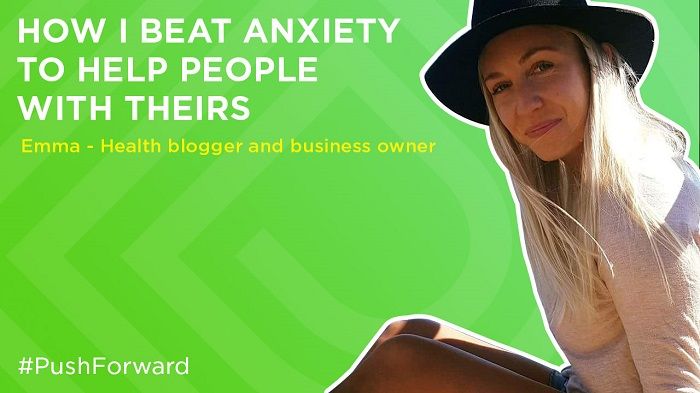 What are you most proud of?
I'm most proud of my efforts to manage anxiety without the use of medication. I was diagnosed almost six years ago, and I chose to look into all the ways I could change my lifestyle to better support my health.
Last year, my Dad passed away suddenly and then my relationship ended - two big life events that really put my mental health to the test. Basically, 2017 was a really crappy year and I'm really proud of how I pushed through it.
My blog has also led to some amazing opportunities, such as speaking at the Zero 2 Hero suicide prevention camp in Australia (twice) and writing for communities such as The Mighty, A Plus and The Thought Catalog.
I'm currently approaching schools with the idea of mental health workshops, as I believe arming our younger generations with the tools to build a strong mindset is something that could help to improve mental health. It's something I wish had been available to me 16 years ago.
Are there any particular health issues that you've had to overcome? How did you do that?
Yes - Generalised Anxiety Disorder. This can have me in a constant state of worry and dramatically impact my day to day life, if I'm not careful.
There were points in my early twenties that I spent a fair amount of time drinking, or not wanting to be here. I spiralled for a while and even stopped talking to my family for almost a year, which really devastated my Mum.
Fast forward to now, and I do a variety of things on a daily basis to ensure I feel my greatest. I exercise, and have found a new love with Crossfit. Not just for the sweat, but also the community feel.
I eat a healthy diet to avoid inflammation, with a heavy emphasis on vegetables, fruit, meat, fish and poultry. I prioritise sleep, limit alcohol, avoid toxic people and drama and make sure to have as much fun as possible.
Some days I manage to tick all these boxes. On others, I fall a little short. My body and mental health always let me know if I need to up the ante a little bit, as I'll start to feel anxious and over-think things. My close friends and family see the difference in me and are on hand to help.
What's the secret to your success?
I think just by being me and honest. I've never been afraid to talk about my experiences, or why it is I'm so open and passionate about mental health. I think there's something in that which people can relate to and not feel so alone.
I get a lot of wonderful messages about people's own struggles with their mental health, so I think the fact we can all feel in it together and take a little comfort in the fact is a big contribution to my success and recognition as a mental health voice.
What's your best piece of advice to help inspire others?
My biggest piece of advice would be accepting that bad things happen in life. It sounds dark and dismal I know, but by accepting this, we can always be on a journey to better our mindset, so that when something does happen, we're better equipped to handle it.
Everything I do on a daily basis is simple and accessible to anyone, which means we all have the choice to build a strong and healthy foundation of mental health.
The Busy Professional
Julia Putnina - @julzbirdie
Julia is an important member of our team here at Push Doctor, analysing user behaviour to help us build a website that gives our customers exactly what they need.
What are you most proud of?
I'm proud of my swimming achievements from when I was younger. I held Latvian records and competed internationally for my country, so I hit all the targets I set for myself.
Moving to a different country was also a big step for me. I didn't know a single person in the UK when I arrived, and I'd never even visited before!
Are there any particular health issues that you've had to overcome? How did you do that?
Binge Eating Disorder is not something that just goes away, but a change in lifestyle is something that you can potentially keep up forever.
My first step was to see that there was a problem and accept that I needed professional help.
I signed up with a therapist to get to the root of the issue, while I also developed an interest in psychology and the human mind. I was introduced to Buddhism by a friend and started reading about it. From this, I've learned about mindfulness and how to take a 'no fuss' approach to managing my stress.
I also joined a fitness group to help me look after my body. The guys and girls there are amazing!
What's the secret to your success?
A positive attitude to everything! Sometimes I forget to follow this rule, but that's why it's so important to surround myself with great people.
What's your best piece of advice to help inspire others?
It sounds like a cliché, but all of life's 'failures' and hiccups should be looked at in a positive light. You can learn something each time.
It's also really important to be positive. Stress and anxiety doesn't fix things, it just allows negative thoughts to make you feel worse.
More inspiration and advice
If you've found these inspiring stories helpful, you might be interested to read some of the expert women's health advice we've gathered from medical professionals across the UK.
More health advice