It's Women's Health Week, and as part of our #PushForward campaign, we've asked inspiring women to reveal how they've overcome both psychological and physical health challenges on their path to success.
These role models come from all walks of life and have been kind enough to share their stories with us. Whatever life throws at you, we're sure their advice will help you achieve your goals.
---
The Busy Mum
Amani Leefe
In addition to looking after her two children, Amani is a programme manager on a government EU Exit Programme. She manages teams in York, Liverpool and London.
What are you most proud of?
"Most recently, gaining a double promotion from a post I had outgrown into a new central Government Department which took me to Whitehall for two years. This made me realise that I was as capable as I dared to believe."
"Within a year of being in post, I attained a place on the Government Future Leaders Scheme, an accelerated development scheme which identifies future leaders of the Civil Service. Only 1% of Civil Servants my grade (and the one above combined) are on FLS and it was a hideous selection process."
"I'm proud that I achieved all of this during one of the most challenging periods of my personal life, and whilst having to independently support my two children, 7, 11. What makes me happiest is instilling this drive, commitment and a work ethic in my children and being able to give them a good quality of life."
Are there any particular health issues that you've had to overcome? How did you do that?
"I've suffered from general anxiety attacks and crippling imposter syndrome for most of my adult life. In the last couple of years, I've also experienced panic attacks - a term that in no way does justice to being rushed to hospital truly believing your time is up."
"I have used acupuncture, complementary therapies, exercise, and visited my GP in a bid to manage it. I've had to change work patterns and at times massively reduce the days I spend travelling for my job."
"Diet plays a really important part in how I feel and function, and we cook from fresh every night. I've learnt the hard way that I need to put myself and my mental and physical health first, but I still struggle finding a balance."
What's the secret to your success?
"I have found that in challenging times, I have channelled my courage and resilience to my advantage and pushed myself in other areas to succeed."
"The other hugely influencing factor is the gym - my church! Weight training has taught me how to face inconceivable things head on, and more generally, lifting heavy stuff gives you a great endorphin rush and makes you feel strong inside and out!"
"What I have learnt through experience is that the bigger the barriers you front up to and push through are the times that propel you forward the quickest."
What's your best piece of advice to help inspire others?
"Feel the fear and do it anyway!"
"I would also encourage you to take the Tony Robbins Rocking Chair Test. Robbins says 'It is in your moments of decisions that your destiny is shaped'. Imagine yourself as an old man or woman nearing the end of your life."
"As you sit and rock on your porch and contemplate upon your life, ask yourself if this decision will have any meaning to you in the future. Will you be proud or ashamed of your decision? How will this decision have affected the course of your life? How different would your life have been had you made a totally opposite decision?"
"It helps you to commit to your goals allowing you to put into perspective what's important not only to you right now, but in the future."
---
The Doctor
Dr Lauren Cara - @dr_laurencara
Lauren is currently enjoying a year in Australia, where she is working towards postgraduate qualifications in Integrative Medicine, Functional Medicine, Nutrition and Environmental Medicine.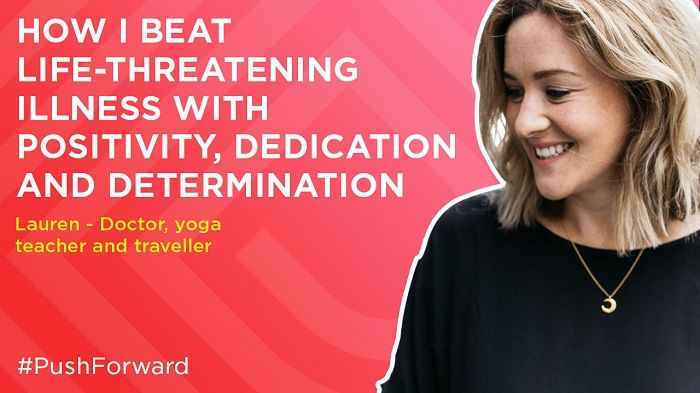 What are you most proud of?
"I'm proud of everything I've overcome and the way in which I've dealt with all the ups and downs."
Are there any particular health issues that you've had to overcome? How did you do that?
"Stage IV cancer in 2015. I had several operations before receiving cutting edge immunotherapy treatment."
"Alongside conventional treatment I turned my attention to optimising my diet, supporting my gut health, reducing stress, letting go of toxic relationships, practicing yoga and meditation (I trained as a yoga teacher whilst undergoing treatment), getting out into nature, exercising, enjoying lots of bucket list adventures and leaning on my amazing tribe of family and friends."
"Ultimately, love and community is key!"
What's the secret to your success?
"Positivity, dedication, determination and trust in a higher power."
What's your best piece of advice to help inspire others?
Self care comes before everything. If you don't look after yourself first, you won't be able to look after others.
---
The Student
Charlotte Rose Wheatley
Model and social media influencer Charlotte combines her studies with a job in the music industry.
What are you most proud of?
"Being seen as an inspiration to the young girls who reach out to me daily. I'm 5'2, a size 8/10 and I embrace my body, which isn't typically to industry standards."
"I'll never apologise for embracing my curves and hopefully helping to make a change in the industry. Never revert to such drastic measures that you put your health and your wellbeing into jeopardy."
"I'm sure I'll also be extremely proud when I finally finish my degree!"
Are there any particular health issues that you've had to overcome? How did you do that?
"I suffered with mental health issues for a few years, to the point it was really hard for me to go through day to day life."
"At first I didn't necessarily deal with it. I buried my head in the sand, because I didn't want to admit that I was suffering. After a few months of not feeling better (in fact, feeling worse), I went back to the doctor and got help."
"I tried medication, different types of therapy and everything else they suggest, but I honestly found what worked best for me was having some form of distraction from how I was feeling. Not having to talk about it, or think about it, or let it consume me."
"I started going out more, travelling more, moved abroad for a few months, worked more and worked out five times a week.
"Your first priority should always be taking care of yourself and making sure you're doing the best you can, in every situation."
What's the secret to your success?
"I'm a firm believer in setting a goal, working hard and not being afraid to ask for help if you need it. I owe all of my success to my friends and family, for supporting me and allowing me to live out my dreams, even when there was doubt that I would."
What's your best piece of advice to help inspire others?
"You are enough. You're unique and you are YOU, stop comparing yourself to other people. The only person you should be in competition with is yourself."
---
Get more Women's Health advice
Like what you've seen? Well, there's lots more where that came from! You'll find lots more inspiration and advice here, while you can also find more inspiring stories in part two of our blog.
Read Part 2