Find out how to make this delicious sausage casserole - the perfect one-pot dish for those chilly winter evenings!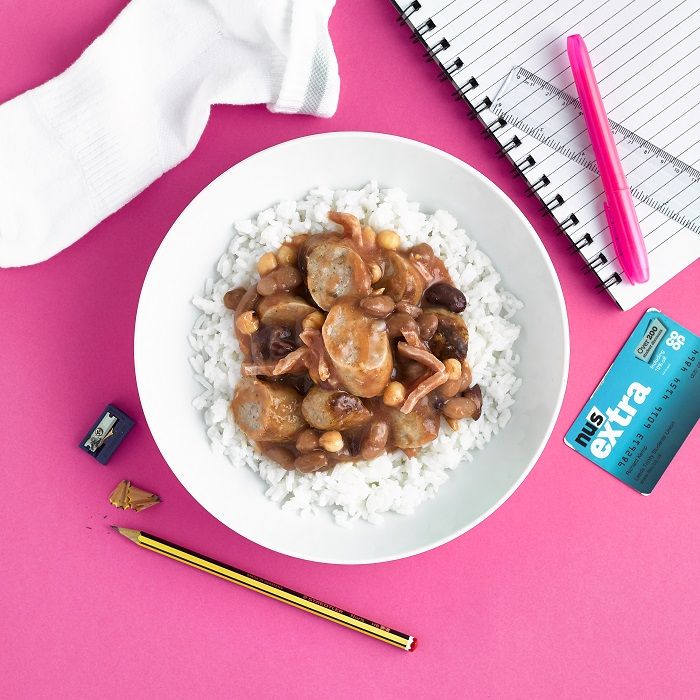 Ingredients (serves 4)
8 lean pork sausages
1 tin of mixed beans
150g basmati rice
1 tin of chopped tomatoes
2 cloves of garlic
1 tbsp tomato paste
How to make it
Add a tablespoon of oil to a frying pan. Heat it to a medium temperature.
Cut your sausages into three chunks and fry for 3-4 minutes, turning so they cook evenly.
Finely chop your garlic (or buy the ready-done stuff in a jar, we won't judge).
Add the garlic, tinned tomatoes and a splash of water. Cook on a low heat, stirring regularly, until the liquid has reduced by a third.
While this cooks down, bring a large pan of water to the boil.
Add the rice and simmer for 15mins until soft.
Drain the beans and add them to your casserole for a further 5 minutes.
Everyone gets a big spoonful of rice and casserole each. Can't say fairer than that, can you?
What makes this casserole so great?
It's healthy
As you've probably worked out by now, we're interested in keeping you healthy while you're at university. That's why this recipe is packed with stuff that provides the nutrients you need.
It's rich in protein from the sausages and beans, which will help your body recover after a hard day of hitting the books.
Beans and rice both provide complex carbs that'll provide the energy you need to deal with the demands of university life. They'll also keep your blood sugar levels under control. That's in contrast to junk food, which will cause a spike in blood sugar followed by an unhelpful energy crash later in the day.
While garlic famously won't do much for your breath, it will keep your immune system nice and strong. When your body's good at keeping illnesses at bay, you're less likely to miss out on any of your university adventure.
Then there's tomato. Like all fruit and veg, it's full of vitamins. In this case, you're getting plenty of Vitamins A and E, which are good for your eyesight and your skin.
It's cheap
Eating healthily is all very well, but you don't want to take too big a chunk out of your precious student funds. This recipe won't do that.
A pack of sausages is around £2, while your tins, garlic and rice won't set you back more than £5. You can easily feed yourself and three housemates for under a tenner. That's cheaper than ordering a pizza!
There's hardly any washing up
Hating the washing up is a lazy stereotype often thrown at students. This is terribly unfair. In fact, people of all ages resent having to wash up after a nice meal. It's boring.
That's why a casserole is so great. With just two pans, four bowls, a chopping board and a bit of cutlery, there's very little washing up.
It's great for winter
When it's grim, grey and cold outside, sometimes your house needs a lift. With a warming, delicious recipe like this, you could be the person to provide it.
The smell of sausages cooking is always welcome and will soon have your housemates assembling in the kitchen to see what's going on.
You can freeze leftovers
We know you have far too much going on to cook every night. There aren't enough hours in the day.
Recipes like this will really help, as you simply make the same amount of casserole, keep it all to yourself and freeze a couple of portions for days when you know you'll be busy.
Want more healthy recipes?
We've got plenty! Have a look around and see if there's anything else that takes your fancy.
Find more recipes