Wimbledon wouldn't be the same without fresh strawberries and cream. It's the perfect British summertime treat, so naturally we've asked our team of food scientists to make it even better!
The result? This delicious, healthy twist on a strawberry cheesecake! It's full of fresh, juicy fruit, creamy yoghurt and crunchy homemade granola, so it's a sure-fire hit with friends and family.
What's more, it's really easy to make, so you won't miss a single moment of the action on Centre Court.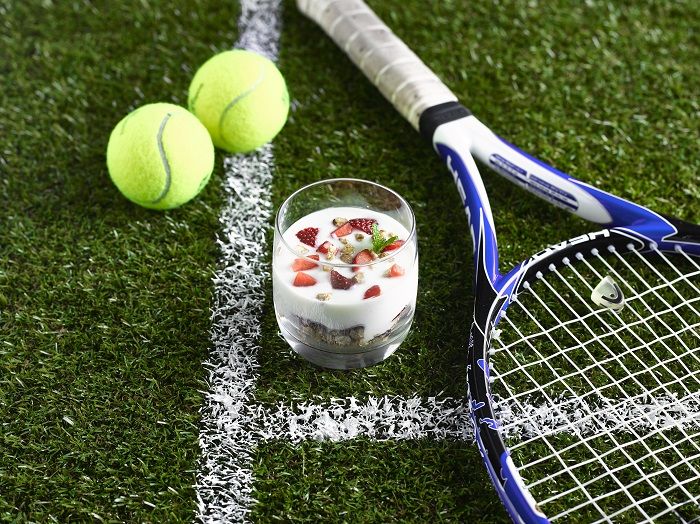 Ingredients (serves 4)
For the topping:
12 fresh strawberries
200g Greek yogurt
12g fresh pomegranate seeds
For the granola base:
85g rolled oats
1 tsp light brown sugar
1/4 tsp ground cinnamon
2 tbsp honey
20ml vegetable oil
1/2 tsp vanilla extract
2 tbsp dried fruit, finely diced
2 tbsp raw or toasted nuts or seeds, coarsely chopped
Pinch of salt
How to make
Pre-heat your oven to 150C (Gas mark 2).
Mix the oats, sugar, cinnamon and salt in a large bowl and set aside.
In a separate bowl, mix the honey, vegetable oil and vanilla extract.
Pour this over the oat mixture and stir in thoroughly.
Spread the mixture onto a shallow baking tray in a thin, even layer.
Bake for 15 minutes.
Remove from the oven and stir.
Bake for a further 10 minutes, or until golden brown.
Leave to cool for around 20 minutes, until your granola reaches room temperature. It will harden as it cools.
Add your chopped fruit and nuts to the mixture and stir.
Spoon your granola into four glasses.
Top with the yoghurt, followed by the pomegranate seeds.
Slice your strawberries into quarters and arrange over the top of the cheesecake to serve.
Quick Nutritional Value (per serving)
Calories: 258
Carbs: 36g
Protein: 10g
Fat: 10g
What's In It?
When it comes to our recipes, we always choose the ingredients that'll both taste delicious and provide a health benefit for your body. This cheesecake is no exception.
Strawberries
Strawberries are really in season during the summer, and they're also a great source of antioxidants that protect the body against illness. These include anthocyanins, ellagic acid and resveratrol. Strawberries are also an excellent anti-inflammatory, which helps defend your body against infection or injury.
Pomegranate
Those little pomegranate seeds nestled among the strawberries are packed with Vitamin C, while their juicy centres provide more antioxidants. They also contain a compound called punicalagin, which helps preserve the natural collagen in your skin and helps it stay smooth.
Yoghurt
While a regular cheesecake is all kinds of fattening, using yoghurt here provides a natural probiotic that will help your digestion and can support weight loss efforts.
Oats
The oats that form the bulk of your granola provide slow-release carbohydrates. This helps regulate your blood sugar and protect you against diabetes, as well as reducing cholesterol. This sort of carb is important for the long-term health of vital organs, such as the heart, lungs, kidneys and brain.
Nuts
Nuts are high in fat-soluble vitamins, such as Vitamin E. These essential nutrients are only absorbed into the body through fat and our bodies don't produce them naturally, so we need to get them through food. The nutrients in nuts also improve your immune system and help with muscle, bone and skin health.
Cinnamon
Finally, we have cinnamon. This adds a sweet and spicy depth to your cheesecake, while it also contains a wide range of antioxidants and has both an anti-inflammatory and anti-diabetic effect. In fact, it has such a range of health benefits, some nutritionists have labelled it a superfood.
Looking for more healthy summer treats?
We're always creating new healthy recipes for you to enjoy. Whether they're a healthier twist on a classic dish, or a way for us to combine the most nutritious seasonal ingredients available, there's plenty for you to try!
Find more recipes
Have a healthy summer