Few things will make you more popular with your children than producing a tub of ice cream from the freezer. What could be better on a hot summer's day?
If only ice cream wasn't so high in fat and sugar.
Well, maybe it doesn't have to be!
Our chefs have created this delicious banana ice cream that provides all the taste, without the unhealthy stuff. The texture of banana is similar to ice cream, so your children will barely notice the difference.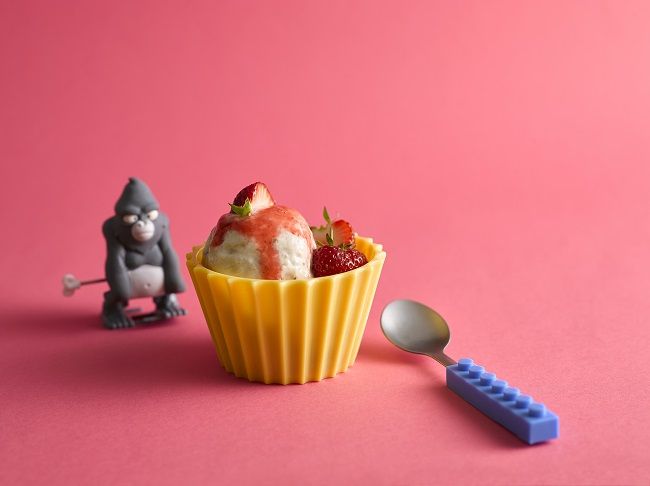 Ingredients (makes one batch)
3 bananas
150g Greek yoghurt
1 tsp honey
5 fresh strawberries
2 tbsp water
How to make
Blend your bananas in a food processor.
Fold in your yoghurt and place the mixture in the freezer for 45 minutes.
Mix everything together again and return to the freezer for a further 30 minutes.
Blend your strawberries, honey and water together to create a tasty sauce.
Put a scoop of ice cream in a bowl, drizzle over the sauce and serve.
This mixture will last for 5 days. Each time you use your ice cream, you'll need to remix it and return to the freezer for 10 minutes.
Quick Nutritional Info (per batch)
Calories: 201
Carbs: 36g
Protein: 12g
Fat: 2g
What's in it?
Banana
The sweetness of bananas makes them an ideal candidate for a dessert. They're a quick source of energy for your children and they're rich in potassium, which will control blood pressure and increase heart health.
They're also rich in bioactive compounds, including dopamine, which controls many key brain functions, and catechins, which help protect your child's body against disease.
Yoghurt
Yoghurt is rich in bioactive ingredients called probiotics, which are useful for your child's digestive health. Helping your child become accustomed to healthy bacteria will help them become more resistant to bad bacteria in later life.
Strawberries
Britain's favourite summer fruit is an excellent source of vitamin C, which your child needs for healthy skin and gums, and vitamin K, which helps wounds heal faster by speeding up blood clotting.
Strawberries also contain fibre, which helps with digestion and fructose, which can help regulate your child's blood sugar levels by slowing digestion down, leaving them feeling full for longer.
Additionally, they provide folic acid, which is good for heart health and manganese, which releases enzymes that help your body break down food.
Honey
Honey contains a number of vitamins and minerals that help your child build a healthy immune system and keep cholesterol low. It's a good alternative to any sort of sugary snack.
What else can you do to keep your child healthy this summer?
Watching what your child eats is a great first step towards ensuring they have a healthy summer.
If you'd like to see even more healthy advice, including how to keep your child's mind sharp over the holidays and how to ensure they stay physically active, hit the button below to see what our doctors have to say.
Get more advice