Fish and chips is a true British classic, but unfortunately our bodies don't take too kindly to a large plate of deep fried food.
We're going to help your children enjoy the best of both worlds.
This healthy twist involves preparing your own fish fingers at home. Created by our expert chefs, it's really quick and easy. We're coating our fish in crispy breadcrumbs instead of greasy batter, sweet potato is a much healthier alternative to chips, while there's not a deep-fryer in sight - we're oven-baking everything.
We can easily see this one becoming a new family favourite!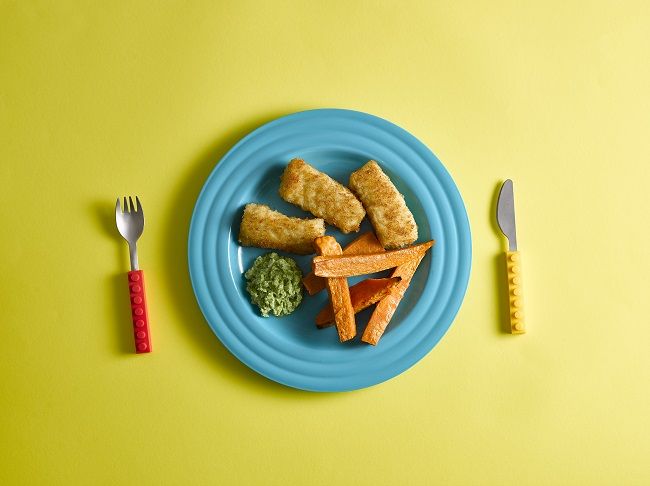 Ingredients (serves 2)
240g cod
2 sweet potatoes
2 eggs
200g breadcrumbs
40ml semi-skimmed milk
140g frozen peas
1 sprig of fresh mint
2 tbsp sunflower oil
How to make
Preheat your oven to 200°C.
Cut your fish into goujons (strips).
Beat the egg and pour it into a shallow dish.
Coat each piece of fish in egg and then roll it through the breadcrumbs until covered. Repeat this step if necessary.
Arrange your goujons on a baking tray.
Peel your sweet potato OR wash it thoroughly and leave the skin on.
Cut your sweet potato into wedges, coat them in sunflower oil and place them on the same baking tray as your fish.
Bake for 15 minutes.
Cook the frozen peas and blend them with the mint and a little water to create the perfect mushy peas.
Quick Nutritional Info (per serving)
Calories: 356
Carbs: 132g
Protein: 36g
Fat: 6g
What's in it?
Cod
Cod provides the protein in this dish. A couple of these fish fingers will ensure your child feels full and happy, so they won't need to snack later. Protein also helps muscles grow and repair, which is important even at an early age.
It's also an excellent source of omega-3, which lowers your child's risk of heart disease, dementia and arthritis in later life. They'll also get a good helping of vitamins B5 and B12, which release energy from food, selenium, which boosts the immune system and phosphorus, which builds strong bones and teeth.
Sweet potato
This complex carb is a great way to provide plenty of long-lasting energy with very little fat. They're one of the best sources of Vitamin A you'll find, which is great for your child's skin, immune system and eye health.
Sweet potato also provides the B vitamins niacin and thiamin, which are great for maintaining your child's nervous system. Then there's calcium, which is vital for healthy teeth and bones, and potassium, which helps your child's heart function properly.
Peas
Like all green vegetables, peas provide plenty of valuable nutrients that are essential for your child's health.
We've already talked about the benefits of niacin and phosphorus, while peas put plenty more on the plate. Vitamin C is good for healthy gums and skin, copper is important for your child's brain development, folate protects your child against anaemia and fibre is needed for digestion.
Looking for a healthy dessert?
You wouldn't normally see the words 'healthy' and 'dessert' next to each other. Traditionally, it's also not a combination that has delighted children. Our quick and easy banana ice cream will soon change that. Give it a try!