You don't need us to tell you how important breakfast is, especially for your children. Unfortunately, many commercial breakfast products aimed at kids are very unhealthy.
All too often, your child's attention is grabbed by an advert for something covered in milk chocolate or sugar. This is a terrible start to their day and is a habit that may be difficult to break in later life.
Rather than spend money on sugary cereal that'll damage your child's teeth and lead to weight gain, why not make your own healthier version at home instead? Created by our expert chefs, our delicious Fruit Crunch Breakfast Bowl is low in sugar and contains plenty of nutritious fruit that will ensure your child gets everything they need.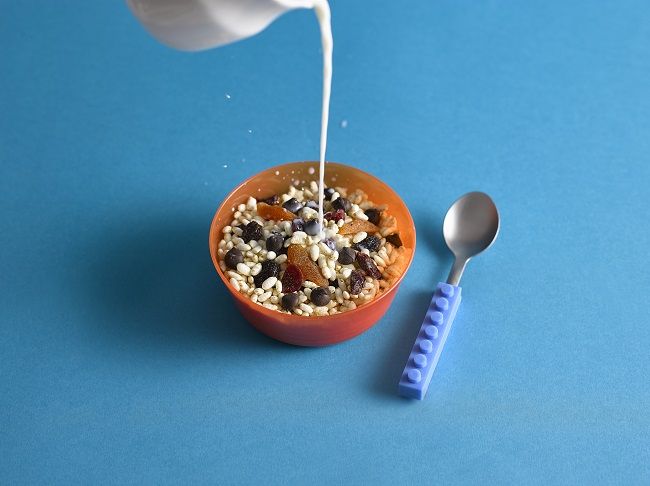 Ingredients (serves 2)
50g puffed rice
15g dark chocolate
3 dried apricots
20g raisins
15g dried cranberries
5g sunflower seeds
Semi-skimmed milk
How to make
Chop the chocolate and apricots into small chunks.
Mix all your ingredients together.
Divide into individual bowls.
Pour over ice cold milk to serve.
Quick Nutritional Values (per serving)
Calories: 243
Carbs: 50g
Protein: 3g
Fat: 4g
What's in it?
Puffed rice
This is a good source of carbs, which provide the energy your child will need throughout the day.
Dark chocolate
The flavanols in dark chocolate will protect your child's skin against sun damage, improve blood flow to their skin and keep it hydrated.
It's also much lower in sugar than milk chocolate and white chocolate, so it's definitely the healthiest option of the three.
Apricots
Apricots are rich in Vitamin A, also known as retinol. This is a fat-soluble vitamin that helps maintain your child's vision, manages their immune system and protects their skin. Like many orange fruits and vegetables, apricots are also a good source of beta carotene, which is great for your child's eyesight.
Cranberries
These little berries have both antioxidant and anti-inflammatory properties, so they provide many health benefits for your child. They also contain vitamin C, which is important for healthy teeth, gums, skin and bones and vitamin E, which strengthens the immune system.
Then there's vitamin K, which helps wounds heal faster and is ideal for the inevitable bumps and scrapes your child will pick up while they're out playing.
Cranberries are also high in fibre, which improves digestion, copper, which promotes brain growth and development, and manganese, which activates important enzymes in the body.
Sunflower seeds
Sunflower seeds contain plenty of vitamin E and copper, as well as thiamin, which helps your child's nervous system, phosphorus, which is needed for strong bones and teeth and selenium, which is another mineral that helps your child's immune system.
They're also a source of essential fatty acids, which your child's body needs in order to maintain a healthy weight.
What about lunch?
Looking for a healthy lunch option to complement your child's breakfast? They'll love these delicious homemade fish fingers. Served with oven-baked sweet potato wedges and proper mushy peas, it's a really quick and easy family meal.
Show us the healthy meals you've prepared for your child over on Twitter or Instagram and we'll share the best!