The biggest issues for people when trying to eat more healthily is making sure there's enough variety in your new diet. These delicious recipes will make things easier.
One of the biggest issues for people when trying to eat more healthily is making sure there's enough variety in your new diet.
Eat the same foods every day and your meals will quickly become so boring that you'll risk falling back into bad habits.
Powered by our smart network of doctors, we're here to help make sure this doesn't happen by introducing you to food that tastes good and does good too!
We've been talking to healthy food bloggers about their favourite recipes and put together this list of delicious, simple breakfast recipes, tasty lunch ideas and easy dinners that will help make achieving your nutrition goals fulfilling and enjoyable!
These nutritious, delicious recipes will make things easier.
Skip to:
x
BREAKFAST
We all know that breakfast is the most important meal of the day, so it's worth creating a healthy one. These tempting treats are easy to make, nutritionally balanced and really filling, so you won't be tempted to snack before lunch.
EGG & BACON KALE CUP
by leanlivinggirl.com
LLG Carly is passionate about healthy eating, fitness and travel. There's no calorie-counting here, just tasty, nutritious recipes that'll leave you feeling great!

Follow on: Twitter - Instagram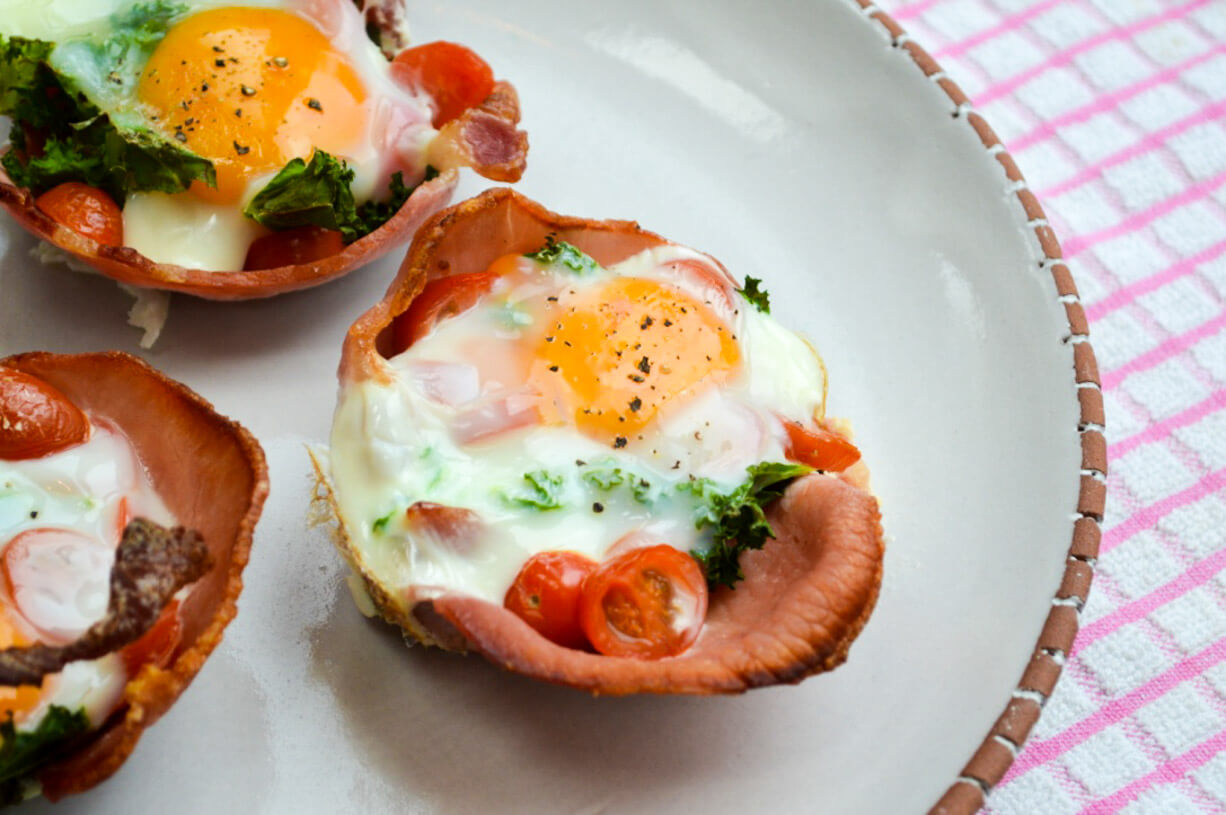 Bacon and eggs is a classic British breakfast, but did you know it could also be healthy?
This recipe uses a piece of bacon as a container for a nutritious, delicious mix of kale, tomato and egg. Trimming and grilling your bacon helps you lose a lot of the saturated fat, while baking the egg instead of frying it in oil is also a healthier option.
Ingredients (makes 3 cups)
3 organic eggs
Handful of chopped kale
6 cherry tomatoes
6 pieces of back bacon
1 tbs coconut oil for greasing muffin tray
Sea salt and black pepper to season
Optional: Serve with freshly-sliced avocado
How to make
Pre-heat the oven to 180℃
Trim the fat off the bacon and lay the pieces on a grill pan, grill for 5 minutes until starting to crisp round outside.
Grease the muffin cups with a little coconut oil.
Place 2 bacon slices in each muffin cup and push them against the sides to make an edge.
Get a small handful of kale and press it down into the centre of the cup.
Thinly slice the cherry tomatoes and scatter them over the kale.
Crack and egg over the top and sprinkle with sea salt and black pepper.
Place in the oven for 12-15 minutes until the white has turned opaque and the yolk still 'wobbly'.
Remove from the oven and use two spoons to scoop out the cup. Serve and enjoy!
CARROT CAKE BAKED OATMEAL
by eatwiseuk.com
The brother-and-sister team at eatwise have branched out from food magazines to a site packed with delicious, healthy recipes.

Follow on: Facebook - Twitter - Instagram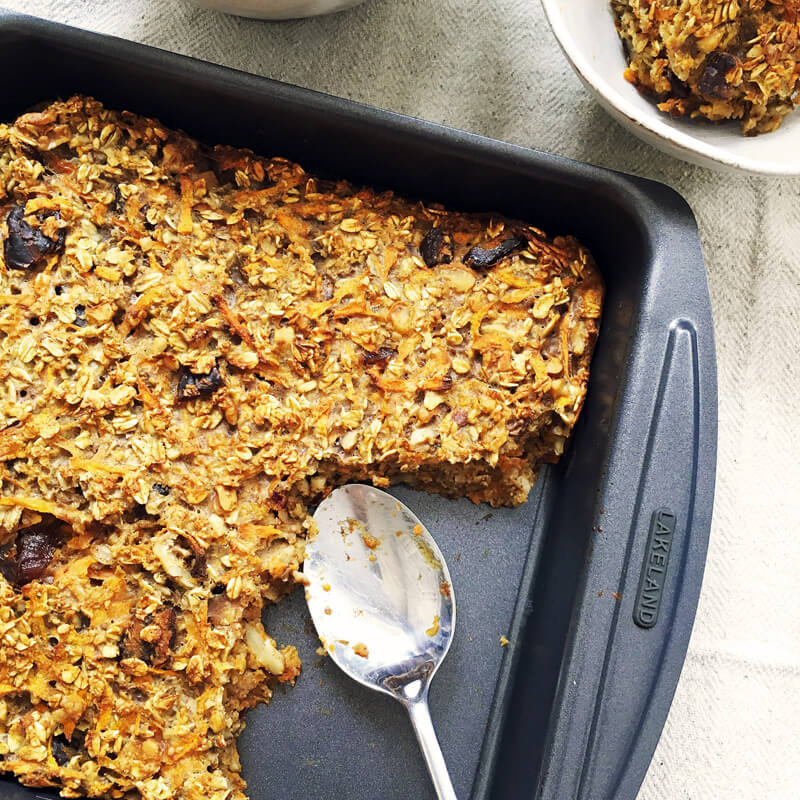 Cake for breakfast seems too good to be true, but the clever people at eatwise have made it happen with this creative combo. You'll enjoy the wonderfully soft, chewy texture you'd expect from oatmeal and the rich, sweet flavour of carrot cake, all in the same bowl! It really is the best of both worlds!
The oats and dates pack a punch of fibre, while the protein from oats and eggs will keep you feeling full for longer. You've also got vitamins and minerals in every bite from the carrot, walnuts and dates.
Maple syrup is much better as a source of sweetness than nutritionally-empty sugar. While it still contains some calories, you're least getting essential nutrients such as calcium, magnesium and potassium. Plus, you won't suffer the sort of mid-morning energy crash you might get from a bowl of cereal.
Ingredients (makes 6 portions)
2 cups (180g) oats (jumbo are best)
1 tsp baking powder
1 tsp cinnamon
1/4 tsp nutmeg
Large pinch of salt
2 eggs
1 cup (240ml) milk of choice
1 tsp natural vanilla
1 cup (125g) carrot, grated
1 tbsp maple syrup (or honey)
1/2 cup (70g) walnuts, roughly chopped
6/7 dates, stoned and chopped (or a handful of raisins)
How to make
Heat the oven to 180°C/350°F/gas 4 and grease a non-stick baking tray.
In a large bowl, stir together the oats, baking powder, cinnamon, nutmeg and salt.
In a separate bowl whisk together the eggs, milk, vanilla, grated carrot and maple syrup.
Add the wet ingredients to the dry, mix to combine, then stir in the walnuts and dates.
Bake for 30 minutes until the top is golden brown and the mixture is coming away from the sides of the tin.
BROWNIE BATTER PROTEIN OATS
by fitasfudge.com
Fit as Fudge creator Ashleigh is "an accountant by day and a foodie by night"!
Follow on:
Facebook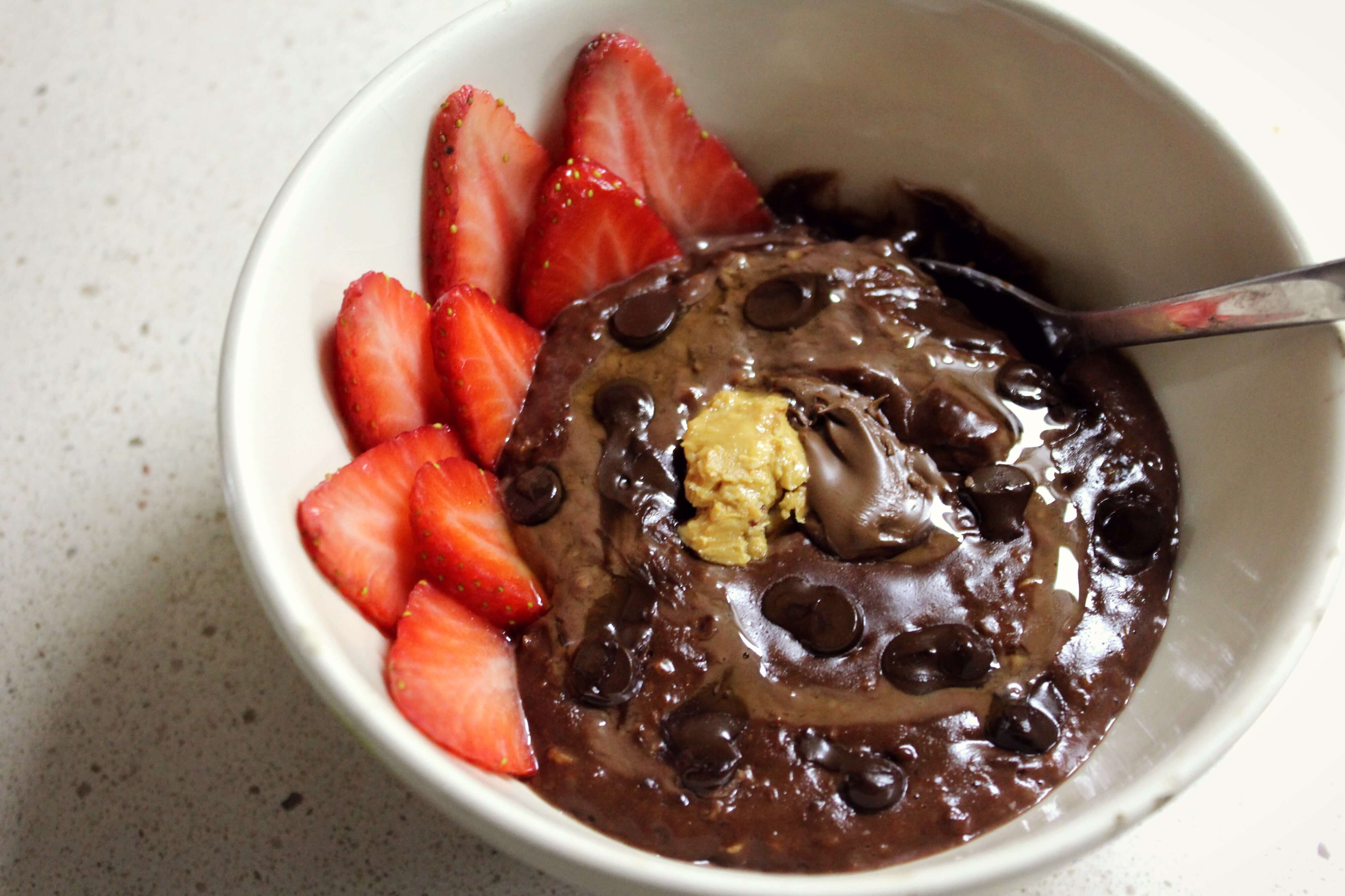 Do you regularly find yourself pushed for time in the mornings? This indulgent bowl of chocolate oats is ready in just a few minutes.
At first glance it might not seem that healthy, but there are 28g of protein and only 13g of fat in here. If you need a way to satisfy your chocolate cravings, treating yourself to this occasionally is a much better option than trying to go cold turkey.
Dark chocolate is much lower in sugar than milk chocolate, while it's also richer in magnesium and iron. Choose chocolate with a cocoa percentage of around 85%, as this will contain the lowest amount of sugar.
Elsewhere, you've got fibre from oats, a protein hit from your protein powder and, should you opt for the fresh strawberry garnish, a healthy serving of vitamin C.
View the original recipe
(Editor's Note: link removed, site unavailable)
Ingredients (makes 1 portion)
40g oats
200ml almond milk
1 heaped tbsp unsweetened cocoa powder
1 scoop chocolate flavour protein powder
1 tbsp honey
1 small handful dark chocolate chips
How to make
Place oats and almond milk into a microwave-safe bowl. Microwave on high for approx. 1 minute 30 seconds.
One by one, add in the protein powder, cocoa powder and sweetener and mix it all in.
Place back in the microwave and heat for a further 30-40 seconds. If you find it gets too thick or dry, just add some more milk.
Now carefully stir through the chocolate chips, and watch them start to melt into the oats (yum!).
Finish your brownie batter oats by topping the bowl with some chopped strawberries, and your choice of peanut butter or Nutella (or both!).
VEGAN BANANA OAT PANCAKES
by putumayokitchen.com
Putumayo Kitchen is run by Brighton-based bloggers Joe and Gabriella. As you'll see, many of their recipes are inspired by their travels!

Follow on: Twitter - Instagram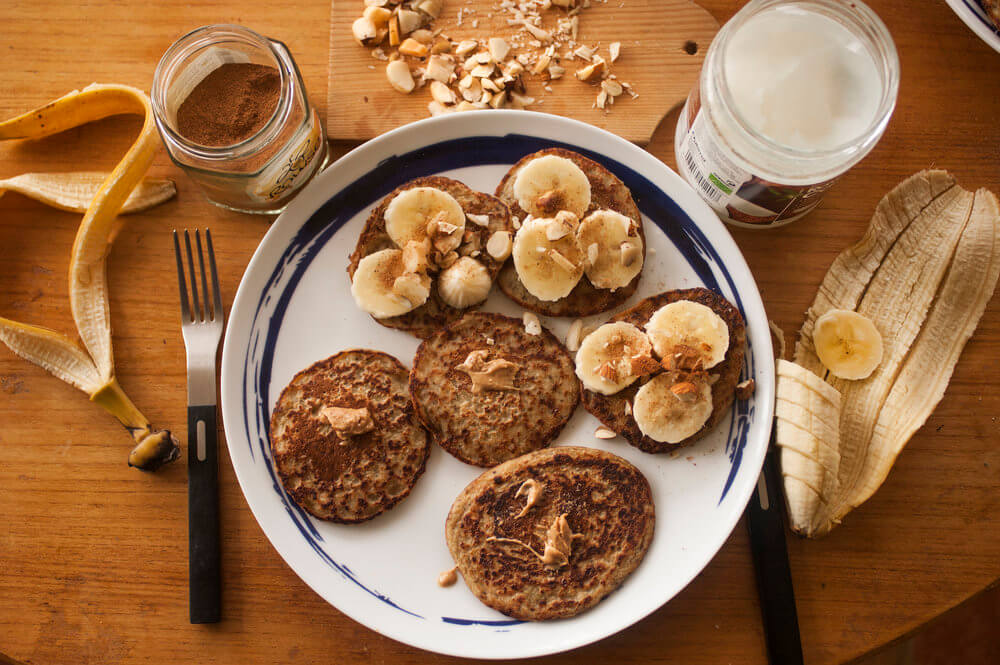 These dairy-free, sugar-free pancakes are a really healthy way to start the day. If you're not a morning person, you can even make the batter the night before!
As you may know, bananas are a great source of potassium, vitamin B and vitamin C, so using them to bring sweetness to this light, fluffy pancake batter is a brilliant alternative to sugar. The oats will keep you satisfied until lunch, while piling a selection of fresh fruit on top will only add to the healthiness.
Ingredients (makes 12 pancakes)
1 cup of oats
1 ripe, medium banana
1 full cup of liquid (we use half oat milk & half water, but you can substitute with any nut milk, or just water!)
1 tablespoon of chia seeds (egg replacement)
1/2 tsp of ground cinnamon
1/2 tsp grated nutmeg
A pinch of sea salt
How to make
Place all ingredients in a blender and process into a smooth batter.
Let the batter sit for around 30 minutes. This step is important so that the chia seeds can bind the batter together! We put ours in the fridge but it's not totally necessary. If you're very prepared, you can make your batter the night before.
In a medium non-stick pan, heat 1/2 tsp of coconut oil on a low heat. Once the pan is hot, pour your batter into circular pancake shapes. We normally fry 3 small pancakes at a time. Fry until golden on both sides.
Once ready, it's time for toppings! This stage is completely up to you - nut butters, cacao nibs, chopped nuts, extra cinnamon, coconut oil, berries, banana, honey, maple syrup - whatever you fancy to set you up for a great day.
SPINACH, SWEET POTATO AND BEAN SOUP
by behealthynow.co.uk
Petra at Be Healthy Now bases her recipes around the best organic ingredients, free from toxins and pollution.

Follow on: Facebook - Twitter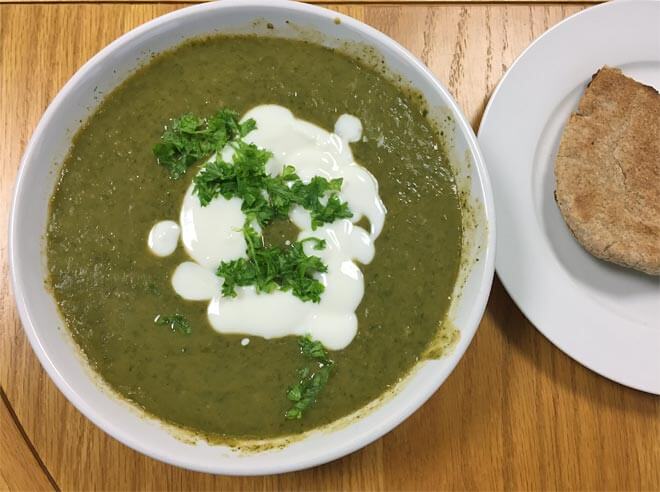 This hearty soup will certainly refuel your body after a busy morning. You'll get plenty of nutrients too, with the spinach, sweet potato, beans and garlic combining to ensure you get more than enough of vitamins A, B, C and K.
Using sweet potato instead of potato as a thickener cuts back on carbs without compensating on texture, while the beans provide protein. Mop it all up with a small, wholemeal pitta bread and you're set for the afternoon!
Ingredients (serves 2)
100g spinach, washed
1 small sweet potato, cut in cubes
1 carton of cannellini beans (230g drained weight)
1 red onion, sliced
3-4 cloves of garlic, chopped
bay leaf
2 tbsp rapeseed oil
pinch of nutmeg
water (start with 500ml and if too thick add more at the end)
2 tbsp vegetable stock
pepper, salt (as required)
How to make
Heat up some rapeseed oil in a medium saucepan (medium-high temperature).
Add sliced onions and gently fry until soft.
Add chopped garlic and cook for another minute or so.
Add sweet potato and enough water to cover it all. Add bay leaf, a pinch of nutmeg and vegetable stock. Cook for 5-10 minutes (depending on the size of potato cubes).
Add spinach and cook for another 5 minutes.
Finally, add cannellini beans which you have just blended into a paste.
If it feels too thick add some more water.
To finish it off use blender to make it smooth and serve with some natural yoghurt, chopped parsley and wholemeal pitta bread. Add pepper and salt, as required.
SINGLE SERVE COURGETTE AND SPINACH FRITTATA
by the9to5foodie.co.uk
Health and wellbeing expert Lucie has created dozens of quick and easy recipes on The 9to5 Foodie - perfect after a long day at the office!
Follow on:
If you love the taste of an omelette, but don't get on with all the flipping and folding involved, what you're after is a frittata! This light one-pot recipe couldn't be much easier and will leave you with a protein-rich lunch that ticks off one of your five-a-day.
As you'd expect from a meal that's packed full of green veg, there are plenty of vitamins and minerals here too. The spinach and courgette combo will provide you with vitamin A, vitamin B, vitamin C, iron and magnesium, while serving your frittata with a side of roasted tomatoes puts even more vitamin A and C on the plate.
Ingredients (makes one portion)
3 free range eggs
½ a courgette
½ small red onion
Small handful of spinach
2 tsp coconut oil plus a little for greasing
2 medium sized tomatoes
½ tsp Herb de Provence or mixed herb
Salt and pepper
How to make
Preheat the oven to 180C
Slice the tomatoes in half, place on baking tray with a tsp of coconut oil. Season with the Herb de Provence/mixed herbs, salt and pepper.
Slice the red onion thinly and add to a small saucepan with a tsp of coconut oil and gently cook on a low heat for 5 minutes.
Slice the courgette lengthways into thin ribbons before adding to the saucepan. Cook until the courgettes have slightly softened.
Whilst this is cooking, whisk your eggs and season with salt and pepper.
Transfer the vegetables into a small oven proof dish, this should be a single serving size and greased with a little coconut oil. Mix through the spinach and then add the eggs. Mix so the egg is evenly distributed and then pop in the oven along with the tomatoes and cook for 20 minutes.
Serve straight out of the dish or spoon out onto the plate and enjoy alongside the roasted tomatoes.
QUINOA TABBOULEH SALAD
by putumayokitchen.com
Putumayo Kitchen is run by Brighton-based bloggers Joe and Gabriella. As you'll see, many of their recipes are inspired by their travels!

Follow on: Twitter - Instagram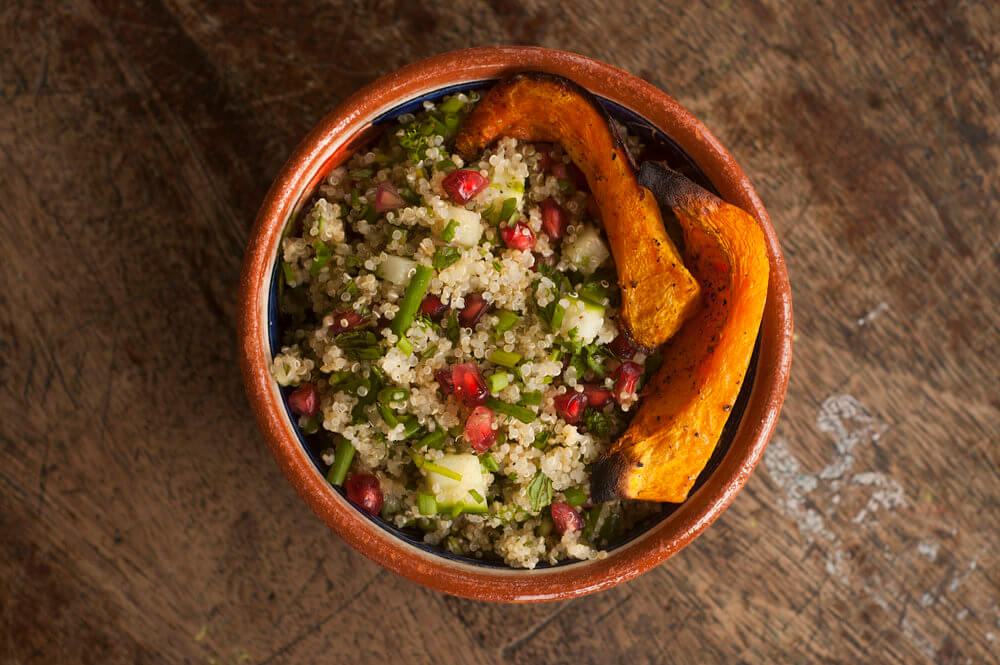 This refreshing, zingy salad is virtually fat-free, so it's perfect if you're trying to lose weight.
Quinoa has only a fraction of the carbs found in rice or pasta, so it's ideal for people whose jobs aren't very active. It's also rich in fibre and iron. No wonder people are always calling quinoa a 'superfood'!
The sweet pomegranate and sharp lemon complement each other well, and along with the cucumber provide plenty of vitamin C. You can make a big batch of this salad on a Sunday night and take a portion of it to work with you throughout the week.
Ingredients (makes 4-6 portions)
1 and 1/2 cups of quinoa, thoroughly rinsed
A large handful each of - fresh mint, parsley and chives, chopped
1 pomegranate
1 cucumber, finely diced
1 lemon
A generous drizzle of good quality olive oil
Salt & pepper, to taste
How to make
First, cook the quinoa with a large pinch of salt, drain well and set aside to cool.

Once the quinoa has cooled to room temperature, mix in the fresh herbs, pomegranate seeds and diced cucumber. Drizzle in olive oil, the juice of 1 lemon and season with salt and pepper.

Serve and enjoy! We love ours with roasted butternut squash and hummus.
HEARTY, HEALTHY, WINTER MINESTRONE SOUP
Anjali at The Picky Eater set out to create meals her husband would enjoy. Now, she's got a huge audience waiting to try her latest creations!

Follow on: Facebook - Twitter - Instagram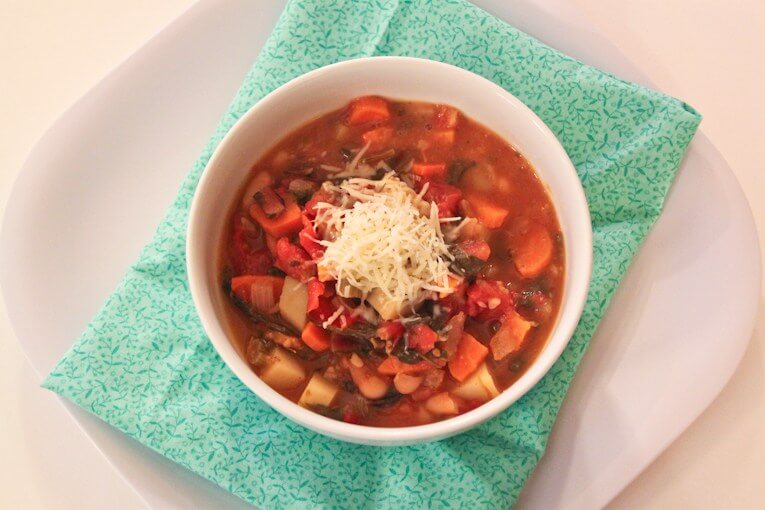 This classic Italian dish is packed full of fresh vegetables and can be enjoyed as a lunch or dinner. It's bursting with the flavours of the Mediterranean, an area renowned for enjoying one of the healthiest diets in the world.
The carrot and chard easily fulfil your daily vitamin A needs, while you'll also get vitamin C, calcium, potassium and iron from your finished dish. The Parmesan adds another flavour dimension, but can easily be left off if you're trying to cut down on your fat intake.
Ingredients (makes 6 large portions)
1 tsp olive oil
1 red onion, chopped
2 carrots, peeled, chopped
2 celery stalks, chopped
2-3 garlic cloves, minced
1 pound Swiss chard, stems trimmed, leaves coarsely chopped
1 russet potato, peeled, cubed
1 (14.5oz) can diced tomatoes
1 fresh rosemary sprig
1 (15oz) can cannellini beans, drained, rinsed
28 oz low-sodium vegetable broth
1 ounce piece Parmesan cheese rind
1/2 tsp salt
1/4 tsp pepper
Optional – 1/8 tsp crushed red pepper
Grated parmesan cheese (for topping – 1 tbsp per bowl)
How to make
Heat the oil in a heavy large pot over medium heat. Add the onion, carrots, celery, and garlic. Saute until the onion is translucent, about 10 minutes.
Add the Swiss chard and potato; saute for 2 minutes. Add the tomatoes and rosemary sprig. Simmer until the chard is wilted and the tomatoes break down, about 10 minutes.
Meanwhile, blend 1/2 cup of the beans with 1/2 cup broth in a processor (or mash together with a potato masher) until almost smooth. Add the pureed bean mixture, remaining broth, salt / pepper / spices, and Parmesan cheese rind to the vegetable mixture. Simmer until the potato pieces are tender, stirring occasionally, about 15-20 minutes. Stir in the whole beans and simmer until the beans are heated through and the soup is thick.
Discard Parmesan rind and rosemary sprig (the leaves will have fallen off of the stem) before serving. Top with 1 Tbsp shredded parmesan cheese.
CELERIAC, BEETROOT, CARROT AND APPLE SALAD
by hermionespantry.com
Hermione at Hermione's Pantry has shared one of her fantastic vegetarian recipes with us!
Follow on:
Facebook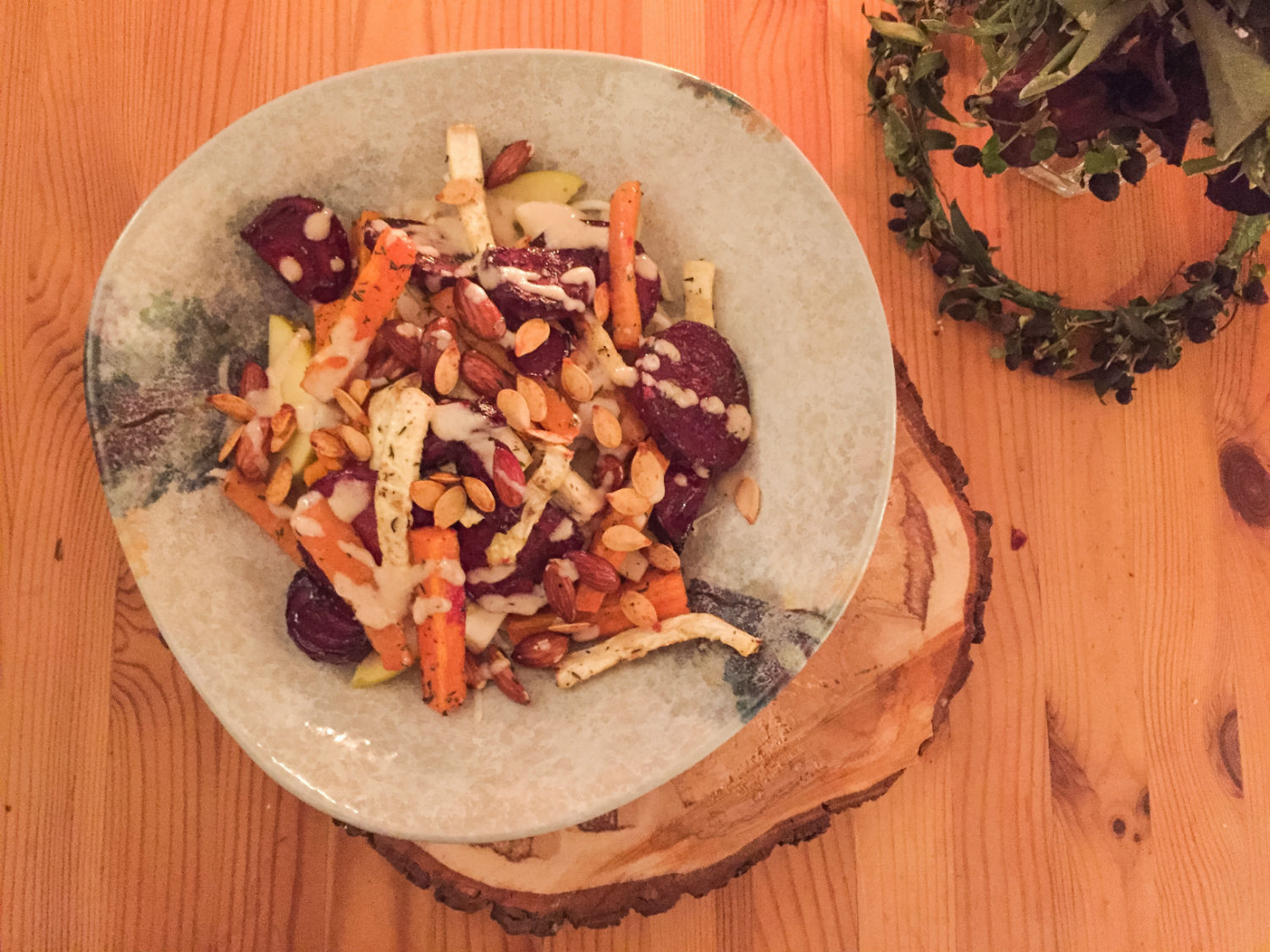 This clever recipe combines cooked and raw fruit and vegetables for a crunchy, sweet, earthy salad that's very low in fat. The fresh veg combines beautifully and is topped off by a spicy dressing that gives the whole dish an extra kick.
You're getting vitamin A from the carrot, vitamins B6 and C from the celeriac and beetroot and a healthy portion of fibre from the apple. If you're looking for a more lively salad than your usual lettuce and tomato, this is it!
Ingredients (serves 1)
1/2 apple
2 carrots, cut into sticks
2 beetroot, cut into 1 cm rounds
1/8 celeriac, cut into sticks
1/8 celeriac, spiralised
1 tsp dried thyme
salt and pepper
2 tbsp extra virgin olive oil
1 tbsp pumpkin seeds
1 tbsp almonds
1 tsp whole grain mustard
1 tsp tahini
2 tsp water
juice of 1 lemon
1/2 tsp cayenne pepper
How to make
Place the beetroot, carrot and celeriac sticks onto a baking tray, drizzle with the olive oil. Sprinkle the thyme, salt and pepper, then place in an oven at 200C for 20 minutes.
Place the apple and spiralised celeriac in a bowl. Pour over the juice from half a lemon and the whole grain mustard, mix until everything is covered in the lemon and mustard.
When the vegetables have roasted for 20 minutes, stir and add the almonds and pumpkin seeds, then roast for a further 5 minutes.
To make the dressing mix the tahini, water, juice of half a lemon and cayenne pepper together, simple!
To assemble, place the roasted vegetables, nuts and seeds on top of the celeriac and apple. Drizzle the dressing on top!
BAKED EGGS
by ellielivinghealthy.com
This time last year, Ellie at Ellie Living Healthy couldn't cook. Now, she's created a blog full of nutritious recipes for you to learn and enjoy!

Follow on: Twitter - Instagram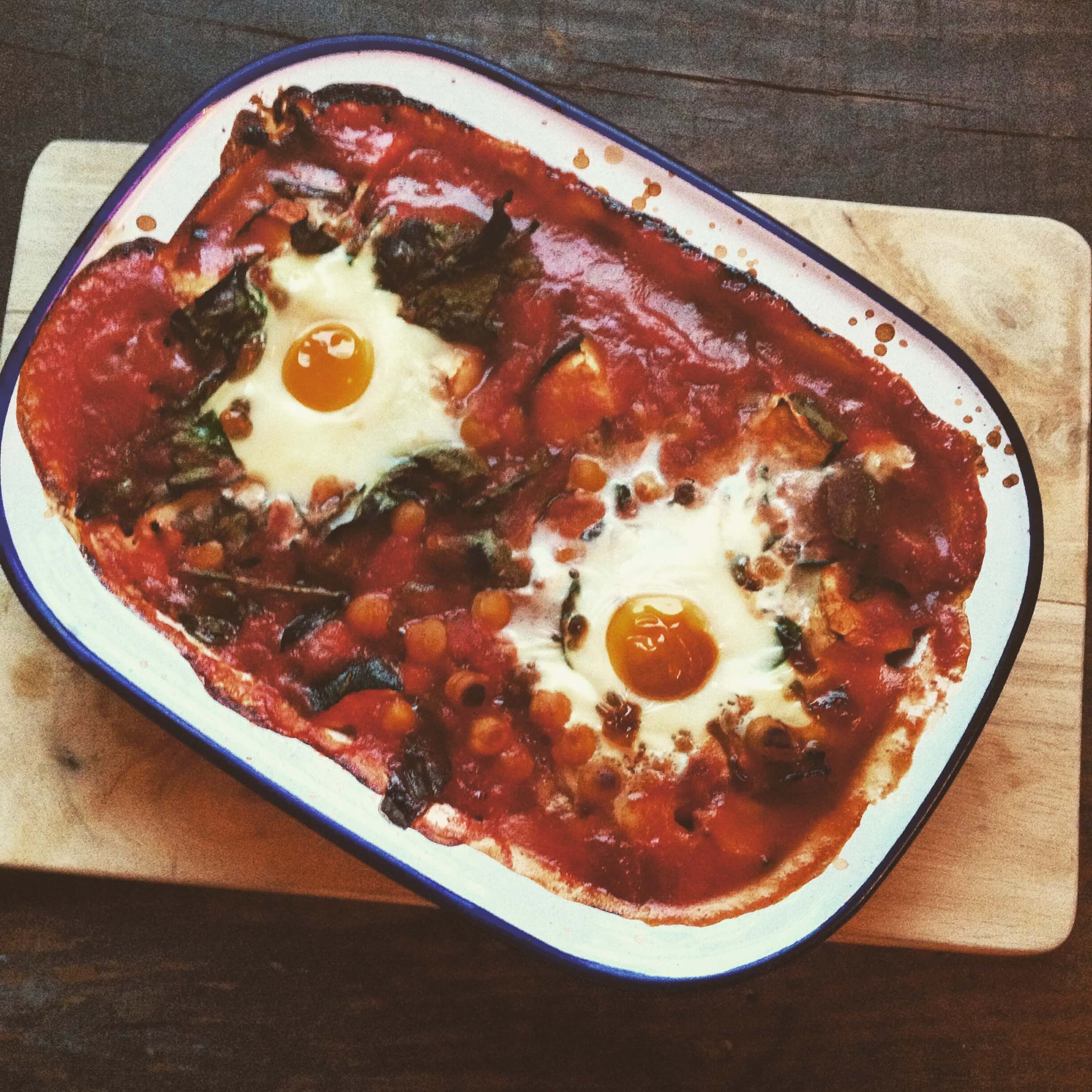 If you're looking for a quick and easy dinner, try these vegetarian baked eggs. All you have to do is mix all the vegetables, chickpeas and herbs together, crack a couple of eggs over the top and leave it in the oven. What could be simpler?
The protein from the eggs and chickpeas will fill you up quickly, while spinach and courgette provides a range of nutrients including vitamin A, vitamin B, vitamin C, iron and magnesium. As well as protein, chickpeas are packed full of other nutrients such as magnesium, calcium, vitamin B, iron and fibre.
Ingredients (serves two)
2x 400g tins chopped tomato
1x 400g tin chickpeas
2 diced courgettes
3 handfuls of spinach
1 tsp smoked paprika
1 tsp cumin
2 tbsp tomato puree
2 eggs
How to make
Pre-heat your oven to 180 degrees C
In a large mixing bowl add the tomatoes, tomato puree, spices and veggies then mix together.
Place the mixture in your baking dish and using a ladle or large spoon make 2 indents in to which you crack your eggs.
Place in the oven and leave until the eggs are cooked through.
ONE-POT SPLIT PEA CURRY
by theflexitarian.co.uk
Annabelle at The Flexitarian follows a diet that's mainly plant-based, but still allows occasional meat dishes.

Follow on: Facebook - Twitter - Instagram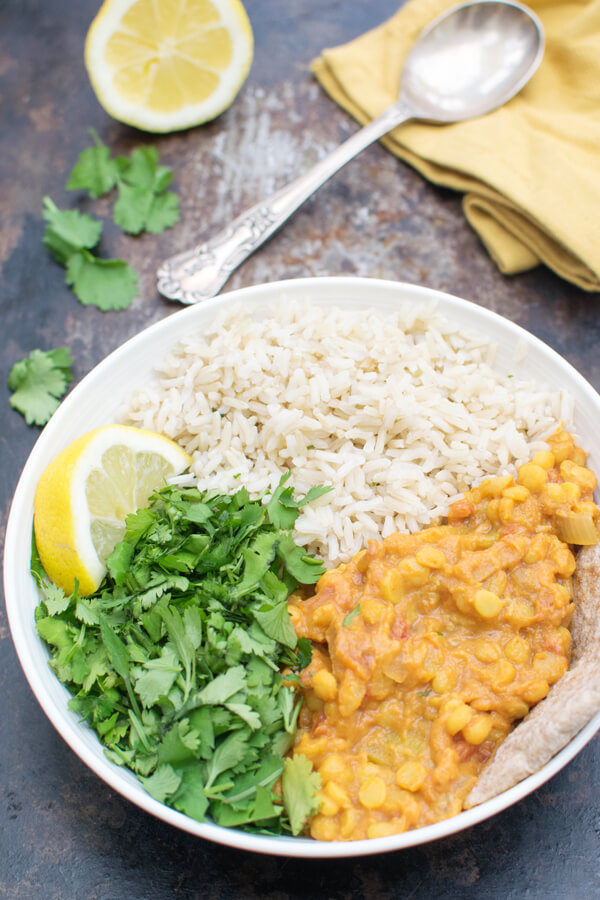 There's nothing better than a tasty curry, and this healthy, mildly-spiced vegetarian option will allow you to indulge without worrying about what it's doing to your weight!
The star of the show is your split peas, which provide thiamin, folate, fibre, potassium, iron and magnesium. Leeks add high amounts of vitamins A and C, while carrots are high in vitamin A too. Serve with brown rice instead of white for added fibre.
Ingredients (serves 4-6)
275g yellow split peas [9.7 oz]
175g carrots [6 oz]
200g leeks [7 oz]
1 medium onion
3 garlic cloves
6cm thumb of ginger [2.4 inch]
1 1/2 tbsp mild curry powder
400g can chopped tomatoes [14 oz]
400g can coconut milk [14 oz]
500ml vegetable stock [17.6 fl oz]
lemon juice to taste
large bunch of coriander to serve
salt & pepper
2 tbsp olive oil
How to make
Heat 2 tbsp of olive oil in a large saucepan. Gently fry finely chopped onion and crushed garlic until soft with the curry powder and grated ginger.
Cut carrot in 1cm [0.4 inch] dice and leek in 1cm [0.4 inch] slices.
Add vegetables and yellow split peas to onion mixture. Mix well. Add tomatoes, vegetable stock and coconut milk.
Bring to the boil then cook half-covered under medium heat for around 35-45 mins until split peas are cooked and vegetables are tender.
Season to taste with lemon juice, salt & pepper.
Serve with plenty of chopped fresh coriander.
TOFU AND PEANUT STIR FRY WITH QUINOA
by wholeheartedlyhealthy.com
Laura's inspiring health story led her to set up Wholeheartedly Healthy, where you'll find lots of recipes that the whole family will enjoy!

Follow on: Twitter - Instagram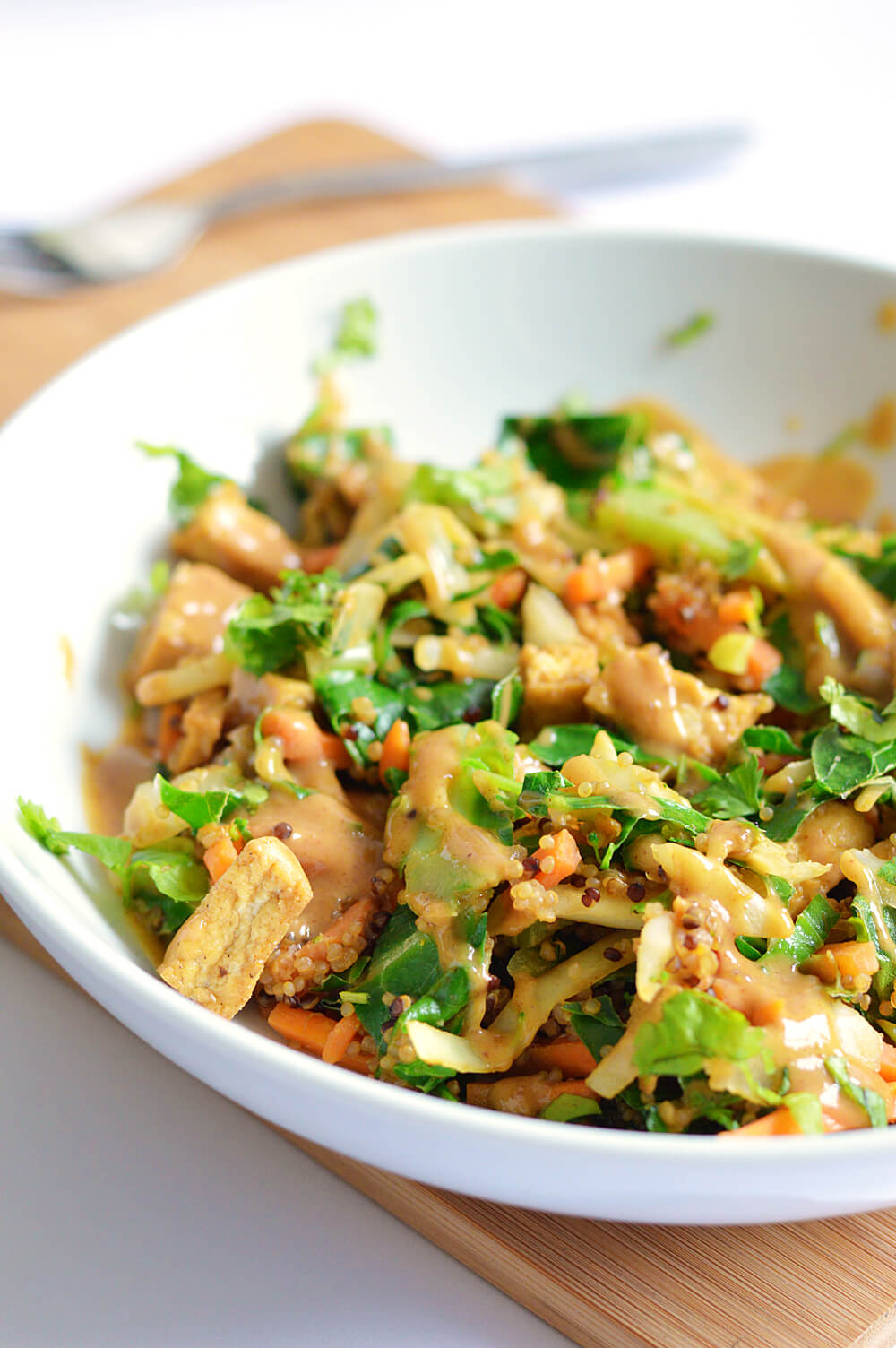 Stir-fries are always a winner and this one, made with tofu and quinoa, ticks all the boxes health-wise. The tofu provides your protein, while the flavoursome peanut and soy sauce ensures your dish is anything but bland!
While this recipe uses pre-packed stir fry vegetables for the sake of speed, you can choose whichever you like and cook them through alongside your tofu. Quinoa brings protein to the table without the added baggage of carbs.
You can even swap tofu for protein-rich chicken if you prefer a meaty stir fry - just remember that this may mean your dish is higher in fat.
Ingredients (serves 2)
1 carton of marinaded tofu pieces
1 bag of pre-prepared stir fry veggies
1/2 pack of pre-cooked quinoa
1 tablespoon peanut butter
2 tablespoons soy sauce or tamari
1 tablespoon honey (or vegan alternative)
2 tablespoons fresh chopped coriander (optional)
How to make
Begin by making the peanut sauce by combining the peanut butter, soy sauce or tamari and honey with 1-3 tablespoons warm water from a recently boiled kettle, until the sauce has a consistency like single cream.
Heat a teaspoon of oil in a large wok over a high heat and add the veggies. Stir fry for 5 minutes or until tender (I often add a splash of water to the wok to steam cook the veggies as well).
Add the quinoa and continue to stir fry for another 2 minutes.
Toss in the tofu pieces and stir fry for a further minute.
Add 1-2 tablespoons of the peanut sauce and stir to coat all the ingredients.
Divide between two plates and serve with the remaining peanut sauce drizzled on top and some fresh coriander.
PEPPER, PEA AND MUSHROOM PAELLA
by thegoodfoodgoddess.com
Goodfood Goddess Aoife focuses on recipes that make the most of fruit and veg and cut out unnecessary sugar.
Follow on:
Instagram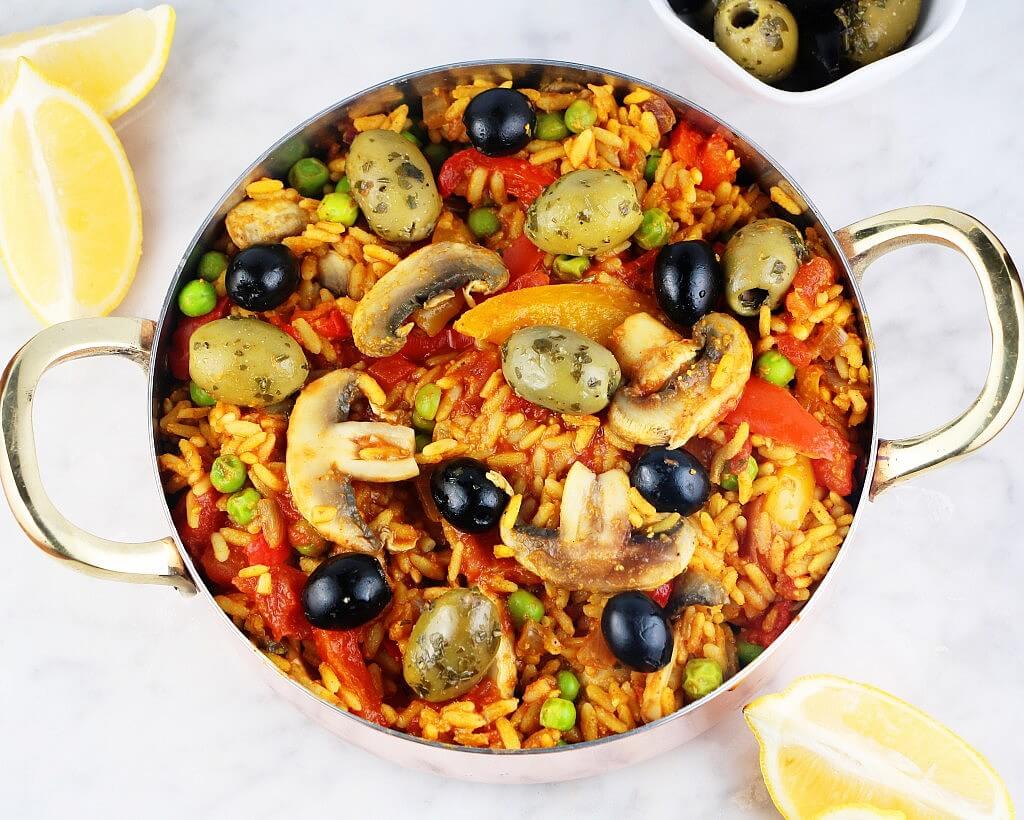 Paella is one of the best comfort foods you can find, and you shouldn't have to miss out just because you don't eat meat or fish. This delicious vegetarian paella is perfect if you're having friends round, as everyone can simply dig in!
It contains brown rice instead of white. Brown rice is a whole grain that offers plenty of fibre and reduces your risk of heart disease, whereas white rice has very little nutritional value. The vegetable medley mixed in with the rice provides vitamin C, A, B6 and potassium.
Ingredients (serves 4)
2 cups brown rice
1 onion diced
2 cloves of garlic
2 tsp paprika + ½ tsp
1 tsp turmeric
¼ tsp cayenne pepper
Juice of a lemon
Salt
pepper
5-6 cups vegetable stock
200g chopped tomatoes
2 red peppers
2 cups peas
4 cups sliced mushrooms
Handful of olives
lemon wedges
How to make it
In a large frying pan sauté the onion and garlic for 6-8 minutes until golden brown.
Reduce the heat and add the paprika, turmeric, cayenne pepper, lemon juice and season with salt and pepper.
Add in the rice, half the vegetable stock and the chopped tomatoes.
Reduce the heat to allow the rice to gently simmer and cover with a lid.
Keep an eye on the rice adding more stock as required.
After roughly 35 minutes add in the peppers as well as more stock as needed.
Once the peppers have started to soften roughly after about 10 minutes add in the peas and mushrooms and cook for a further 10 minutes.
Remove from the heat and serve with a generous handful of olives and lemon wedges.
Enjoy!
HASSELBACK SWEET POTATO WITH GUACAMOLE RECIPE
by hedihecarts.com
You'll find plenty of healthy recipes at Hedi Hearts - she's even registered her home kitchen as a food business!

Follow on: Facebook - Twitter - Instagram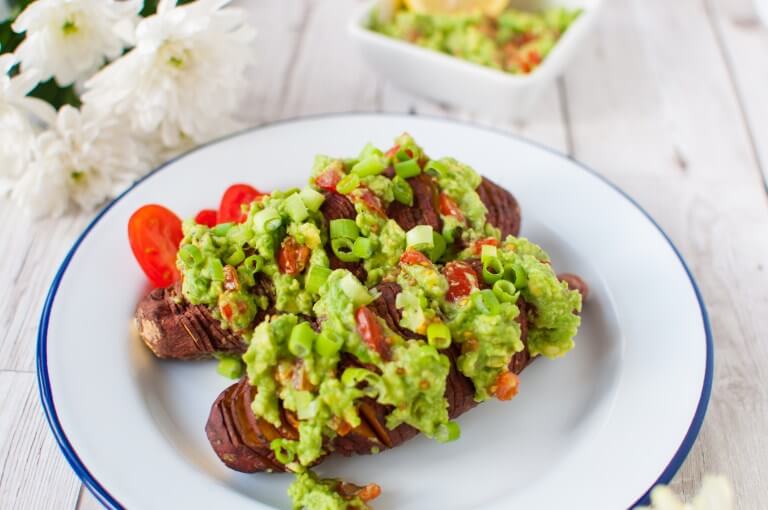 This delicious twist on a baked potato makes a filling, satisfying dinner with very little effort. Preparing your sweet potato in a hasselback style means your lovely filling isn't all squashed into the middle - you'll get a burst of fresh guacamole with every bite!
From a nutritional point of view, sweet potato is packed with vitamin A and tomatoes bring a dash of vitamin C to proceedings. Avocado is everywhere these days, and with good reason. It's rich in B vitamins, fibre, potassium and vitamin C. It's also a good source of unsaturated fat, which is necessary as part of a balanced diet and much better for you than the saturated fat found in cakes and biscuits.
Ingredients
2 sweet potatoes medium size
1 tbsp olive or coconut oil
Guacamole:
1 ripe avocado, mashed
5 cherry tomatoes, chopped
Juice from half a lemon
1 small shallot, diced
Salt and pepper
Garnish: spring onions, pepper
How to make
Preheat oven to 220 degrees
Wash the potato and make thin, evenly spaced slices about two-thirds of the potato making sure you don't cut all the way through.
Brush with oil making sure to get in between all the slices.
Place on a baking tray and pop in the oven for 45 minutes (keep checking on them so they don't get burned)
In the meantime, make the guacamole by mixing all the ingredients together. Make sure you taste and adjust the seasoning to taste.
Once the time is up for the potatoes, take them out of the oven and let them cool down for a couple of minutes.
Divide the guacamole into 2 parts and stuff it in between the slices and on the top of each potato
Garnish with spring onions and freshly ground pepper.
HEALTHY TURKEY MEATBALLS
by healthyjon.com
Healthy Jon plays touch rugby for England, so you can be sure he knows better than anyone how to eat healthily in order to keep yourself in peak condition.

Follow on: Facebook - Twitter - Instagram
Swap out red meat for turkey in this tasty homemade meatball dish. Turkey is much lower in fat than beef or pork, but you'll still get the protein you need, so this really is a win-win situation if you're looking to eat healthily. There's also plenty of garlic, which is great for your heart health.
Making your own tomato sauce is much better than using a shop bought variety, as these will usually contain a lot of sugar or salt. Finally, the orzo is a nice alternative to your usual pasta and contains less than 20 per cent of your recommended daily carbs.
Ingredients for Meatballs
1 kg of turkey mince meat
½ a cup of cheddar
½ a white onion
5 cloves of garlic
1 tsp. of chilli powder
1 tsp. of paprika
1 tsp. of cumin
Pinch of black pepper
Ingredients for Sauce
4 large tomatoes
1 sprig of oregano
1 tbsp. of olive oil
1 tsp. of chilli powder
1 tsp. of paprika
1 tsp. of cumin
Pinch of black pepper
Ingredients for Pasta
How to make
Pre-heat your oven to 180 degrees C & cover a baking tray with parchment paper.
Chop your garlic and ½ onion as finely as you can, then add to a large mixing bowl.
Add the remaining ingredients for the meatballs and mix thoroughly with your hands.
Form the mincemeat into balls and spread out onto your baking tray.
Once complete, pop in the oven for 20 minutes.
Add you orzo to a saucepan and cover (by 2cm) with boiling water.
Pop the lid on and allow to cook for 10 minutes.
Heat a pan on a medium/high heat, add your spices and allow to sweat for two minutes whilst we prep the tomatoes.
Chop your tomatoes into small cubes then add to the pan along with your olive oil.
Cook for 5 minutes or so until the tomatoes are nice and soft and starting to form a sauce.
By this time your meatballs should be done. Remove them from the oven and add to the pan to brown and absorb all that lovely flavour.
Cook for another 2-3 minutes then serve your orzo and pour over the sauce and meatballs.
Top with a little more fresh tomato and chopped oregano.
ROOT VEG COTTAGE PIE - MADE WITH SWEDE AND CARROT MASH
by beyondthebathroomscale.co.uk
Karen at Beyond the Bathroom Scale believes there's more to healthy eating than just your weight. It's about staying healthy and feeling great!
Follow on:
Facebook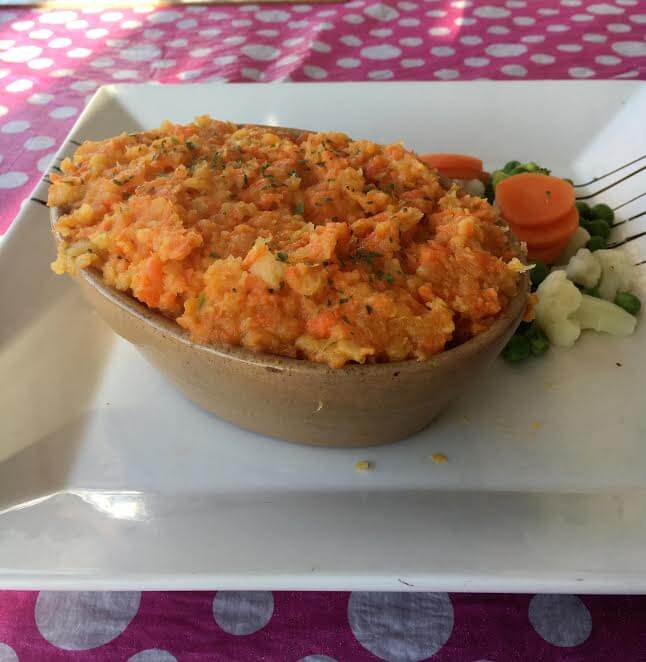 This take on cottage pie is the perfect winter warmer for all the family! Using a swede and carrot mash instead of potato dramatically cuts down the carb content found in a traditional cottage pie, with the added bonus of more vitamin A and C in your dish.
Be sure use lean mince to keep the fat content down and serve with a side of vegetables. Who said comfort food can't be healthy too?
Ingredients (serves 4)
200g of lean mince beef
1 onion, diced
1 beef stock cube
1 tin of chopped tomatoes
2tsp of dried mixed herbs
4 tsp of diced parsley (fresh or dried)
200g of diced swede and carrot
How to make
Fill small saucepan with water, leave to boil and then add in your diced swede and carrot.
Pop on a saucepan of yummy vegetables to serve with it too!
Meanwhile, fry the onion in a deep saucepan using low calorie cooking spray. When the onion is golden brown, add in the beef and cook until it's brown.
Toss the whole can of chopped tomatoes into a blender and give it a quick pulse until smooth. Pour this into the saucepan.
Add in the mixed herbs (but save the parsley for the mash) and crumble in a beef stock cube. Stir well and then leave on a mid-low heat while you prep the mash.
Once the swede and carrot has cooked, drain the water and then mash well, sprinkling in half of the parsley.
Next find some small, deep individual sized dishes and fill them with the beef. Top with the mash and sprinkle with the remaining parsley.
Serve up with copious amounts of veggies! If you want to give it that 'family Sunday dinner' feel, a splash of gravy and a Yorkshire pudding.
AUTUMN SPICED CHOCOLATE AND LENTIL CHILLI
by applefalltree.com
Visit Michelle at Apple Fall Tree for creative, delicious vegan recipes you can make at home!

Follow on: Twitter - Instagram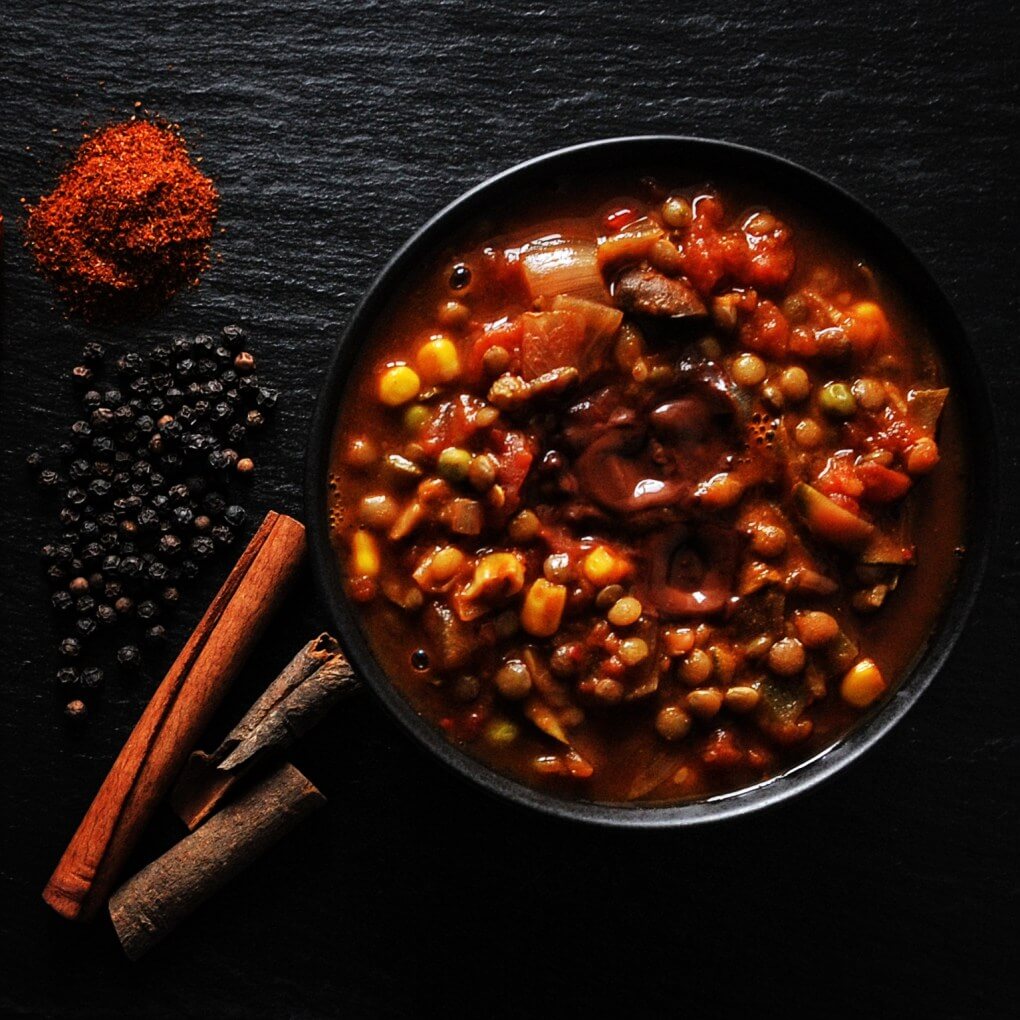 If you've never had chocolate in a savoury dish before, you're in for a treat. You'll be using low-sugar dark chocolate (not milk) and each portion contains just two squares to create a hint of sweetness and bitterness.
It's paired with lentils, which are rich in protein, fibre and iron, so they'll fill you up and keep your digestive system healthy, Vegetables like pepper, mushroom, sweetcorn, tomato and celery bring a range of vitamins and minerals to the dish, including vitamin A. B6, C, calcium and magnesium.
Ingredients (serves 4)
Dried puy lentils - 1 cup - washed & drained
1 red onion - Diced
2 celery sticks - chopped
1 red and 1 yellow pepper - diced
Chestnut mushrooms - 2 cups - chopped
Cooked sweetcorn kernels - 1/2 cup
2 tins plum tomatoes - chopped
Vegetable stock - 300ml
Vegan red wine (optional)
2 garlic cloves - crushed
1 tsp sesame oil
1 star anise pod
1 cinnamon stick
4 cardamom pods - lightly bruised
1 tsp coriander seeds - ground
1/2 tsp dried ginger
1/4 tsp cayenne pepper
1/2 tsp black pepper - ground
2 squares per serving of high quality chocolate
How to make
Heat a large pot over medium heat. Once heated add the oil, onion and celery. Cook for 5 minutes stirring frequently until onions begin to turn translucent.
Add diced peppers, garlic, coriander seeds, dried ginger, cayenne pepper and black pepper. Continue to stir for a further 5mins allowing the peppers to begin to colour.
If the mixture seem to be catching or sticking add just enough red wine or stock 1 Tbsp at a time to loosen and deglaze the pan.
Next add the mushrooms, sweetcorn, puy lentils and stir for 2-3 mins until the mushrooms begin to release their juices.
Add the tinned tomatoes, star anise, cinnamon and cardamom and stir well.
Add the remaining stock and reduce the heat to low.
Cover loosely with a vented lid or tinfoil.
Check after 10 mins to make sure you have achieved a low simmer and adjust heat accordingly.
Continue to stir every 15 mins or so for approx 1 hour then test the lentils to ensure they are cooked through. Cooking the lentils in an acidic base (such as tomatoes) increases the cooking time when compared with cooking alone in water.
If you feel the mixture is too wet remove the lid whilst continuing to simmer. If the liquid seems to be evaporating too quickly reduce the heat further and add more stock as necessary. You are looking to achieve the thick consistency of chilli by the time the lentils are cooked through.
When you're happy with the overall texture turn off the heat and stir in one piece of chocolate per serving. Taste and decide if to add a second piece of chocolate per serving and adjust seasoning to taste.
Once you're confident with this recipe and your choice of chocolate my preferred way to add the chocolate is piece by piece into each individuals bowl on top of piping hot chilli so they can experience the smell and watch it melting before stirring it through.
Serve with wholegrain brown basmati rice, green salad and flatbreads.
We want to hear your healthy recipes!
Do you have a healthy recipe you'd like to share with us?
Or have you tried one of the recipes above and want to show off the results?
Leave a comment below or get in touch with us over on Facebook, Twitter or Instagram and start a conversation with your fellow healthy food fans!