Detox diets are designed to give your body a break from all the junk food, alcohol, caffeine and sugar that, let's face it, a lot of us enjoy fairly regularly.
While banning yourself from enjoying all those things forever isn't really a realistic goal, taking the pressure off your body with a nutritionally balanced diet is a good idea for all sorts of reasons.
The prospect of sustainable weight loss, more energy and clearer skin should be enough to grab your attention!
Detox shouldn't be a quick fix, either. Our recipes could provide that all-important first step towards changing bad habits and leading a healthier long-term lifestyle.
So, whether you regularly catch yourself eating sugary snacks during the day, you want to break your evening junk food routine, or you're simply looking for a way to improve your diet, our exclusive detox recipes will help you make healthier choices, today!
Detox and Heal Smoothie
TASTES GOOD
Smoothies are a great way to get the vitamins and minerals you need, without having to cook anything!
This detox smoothie combines the sweetness of peaches and apples with iron-rich green vegetables to create an intense flavour.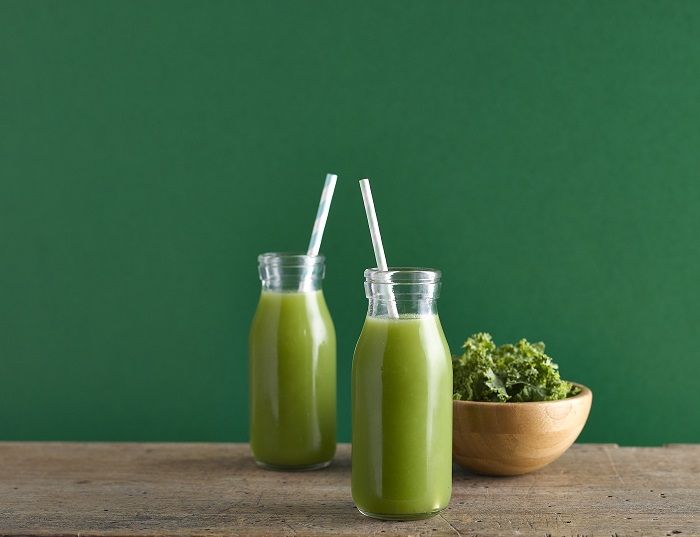 Ingredients
(makes 300ml)
150g raw kale
100g Swiss chard
2 fresh peaches
1 cucumber
Juice of 1 lemon
120ml apple juice
How to make
Remove the stones from your peaches.
Place the peaches, cucumber, kale and Swiss chard into a juicer and remove all the liquid.
Alternatively, put them in a food processor, add a splash of water and pass the blended mixture through a fine sieve.
Squeeze the lemon juice into the mixture, taking care not to drop in any seeds.
Stir in the apple juice and serve.
DOES GOOD
Let's break down the ingredients of your detox smoothie and find out exactly how it's helping your body.
The kale and Swiss chard provide two of nature's biggest multivitamins. This smoothie contains more than six times your recommended daily allowance of Vitamin K, which is needed for strong, healthy bones. You'll also get your full day's worth of Vitamin A and 32 per cent of your daily Vitamin E.
There are also 20mg of carotenoids in your glass, which will help you maintain good eyesight.
This recipe squeezes an awful of lot of goodness from just two peaches. One large fruit contains 235mg of Vitamin A, which is great for your eyesight.
You'll get plenty of antioxidants, including Vitamin C, Vitamin E and chlorogenic acid, which protect your body against disease and can reduce the effects of ageing.
Peaches are also packed with B Vitamins, such as riboflavin, thiamin, niacin and pantothenic acid, which help your body process the energy you get from food. They'll also keep your skin healthy and help your nervous system function properly.
Cucumbers are 95 per cent water. You probably know that health guidelines recommend we drink between six and eight glasses of water per day. What you might not consider is that some of this can come from food. The cucumber in this recipe provides 300ml of water, setting you well on your way to your daily hydration target.
Cucumber is also rich in Vitamin E, which is good for clear, glowing skin. That's actually why you'll find it in so many cosmetic products and explains why some people put a couple of slices over their eyes in an effort to look less tired.
Detox Delight: Super Green Quinoa Salad
TASTES GOOD
Are you looking for ways to make quinoa more exciting? This colourful, delicious salad is the answer.
You could have this healthy, detoxifying combo of tropical fruits and healthy greens on your plate in ten minutes flat. We think you'll agree it's a treat for the eyes and the taste buds!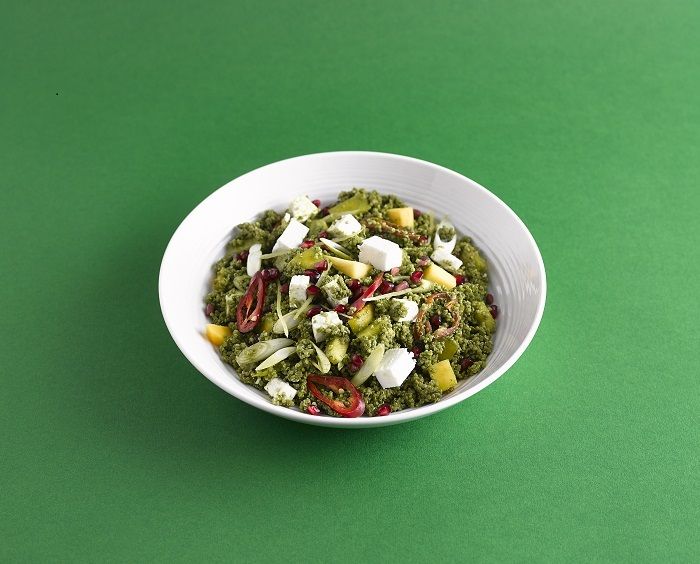 Ingredients
(serves 2)
200g quinoa
200g spinach, washed
80g fresh mint
50g coriander
200g feta
1 mango
1 pomegranate
2 spring onions
Juice of half a lemon
1 red chilli
How to make
Bring a pan of water to the boil and cook your quinoa for 15 minutes.
Drain well and rinse under cold water.
Slice your spring onion.
Dice your mango and feta.
Blend the spinach, mint, coriander and lemon juice in a food processor until it is a thick purée.
Mix in your quinoa, along with half the mango, feta, spring onions and pomegranate.
Garnish with the rest of your mango, feta, spring onions and pomegranate and serve cold.
DOES GOOD
You know your salad is healthy, but how often do you take the time to find out why? Luckily, we've done all the hard work for you!
There's a reason quinoa is known as a superfood. Not only is it a great source of protein and a fantastic addition to any gluten-free diet, it's also full of plant-based nutrients called flavonoids.
In particular, it contains an antioxidant called quercetin, which studies suggest has strong antiviral and antidepressant effects.
As well as being a rich source of Vitamins A and C, spinach provides you with more of your new friends, the flavonoids. A portion of spinach helps promote good eyesight, a healthy heart and could even cut your risk of cancer.
Just one mango contains double your recommended daily allowance of Vitamin C, as well as soluble fibre, which will help the digestive process. It's also known to have antioxidant and anti-inflammatory properties, while it contains plant compounds that may reduce your risk of diabetes.
Then there's pomegranate, which has more than three times the amount of antioxidants found in green tea, a drink that's frequently cited for its health advantages. It also contains natural collagen, so it's a popular fruit for anyone looking to reduce the signs of ageing.
Garnishing with some sliced red chilli will add a further antioxidant to the dish. Chillis have many health benefits and are renowned for their anti-inflammatory properties, so they're great for protecting your body against illnesses.
Want more healthy eating advice?
We all know how important nutrition is to our overall health. That's why so many people try detox diets. Of course, we also lead busy lifestyles, which means that eating healthily can be difficult.
We're here to help you overcome that challenge. Whether you're looking to detox or have another health goal in mind, we've created plenty of quick and easy recipes that will get you the nutrients you need, without compromising on taste!
See more healthy recipes