It's never too early in the day to start watching your cholesterol intake and this delicious, filling porridge is a step in the right direction.
It's quick, easy to prepare and will help you keep your heart healthy. What's not to like?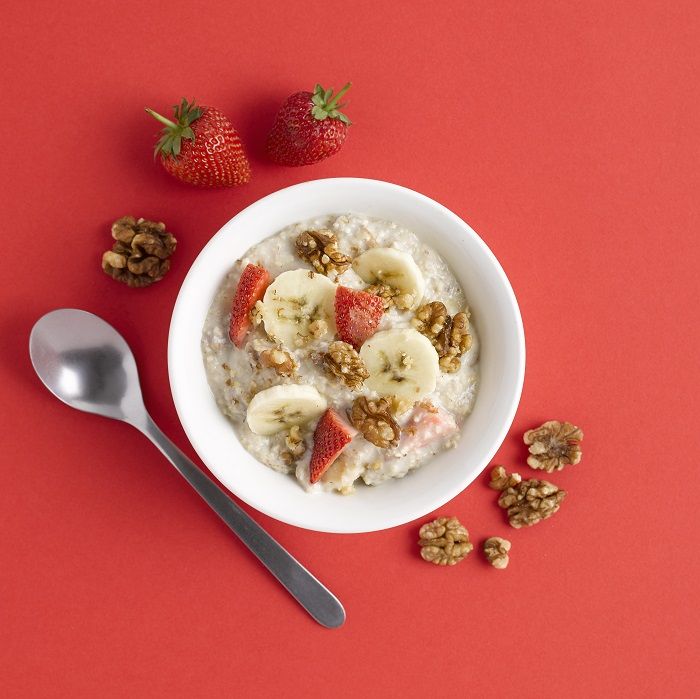 Ingredients (serves 4)
100g porridge oats
½ tsp cinnamon, plus extra to serve
3 bananas
400g fresh strawberries
Handful of walnuts
1 tsp honey
450ml soya milk
150g plain natural yoghurt
How to make it
Mix the oats and cinnamon with the soya milk.
Microwave for 2 minutes on full power.
While you're waiting, slice the bananas and strawberries.
Mix the honey into your porridge and microwave for a further 45 seconds on full power.
Fold in the yoghurt, nuts and fruit.
Serve with a pinch of cinnamon sprinkled over the top.
How does it improve your cholesterol?
Oats contain large amounts of a soluble fibre called beta-glucan, which can help to reduce low density lipoprotein (LDL), otherwise known as 'bad cholesterol'.
Adding cinnamon to your porridge is linked to a reduced risk of heart disease. Not only does it lower LDL cholesterol, it also increases your levels of high density lipoprotein (HDL) a form of 'good cholesterol' that sends LDL away from your arteries to your liver, where it can be processed out of your body.
Bananas are known as one of the best sources of potassium available. A 2014 study at the Albert Einstein College of Medicine in New York found people with normal blood pressure who ate a potassium-rich diet were 27% less likely to suffer from heart disease.
In 2008, researchers in Finland found that "a moderate amount" of strawberries (or indeed any berry) increased HDL levels in middle-aged people with a high risk of heart disease. This is one of those examples that shows how looking for 'low cholesterol' foods doesn't always tell the full story!
Walnuts have two health benefits related to cholesterol. Firstly, they reduce LDL cholesterol. Secondly, they improve the function of your blood vessels and lower the risk of plaque clogging up your arteries.
While honey is high in natural sugars, these are far better for your cholesterol levels than the refined sugar found in many processed products.
The nutrient to look out for in soya milk is copper. This is important when it comes to tackling cholesterol, as it helps to maintain healthy artery walls. The average British person doesn't have enough copper in their diet, so a portion of soya milk is good way to get some.
You may have noticed that our recipe doesn't suggest you use low-fat yoghurt. There's a reason for this. Some research suggests that whole milk products can actually increase HDL, which we know protects the heart. So, if your goal is bringing down your cholesterol levels, a small amount of full-fat yoghurt could actually be a great idea!
Try more recipes to lower your cholesterol
Now that we've dealt with breakfast, it's time to deal with the rest of the day. Try these delicious recipes to help keep on top of your heart health from morning until night. Look, there's even a dessert!