Some people will tell you that tofu is boring. Don't listen to them - they're just not cooking it properly!
This delicious vegetarian meal is full of flavour and is perfect for a quick and easy midweek dinner.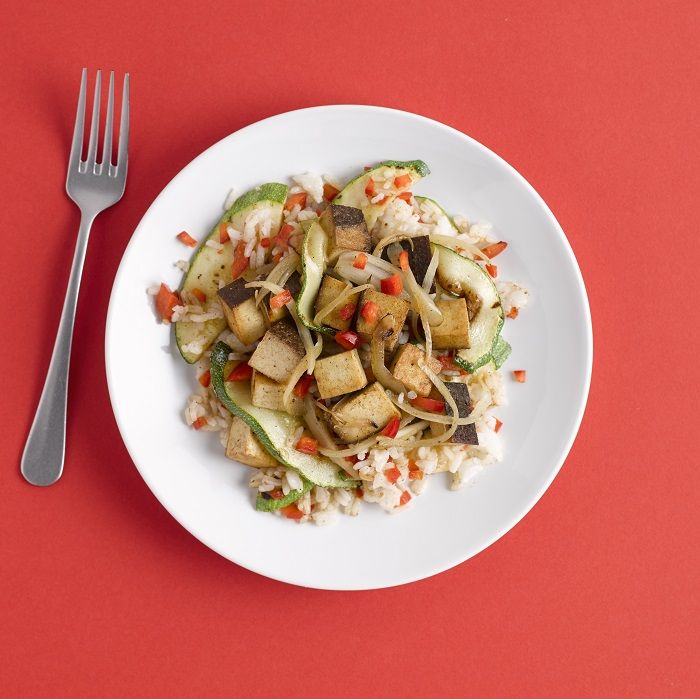 Ingredients (serves 4)
300g smoked tofu
8 shallots
1 courgette
1 red pepper
2 tbsp tomato purée
2 tbsp tabasco
1 tbsp extra virgin olive oil
1 tbsp clear honey
1 tbsp wholegrain mustard
150g rice
How to make it
Chop your vegetables and leave to one side.
Bring a pan of water to the boil and add the rice.
Leave to simmer for 15 minutes.
Dice the tofu and mix it with the honey, tabasco, tomato purée and mustard in a bowl.
Heat the oil in a pan on a medium heat.
Fry the tofu and vegetables for 4 minutes, turning regularly to ensure even cooking.
Drain the rice.
Serve the tofu and vegetables on a bed of rice.
How does it improve your cholesterol?
While tofu might not look like much in its uncooked state, it's actually rich in copper. This is an important nutrient if lowering cholesterol is your goal, as it ensures your artery walls stay strong. You're cooking it in olive oil, which is a key part of the ultra-healthy Mediterranean diet.
Onions might make you cry, but your body is anything but sad to see them. They're rich in potassium and anthocyanins, both of which are linked to a reduced risk of cardiac diseases. They can also lower you blood pressure, so it's a win all round.
The sauce is where this dish is really at its cholesterol-busting best.
You've got tomato that's rich in lycopene and chlorogenic acid. Don't worry about how to pronounce them, all you need to know is that studies have shown that they can reduce your risk of heart attack and stroke.
Then there's tabasco, which is high in an antioxidant called ferulic acid. Antioxidants are good at tackling free radicals that contribute to increased LDL ('bad') cholesterol.
If you're after natural sweetness that won't send your cholesterol soaring, honey is a good bet. Its much healthier than refined sugars found elsewhere. Mustard is high in omega-3, the heart-healthy compound that you've probably heard associated with oily fish.
Try more cholesterol-busting recipes