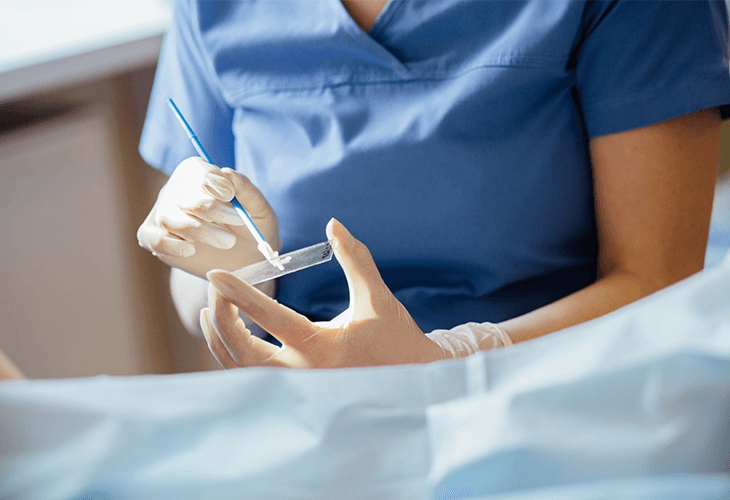 Around 3.200 women are diagnosed with cervical cancer in England each year, a quarter of which ultimately die from the disease. To put that into context, that means that there are, on average, two cervical cancer deaths in England every day. These startling figures come from Public Health England, who add that as long as cervical screenings are attended regularly, 83% of cervical cancer cases can be prevented.
Unfortunately, screening rates are at a 20-year low – with one in four women not attending their test when invited. There are a number of reasons why this might be, and therefore it pays to do our level best to dispel as many of the myths around cervical cancer screenings as we can.
What is a cervical screening?
Cervical screenings or smear tests check the health of the cervix – the opening to the womb from the vagina. Cervical screenings are not, and never have been, tests for cancer in and of themselves.
Cervical screenings are tests that prevent cancer – responding quickly to certain signs visible at an early stage that can prevent cancer from developing.
What is involved in a cervical screening?
A smear test is usually the first port of call for cervical screening in the UK. As the name suggests, the test involves a nurse or doctor collecting a sample of cells from the cervix with a small brush. This sample is then sent to a laboratory for analysis with a view to revealing abnormalities.
Are there other forms of cervical screening?
HPV testing is becoming the preferred screening method for medical professionals throughout the country. Testing for human papilloma virus (HPV) is believed to be a more accurate indicator of when a person is at risk of developing changes to the cervix associated with cancer – so a cervical screening may consist of a HPV test instead of a smear test.
Is a smear test painful?
Though a smear test should never be painful, it can be uncomfortable if you are tensed up as the speculum is gently inserted, but that should be the only sensation you feel. There can also be a small amount of bleeding after the test, but this is completely normal.
Once the doctor or nurse has put the speculum in place and has gained a clear view of the cervix, they will gently scrape its surface with a small, soft brush. In doing so, they collect a sample of cells, which can then be stored and sent to a laboratory for testing.
How often do I need to have a cervical cancer screening?
According to the NHS, regular cervical screening should start at age 25. You will receive your first cervical screening invitation up to six months before you turn 25.
Between the ages of 25 and 49, you will receive invitations every three years, and between 50 and 64 you will receive invitations every five years. You will only be invited when you are 65 or older if one of your last three tests between age 50 and 64 was abnormal.
How long does it take for smear test results to come back?
Usually, you will have the results of your cervical screening – be it a smear test or HPV test – within 14 days.
During times of high demand, for instance when national awareness campaigns are launched and active, the wait can be longer. On longer wait times for results, the NHS write: "Try not to worry if your results are taking a long time to get to you. It does not mean anything is wrong, and most people will have a normal result".