Keeping fit can feel like an uphill battle at times. While we're all busy people, there are plenty of ways to get the exercise you need. You just need to know where to look!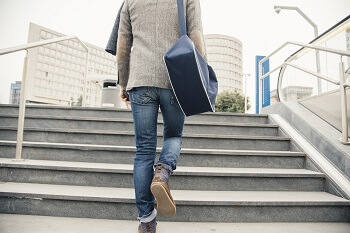 Keeping fit can feel like an uphill battle at times. We're all busy people and sometimes it feels like there simply aren't enough hours in the day to justify that gym subscription.
Of course, there are plenty of opportunities to get the exercise you need and still get all your jobs done. You just need to know where to look for them!
It's recommended that you take 150 minutes of moderate exercise every week in order to stay fit and healthy. That's just two and a half hours, and you don't even need to do this all in one go. Here are five easy exercise ideas you can try.
Ice skating
With winter on its way, ice rinks will be popping up all over the country. Nestled away among mulled wine stalls and craft shops, you can bet that at some point one of your friends will suggest having a go.
While the fear of falling over and looking silly is understandable if you've never tried it before, once you get out on the ice you'll realise it's actually a really fun way to spend an evening with your friends.
In fact, you'll be so busy enjoying yourself that you won't even notice the healthy cardio workout you're getting, or the gradual improvements in your balance and leg muscles.
Tai chi
It's worth noting that not all exercise is about burning calories. The 13th century Chinese martial art of tai chi is a great way for people of any age to improve balance and relieve stress.
It's a very gentle form of exercise that requires slow, graceful movements. As such, it's believed to be good for preventing and treating joint problems such as arthritis.
There are many different styles of tai chi, with the Yang and Wu forms the most popular and accessible for beginners. If you're looking for something a little more intense, the Chen style is a step up in difficulty, while there are also various combination styles that'll keep you on your toes.
You'll likely be able to find an instructor in your local area, while there are also various videos available online that'll help you get started. Once you've mastered the basics, including a 10-minute workout in your daily routine will be easy.
Table tennis
It's not hard to find opportunities for a game of table tennis. As well as being widely available at any leisure centre, there are an increasing number of pubs and bars jumping on the bandwagon.
Where previously there might've only been pool tables and dart boards, now there are people of all abilities having a quick game of ping pong while enjoying a night out.
While it's a bit of a cliché to say it's a game that 'anyone can play', the truth is that table tennis is enjoyable for everyone, regardless of age or athletic ability. Its relatively fast pace will improve your reflexes and hand-eye coordination, while the more you improve, the more of a sweat you'll work up as the rallies become more intense.
Squash
Squash stands out from other racquet sports for a variety of reasons. First and foremost, you'll get your own court, which means you won't be bothered by other players, or get distracted during a crucial point by balls or shuttlecocks flying over from other games.
Secondly, it's a sport you can practice on your own if you want to, due to the fact the ball always comes back!
Squash is the perfect way to achieve your health and fitness goals, particularly if you have a friend who has also decided to be more active. It's a fast-paced game that'll improve your reflexes, flexibility and general fitness levels, while the competitive element is enough to inspire many people to keep returning to the court.
You can easily set aside one evening a week, or even play on a Saturday morning to shake off the cobwebs of your night out. Now you just need to find your nearest leisure centre!
Walking to and from work
With so many options available, it can be easy to forget walking. We're not talking hiking up a mountain here - as long as you're going at a brisk pace, just walking to and from work can contribute towards your 150-minute weekly workout.
You'll get your heart rate up and find yourself burning calories every day. Couple this with a healthy lunch and you're well on your way to a slimmer, fitter you.
There are so many ways to keep your walk interesting - you can take the opportunity to listen to an audiobook and get a little quality time to yourself. Changing your route from week will help keep things varied too.
Provided it's not pouring with rain, walking is also much more relaxing than driving or public transport. Let's face it, no one likes getting stuck in rush hour traffic, or being crammed onto a crowded bus or train with a stranger's elbow in your face. Neither are an issue if you get around under your own steam.
Need help getting fit and healthy?
If you're looking to improve your fitness levels, but don't know where to start, our doctors are here to help. In addition to choosing a form of exercise that's both fun and sustainable, you'll also need to set yourself realistic targets in order to achieve your fitness goals.
Our GPs are here from 7am until 10pm everyday to discuss your ambitions and point you in the right direction, so book an appointment today!