Can chocolate really have a place in a healthy diet? It seems far too good to be true. Luckily for you, it turns out that when enjoyed in moderation, chocolate can have plenty of nutritional benefits.
So, to help you celebrate Easter in style, our nutritionists and food engineers have created four exclusive healthy chocolate recipes. Each makes the most of a useful health benefit provided by chocolate and best of all, you can make them yourself at home!
Skip to:
Luxury Chocolate, Goji Berry and Matcha Protein Balls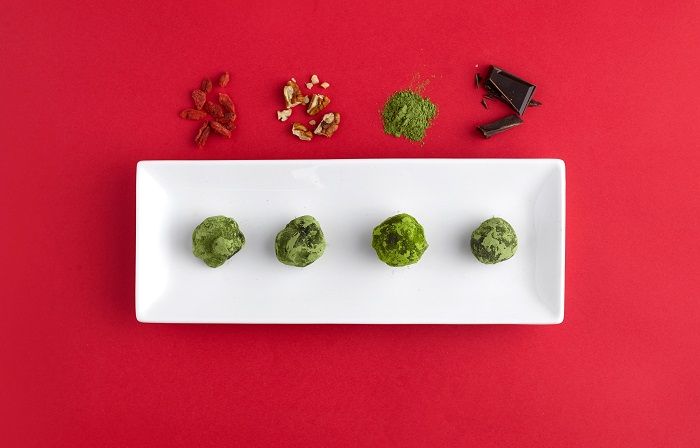 TASTES GOOD
Ingredients
(makes 18)
100g dark chocolate
80g coconut oil
50g cocoa powder
40g protein powder
40g chopped pecans
40g chopped walnuts
20g goji berries
50g matcha powder
How to make
Put the chocolate, cocoa powder and coconut oil in a large mixing bowl.
Place this on top of a pan of simmering water until the ingredients have melted.
Remove from the heat and stir in the nuts, goji berries and protein powder.
Leave to cool at room temperature for two hours.
Roll your mixture into 18 bitesize truffles.
Place these in the fridge for 30 minutes.
Put the matcha powder in a bowl.
Roll each protein ball through the powder until it's covered.
DOES GOOD
What's the health benefit?
Antioxidants
Antioxidants are chemical compounds that help our bodies in the fight against free radicals. These are molecules that, through a process called oxidation, damage cells in your body. This speeds up the ageing process and increases your chance of developing diseases.
That explanation should be enough to encourage you to get more antioxidants in your diet. They'll remove harmful toxins from your body and regulate your metabolic function, and you'll find plenty of them in chocolate.
Along with the goji berries in this recipe, chocolate also contains beta-carotene, which your body turns into Vitamin A. This increases your body's ability to fight off infection - in other words, it's a great antioxidant.
We've ramped up the antioxidant content of this recipe even further with the inclusion of matcha powder. This contains three times as many antioxidants as other green teas and ten times more than your regular English breakfast brew.
Quick Nutritional Info (per ball)
Calories: 127
Carbs: 2.8g
Protein: 4.7g
Fat: 10.4g
Chocolate Chilli con Carne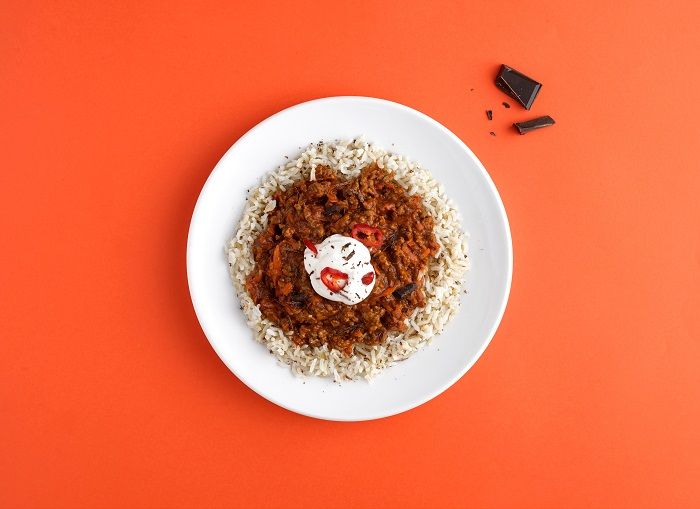 TASTES GOOD
Ingredients
(serves 2)
500g beef mince
30g dark chocolate
1 white onion
1 tin of kidney beans
1 tin of chopped tomatoes
4 garlic cloves
½ tsp of chilli powder
¼ tsp of cumin
Pinch of turmeric
Pinch of salt
TIP: If you prefer a meat-free chilli, you can use lentils instead of beef.
How to make
Fry the onion in a little oil on a medium heat until softened.
Add the spices and fry for a further three minutes.
Transfer to a bowl and leave to one side.
Mince or slice your garlic cloves.
Use the same pan to fry off the beef and garlic.
Return the onions to the pan, along with the chopped tomatoes.
Cook on a medium heat for 30 minutes.
Drain the kidney beans and add them to the pan for five minutes.
Remove from the heat and grate the chocolate into your chilli.
Serve with brown rice and your choice of sides.
DOES GOOD
What's the health benefit?
Iron
Iron is an important mineral that helps make red blood cells. This is the part of your blood that transports oxygen to your muscles, which they need in order to function properly. Studies have also shown that iron helps wounds heal faster by encouraging skin regeneration.
If you don't have enough iron in your diet, you're at risk of developing anaemia, a condition that leaves you feeling tired, weak and short of breath.
This tasty chilli is just what you need to keep your iron levels up. Both dark chocolate and red meat are rich sources of iron, while the high protein content will help you feel full and resist the urge to overindulge.
Quick Nutritional Info (per serving)
Calories: 525
Carbs: 19.6g
Protein: 63g
Fat: 18.9g
Chocolate, Carrot and Beetroot Cake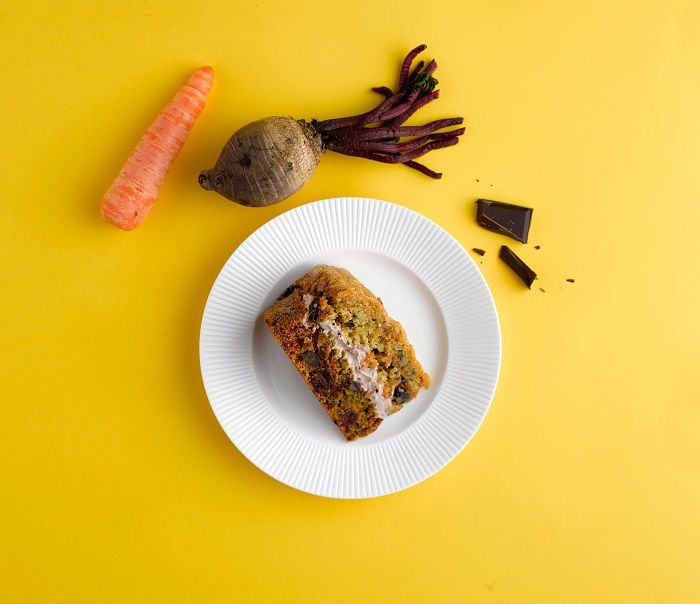 TASTES GOOD
Ingredients
(serves 8)
500g self-raising flour
250g sultanas
200g carrots
200g beetroot
200g crushed walnuts
100g maple syrup
320ml rapeseed oil
4 large eggs
4 tsp baking powder
400g cream cheese
50g dark chocolate cocoa powder
How to make
Preheat your oven to 160C.
Grease and line two 20cm cake tins.
Sieve the flour and baking powder into a bowl.
Stir in the maple syrup, sultanas and walnuts.
Grate the carrot and beetroot and keep them separate.
Split the cake mixture in half. Add carrot to one half and beetroot to the other.
Beat your eggs in a separate bowl, along with the rapeseed oil.
Add half to each mixture and beat them both with a wooden spoon.
Spoon each mixture into a tin and bake for 1 ¼ hours.
Insert a skewer into each mix. If it comes out clean, they're done.
Cool in the tin for 10 minutes, then turn out onto a wire rack.
Mix the cream cheese and cocoa powder together.
Spread the filling over the top of one cake, then place the other half on top.
DOES GOOD
What's the health benefit?
Nitrates
Dark chocolate is one of the biggest sources of nitrates, which are converted by the body into nitric acid. This is very useful for your body, as it relaxes and widens the blood vessels. This in turn protects you against breathing problems such as angina, by ensuring enough oxygen can get to your heart.
As nitrates are found in soil, this means that root vegetables are often a great way to get them into your diet. That's why we've used both beetroot and carrot to make the cakes in our recipe.
Quick Nutritional Info
Calories: 392
Carbs: 48g
Protein: 5.8g
Fat: 19.3g
Chocolate Fruit Garden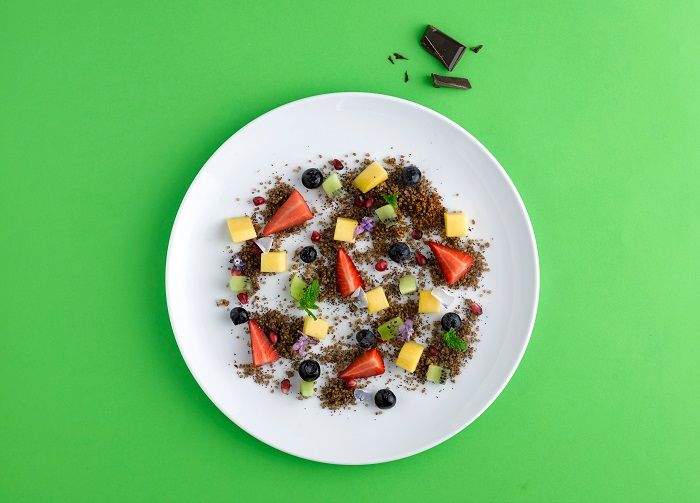 TASTES GOOD
Ingredients
(serves 1)
100g quinoa
20g dark chocolate
30g cocoa powder
2 strawberries
1 kiwi
50g mango
5 blueberries
30g minted Greek yoghurt
How to make
Bring a pan of water to the boil and add half the cocoa powder.
Add the quinoa and boil for 12 minutes.
Remove from the heat and rinse under cold water to prevent overcooking.
Put the quinoa in a mixing bowl with the remaining cocoa powder.
Grate the chocolate into the mixture.
Leave in the fridge for 30 minutes.
Cut the fruit into bite-size pieces.
Scatter the quinoa onto a plate.
Top with the fruit.
Serve with a spoonful of minted yoghurt.
DOES GOOD
What's the health benefit?
Flavanols
While flavanols are technically an antioxidant, which we've already talked about, we want to focus on a specific health benefit they provide. Flavanols are fantastic for your skin, so taking a stroll through our chocolate fruit garden could give one of your body's most vital organs a huge health boost.
Flavanols have been shown to protect skin against sun damage, improve blood flow to the skin, increase skin hydration, prevent the appearance of wrinkles and boost elasticity.
There's a popular myth that chocolate can cause acne, but in truth this has never been conclusively proven. Some experts believe that the high sugar or hydrogenated fat content of many commercial chocolate bars might be responsible. That's not an issue you'll have with the dark chocolate in this recipe.
Quick Nutritional Info
Calories: 435
Carbs: 42g
Protein: 19.4g
Fat: 16.5g
Come over to the dark side
Before you start swapping apples for Aeros, remember that all of the recipes we've created only contain dark chocolate. Even then, you should also bear in mind that chocolate, like any food, should be enjoyed in moderation!
To get the most out of dark chocolate's health benefits and keep your sugar intake down, look for products that contain at least 70% cocoa solids. This can drop as low as 10% in milk chocolate, while the milk products they use instead can bind with antioxidants and stop your body from being able to use them properly.
We hope you have fun making and enjoying the delicious chocolate recipes. Why not show us your best efforts on Facebook, Twitter or Instagram?
Find more healthy recipes