Holidays are a time to relax, recharge and indulge. Taking a well-earned break from the pressures of everyday life is important for your health. However, if you're one of those people who finds it hard to switch off completely, we're here to help.
Eating too much, neglecting your usual exercise routine, ignoring your normal sleeping pattern and the stress of returning home to a hefty to-do list are all valid concerns.
Here, our smart network of doctors explain how to deal with them and enjoy the summer break you deserve!
1. Try and recreate your usual sleep environment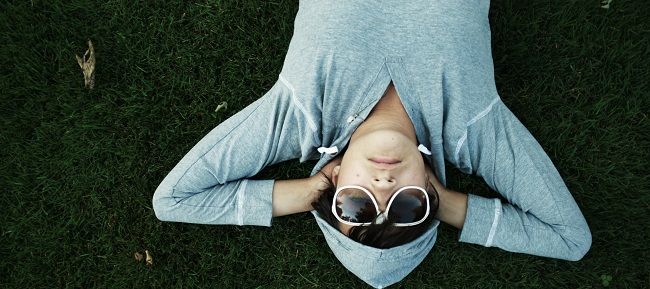 When you're on holiday, you technically don't have to get up and do anything. This can make it more difficult than usual to resist the lure of the lie-in and get yourself going. Too much or too little sleep will leave you sluggish and lacking energy, which won't help you make the most of your holiday.
If you've read our 43 tips for a better night's sleep (and if you haven't, you definitely should), you'll know how important it is to find the right environment for sleep. Away from home, this can be difficult to control. Common problems could include:
An unfamiliar bed - There's nothing quite like your own bed and many people find it difficult sleeping elsewhere. Try and sleep in your usual position if you can, and arrange the pillows so that they're as close as possible to the arrangement you have at home.
Too much light - If the curtains in your hotel are too thin to block out the light, invest in an eye mask to help you ignore it.
Too much noise - You can't control the amount of noise other holidaymakers make. What you can do is bring some ear plugs so you don't have to listen to it.
Too hot - If you're visiting a hot country, the nights can be a bit warmer than you're used to. Think ahead and book accommodation that has air conditioning to keep you cool.
2. Turn your phone off
According to the latest government statistics, there were 488,000 cases of work-related stress, depression or anxiety in the UK during the 2015/16 period.
Smartphones run the rule over us most of the time. That little rectangle can be the source of all your stresses. For the sake of your mental health, it's important to break the cycle every now and then.
Switch it off while you're on holiday, or at least set an out of office and turn off work email notifications. If your phone's resting, perhaps you will too.
3. Get some fresh air
There's nothing like fresh air to make life a little less stressful. Studies have shown that it's also good for your immune system, energy levels and sleep. We'll assume you're well aware of the long-term damage polluted air can do to your body.
We've already looked at which country has the healthiest air, so you can easily find somewhere that will be kind to your lungs.
4. Try yoga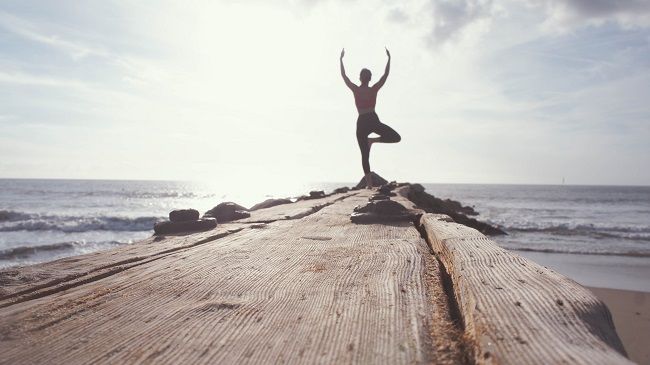 If you're not already a yoga convert, this is the year to give it a go. Whether you're trying to shake off the cobwebs of a long plane journey or calm your mind at the start of each day, your summer holiday is a great opportunity to start a new, healthy habit.
Yoga is one of the best ways to ease stress and it's good for your physical health too. The exercises can improve your flexibility and posture.
When you're rushing around at home, it can seem unlikely that you'd fit something like yoga into your schedule. Trying it out while you're away will show you that it's possible after all.
5. Make time for yourself
Chances are you're travelling with friends or a partner, but remember that time alone is very important when it comes to staying stress-free.
A moment of solitude is the best opportunity you'll have to unpack your thoughts. Whether it's a post-dinner stroll or a trip to the spa, set aside some time for yourself while you're away and see where your mind takes you.
6. Eat before the airport
Onto food and drink now, and we all know what the dining options are like in the departure lounge. There's nothing healthy here. A nutritious snack or meal before you leave will help keep temptation at bay.
Many of your fellow fliers are probably only eating out of boredom anyway. Prepare for this and bring something to keep yourself entertained until boarding.
7. Eat local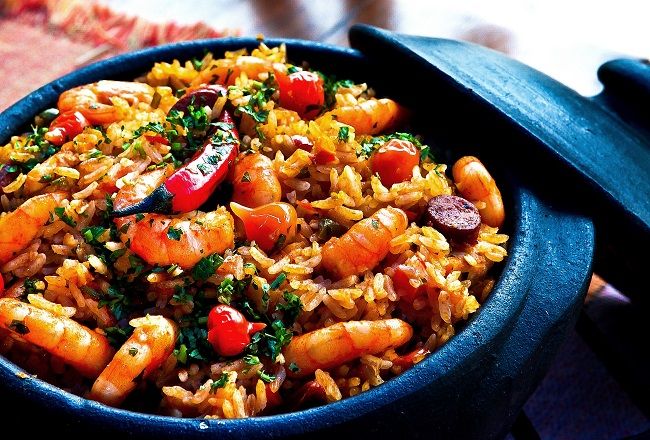 Eating delicious food is one of the biggest perks of being on holiday and there's no reason for you to miss out.
The local cuisine in certain parts of the world might even influence your travel choices. Places like Japan, Scandinavia and the Mediterranean are famous for their healthy diets. They've even been credited with helping the population live longer.
Wherever you go, there'll be lots to try. Do a little research and find out what's in season. Summer is a great time for fresh fruit and vegetables and a trip to the local market is a great way to immerse yourself in the culture of your destination.
8. Big breakfast, small dinner
If you're worried about your waistline, make breakfast your biggest meal of the day.
Obviously, that doesn't mean filling your boots at the hotel buffet. The idea here is to eat plenty of healthy, seasonal food before you go out for the day and burn off lots of calories. Then, have a light meal in the evening so you don't undo all that good work.
9. Heading out for the day? Take some healthy snacks
There are a few reasons this is a good idea. If you're exploring a new city, you may not be able to guarantee that the food options you stumble across will be healthy. If you're visiting a more rural setting, there might not be any food options at all!
Packing a few things to nibble on during the day will help keep you on the straight and narrow when it comes to your calorie intake. You can still apply the 'go local' principle to these snacks, too. A couple of pieces of fruit and a low-fat sandwich or wrap will do the job nicely.
10. Get plenty of fibre
It's easy to take your eye off the culinary ball while you're away, but one key nutrient you mustn't forget about is fibre. Digestive problems have the power to ruin a holiday, so make sure you don't fall into that trap.
You'll have a chance to get plenty of whole grains at breakfast, while many fruits and vegetables can top up your fibre intake too.
11. Stay hydrated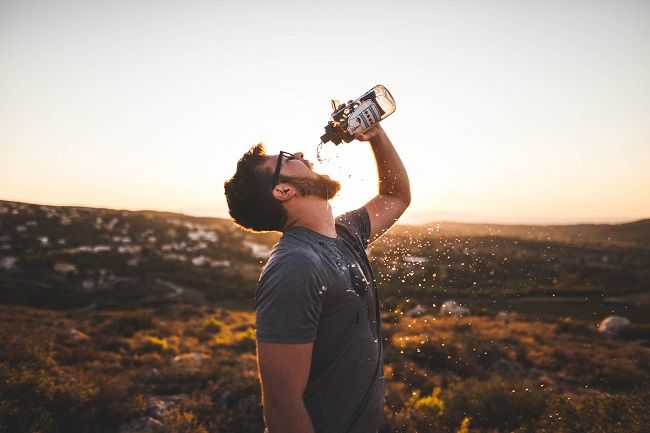 This is especially important if you're visiting a hot country and losing lots of water through sweat. Your body needs water to keep functioning properly, so it's important to follow the standard advice of getting 6-8 glasses a day.
This works out at around two litres, or three and a half pints. It should be easy to achieve this over a 24-hour period. Be careful of consuming too much alcohol or caffeine in holiday, as these are diuretics and will make you urinate more frequently than normal. This will cause you to lose water, while it's pretty inconvenient if you're not sure where the nearest toilet is.
12. Be careful with the water
As important as it is to stay hydrated, you need to make sure that the water in the country you're visiting is safe to drink. It's recommended that you don't drink the tap water in large parts of Eastern Europe, South America, Asia and Africa.
This doesn't necessarily mean the water isn't clean. In many cases, the water will simply contain substances that aren't present in UK water. Locals will have built up a tolerance and can drink the water without any drama. For you, it's not worth the risk.
In these holiday destinations, you should either boil any tap water before using it, or stick to shop-bought bottled varieties. You should also be wary of salad or fruit that might be washed in tap water.
13. Walk everywhere
Walking is arguably the easiest way you'll stay fit during your holiday and it's the best way to explore your destination. If you're finding it difficult to fit your usual workout into a packed day of fun, remember that all this walking burns off plenty of calories.
Trains, trams and buses will make everything a blur (not to mention the extra cost), so plan a route and spend each day discovering new places on foot. Alternatively, if you're dead set on getting around quickly, see if you can hire a bike and explore on two wheels!
Either way, you'll have such a good time that you won't even notice how much exercise you've had until you're safely tucked up in bed.
14. Enjoy a run on the beach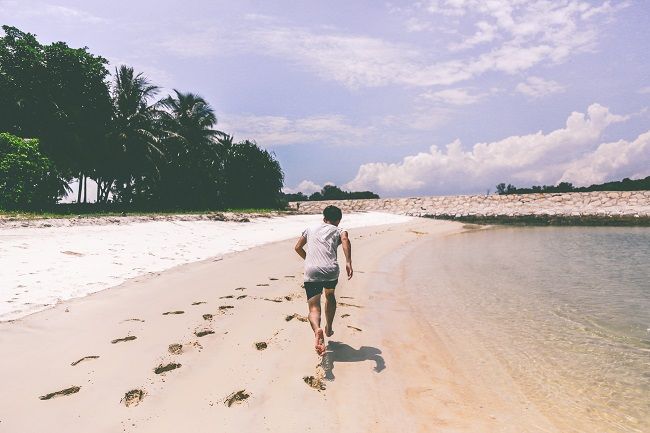 If you're a regular jogger, don't pass up the chance to burn a few calories along the coast. There are few more relaxing settings for a run than the beach.
The soft sand is a nice change from running on a concrete road or treadmill and puts less pressure on your knee and ankle joints. It also burns up to 30% more calories, as the softer surface provides more resistance and makes your muscles work harder.
However, it's important to be aware that running on sand isn't risk-free. It can be a bit unpredictable underfoot, so take care not to twist an ankle. If you're worried about that, choose the firmer, more reliable sand near the water.
15. Don't obsess over maintaining your usual health routine
By its very nature, a holiday takes you away from your regular schedule. Trying to stick to such a time-consuming part of your home routine is potentially setting yourself up for a guilt trip if it doesn't pan out.
We've already shown how the amount of walking you do will provide plenty of exercise, or how a jog along the beach can make a nice change of scene. Embrace change. Be flexible with your workout. The treadmill can wait until next week!
16. Protect your skin from too much sun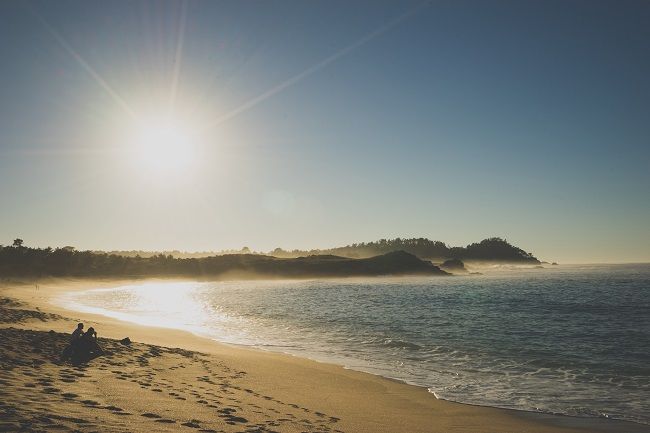 We've already covered sun safety in plenty of detail elsewhere, so we'll just quickly go over the basics here.
If you're heading outside (particularly between 11am and 3pm, when the sun is at its strongest), you should aim to cover as much of your body as possible. This is evidently more difficult for areas such as your face and neck, but a wide-brimmed hat and some good quality sunglasses will do the trick nicely.
You also need sunscreen that's actually going to protect the short- and long-term health of your skin. While SPF 15 is enough to guard against sunburn, you need at least SPF 30 to reduce the risk of serious skin damage later in life.
Look for products with 'broad spectrum' on the label. This offers protection against UVA and UVB sunlight. Both are harmful, but some sunscreens only offer protection against one.
17. Use Push Doctor to look after your health
Falling ill while abroad is a worry for many people. In fact, this same concern is what led to the idea of Push Doctor in the first place!
If you have a health issue while you're on holiday, you can book an online appointment with one of our GPs. They'll diagnose your health issue and let you know the best way to get the help you need in the country you're visiting.
You can also book a quick check up before you go away. We know you'll be busy sorting out everything from currency exchange to packing your suitcase, but with patients getting an appointment in minutes, you can make time for your health.
18. Ask people who've been there
If you want to know how you can stay healthy while you're on holiday, there's no better source of info than a trusted friend who happens to have been there.
People love talking about their holidays, so they'll be more than happy to answer your questions and provide some great recommendations for healthy places to eat and days out that'll get your heart rate going.