Staying physically active during winter can be tough. Here are 11 stunning UK locations that will encourage you to brave the chill and do some exploring.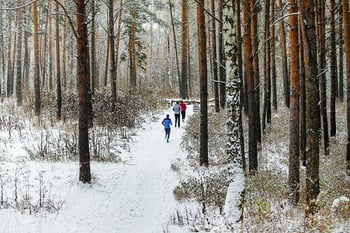 There's no doubt about it - staying physically active during winter can be tough. It's cold outside and the nights are drawing in, so it's all too easy to draw the curtains and grab an extra blanket.
However, a study from St Mary's University found that winter is actually the best time to exercise, particularly if your goal involves conquering a personal best.
In a nutshell, at the height of summer, you sweat more in order to keep your body cool. Your body then has to use energy ensuring your body stays properly hydrated. This is less of a problem in cold weather, leaving you with more in the tank to take on new challenges.
This is all well and good, but what do we do with this newfound knowledge? We get inspired of course!
Where can you find inspiration?
While there's a lot to be said for the familiar comfort of your morning run, Britain is full of beautiful, scenic places to discover and explore this winter.
From dramatic coastlines to peaceful nature trails, there's plenty to keep you occupied and it may be closer to home than you think!
---
Balmoral Estate, Aberdeenshire - Take a walk around a Royal retreat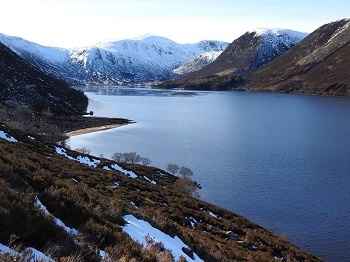 You probably know Balmoral best as the Scottish holiday home of the Royal Family, but there's much more to it than that. The surrounding estate is nestled in the spectacular Cairngorms, so there's plenty to explore.
Depending on the walk you choose, there may be a fee required to enter the castle grounds, and you should be sure to check when the Royal Family are actually staying there. For obvious reasons, Balmoral is much more accessible when the castle isn't occupied.
If you're looking for a walk to try, the Balmoral Cairns Circular is a five-and-a-half-mile wander featuring historic cairns dedicated to notable former royals.
Image: colin_dow
---
Glentress, Scottish Borders - Cycle through an enchanted winter forest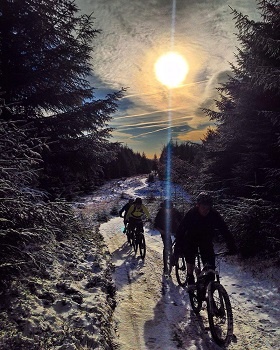 If you love nothing more than hopping on your bike and heading out for a day's exploring, Glentress Forest is the place to be.
Found in the heart of the Tweed Valley, about 25 miles south of Edinburgh, it's arguably the pick of the bunch among several award-winning forest treks found across the South of Scotland.
There are trails to suit all levels of expertise, from rugged, challenging landscapes to gentler slopes for a fun family day out.
Each route features an array of stunning views across the forest and beyond, as well as plenty of rest stops to refuel, and a dusting of snow on the treetops is sure to give everything a festive feel.
The trails are free to use, while all-day parking is just £5.
Image: steviesorefingers
---
Hadrian's Wall, Northumberland - Retrace the steps of Roman conquerors
Often mistakenly thought of as the border between England and Scotland, Hadrian's Wall is in fact a little further south, passing from the coast of Cumbria all the way across to Newcastle-upon-Tyne.
This historic Roman monument has been a World Heritage Site since 1987 and there are no shortage of forts, monuments, museums and breathtaking views to experience along the way.
The Cumbrian side of the route offers easier walks, while the more intrepid hiker will find plenty to challenge them as the wall winds east into Northumberland. Simply pick a route and off you go!
Image: margotlbw
---
Mickleden Valley, Lake District - Hike high and low for spellbinding Cumbrian views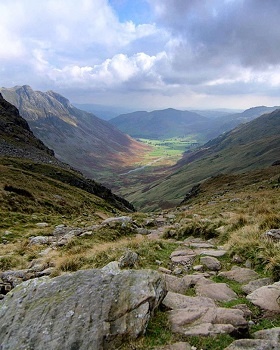 The Lake District is full of wonderful walks, so choosing just one is almost impossible.
This four-mile ramble through the unspoiled Mickleden Valley is perfect if you have an afternoon going spare.
You'll start by enjoying the sort of stunning panoramic view that anyone who has been to The Lakes before will know all about, before venturing into the valley below to gaze up at the rugged, snow-capped hills.
This walk begins and ends at the welcoming Old Dungeon Ghyll Hotel, where you can stop off at the bar or restaurant to warm yourself up.
Image: nudge31
---
Offa's Dyke, Welsh/English Border - Look out for historic Tintern Abbey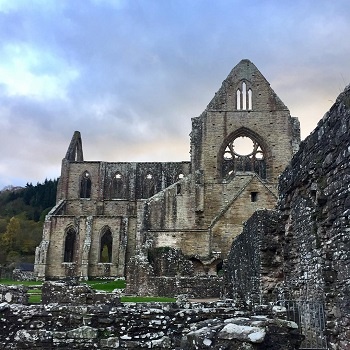 The 177-mile long Offa's Dyke is one of just 15 National Trails in England and Wales, which means that the route is well looked after and literally designed to be walked.
Spanning almost the entire length of the Welsh and English borders, it contains no fewer than three Areas of Outstanding Natural Beauty - the Wye Valley, Shropshire Hills and the Dee Valley.
There really is something for everyone here, including historic Chepstow Castle, the sprawling Brecon Beacons, the market town of Hay-on-Wye, the remains of Llanthony Priory and The Devil's Pulpit, which offers wonderful views down to Tintern Abbey (pictured).
Image: bethydg
---
Preseli Mountains, Pembrokeshire - Find the site of King Arthur's grave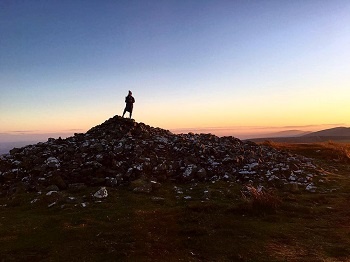 If you're after stunning views that stretch for miles in all direction, this collection of hills in West Wales is the place to be.
Head to the top of Foel Eryr and take in a full panorama that features the majesty of Snowdonia in one direction and the Irish coast in the other.
The seven-mile Golden Road is steeped in history and is even rumoured to be the place where King Arthur is buried - look out for an unusual stone formation called Beddarthur.
Stop in one of the friendly local pubs dotted along the route for a warm welcome and light refreshment.
Image: holly.j.lindsay
---
South Downs Way, Hampshire to East Sussex - From countryside to coast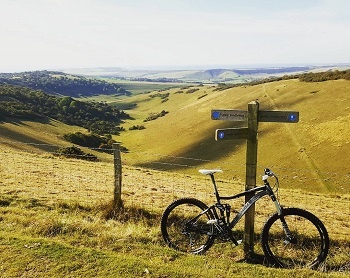 An oasis of calm in South-east England, the South Downs Way is another National Trail that runs 100 miles from Winchester to the striking chalk cliffs of Beachy Head in Eastbourne.
You'll enjoy wonderful country parks and views both inland and across the English Channel, perfect for a crisp, clear winter's day.
The route is ideal for both walkers and cyclists, with highlights including the open-air Amberley Working Museum, the popular viewpoint at Bignor Roman Villa and the curious Long Man of Wilmington.
Image: hugoporpora
---
The Jurassic Coast, Dorset - Enjoy 'A Walk Through Time' on the South Coast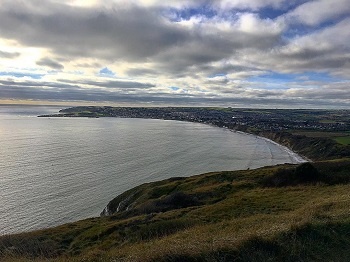 If by the sea is where you're happiest, the Jurassic Coast is where you want to be.
Described as 'A Walk Through Time', this clifftop trail features caves, nature reserves, beaches and coves to explore at your leisure, either on foot or on your bike. Of course, you'll also get some pretty impressive views out across the sea towards France.
If you're into natural history, the route gets its name from the number of fossilised dinosaur found along this coastline, many of which are documented in various museums and outdoor sites along the walk.
Image: ahmed_elzayady
---
Camel Trail, Cornwall - Discover the home of the Cornish Rebellion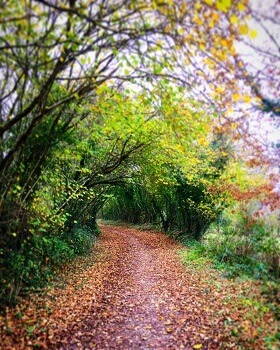 This beautiful 18-mile trail gives you a real flavour of North Cornwall. It follows the route of a former railway line that served locals until 1967.
At one end is the quaint hamlet of Wenfordbridge, while the trail finishes in the riverside town of Padstow, just a stone's throw from Cornwall's famously stunning beaches. In between, you'll take in historic Bodmin and pass through Wadebridge, where many choose to stop for lunch in one of the town's lovely cafes.
These four stops mean the trail is broken up into manageable sections, making it ideal for walkers and cyclists alike - there are plenty of places to hire bikes when you get there, too.
Image: danica1974
---
Lizard Peninsula, Cornwall - Stand on the southern tip of the UK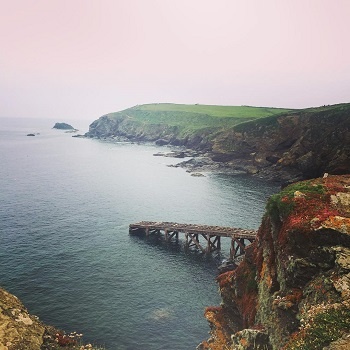 We're not finished with Cornwall just yet! Move over to the South side and you'll find the Lizard Peninsula, where you can experience the unique Cornish culture first-hand.
You'll walk through quaint fishing villages and feel the freshness of the sea air. Head right out to Lizard Point, the southern tip of the UK. The Lizard Lighthouse is the place to go to find out all about the area's history.
In the evening, you can treat yourself to some of the finest freshly caught seafood our shores have to offer. You'll have earned it!
Image: sporty_fritz
---
Causeway Coastal Route, Northern Ireland - Visit the unique Giant's Causeway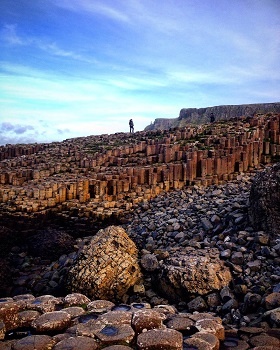 Stretching all the way from Belfast to Londonderry, this breathtaking UNESCO World Heritage trail takes you right around the coast of Northern Ireland.
While the main route is designed to be driven, there are plenty of places to get out and stretch your legs for an afternoon.
The biggest attraction is undoubtedly the iconic Giant's Causeway, while other popular stops include Carrickfergus Castle, the Glens of Antrim and the Old Bushmill's Distillery.
The beauty of this route is that you can easily make a weekend of it, picking and choosing which sections to visit. Wherever you end up, you won't be disappointed.
Image: simmari
---
Where's your winter wonderland?
Have we missed your favourite off our list? Let us know and share your snaps with us on Instagram or Facebook. We'll even give a shout out to the best ones!