Activate your corporate account
Your employer has partnered with us to give you digital access to:
On demand video appointments
Same-day private prescriptions
Instant fit (sick) notes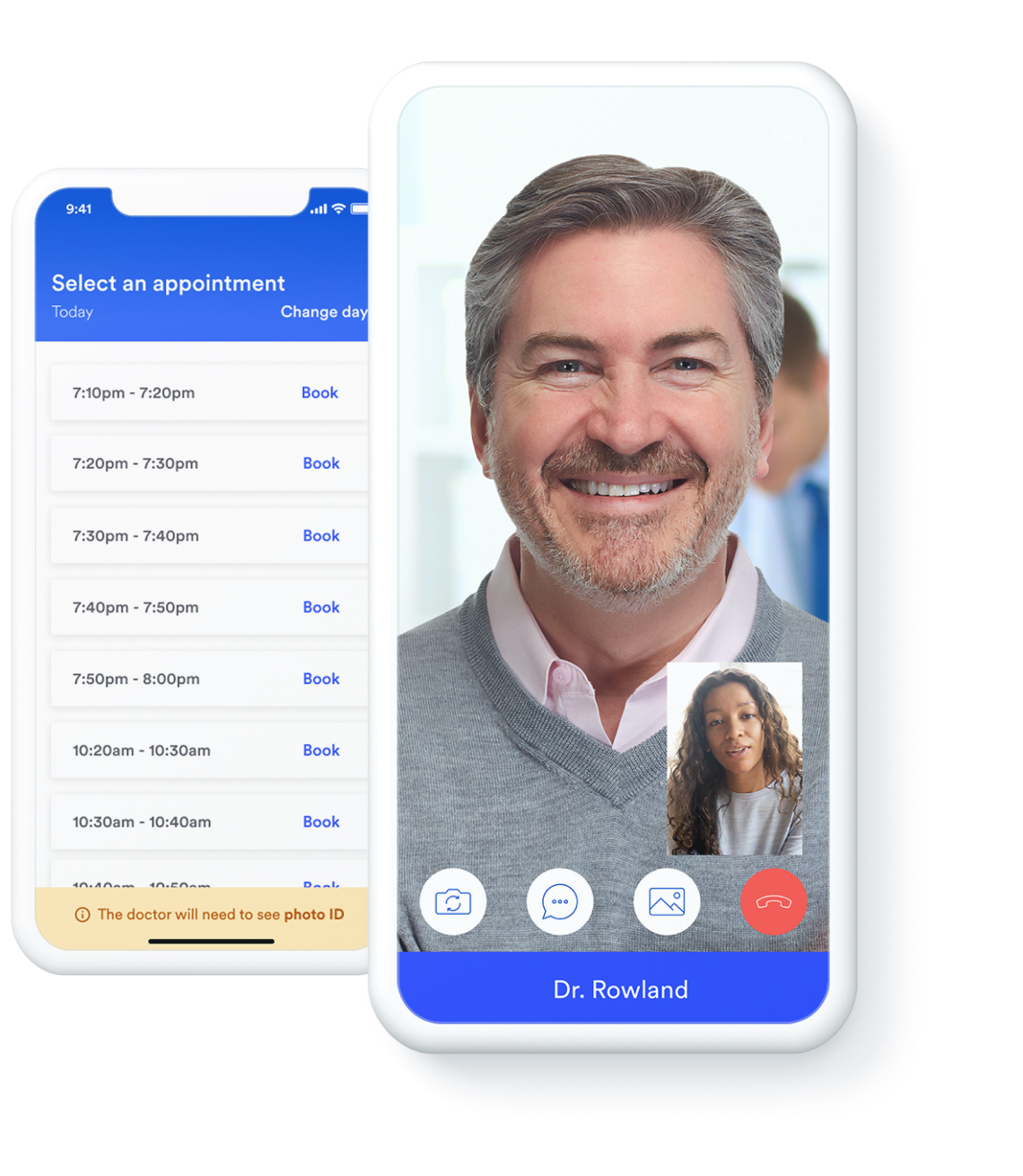 How it works
1
Create an account
We only need a few details to set up your account for digital services.
2
Book an appointment
We give you 24/7 access to book at a time that suits you best.
3
Connect to video
You can book in with a GP, Physio or Pharmacist wherever you are.
What's included in your account
No appointment cost
Member's appointments are free, no matter how long you speak to the doctor for.
favorite Most popular
As long as you need with a GP
You won't be charged for appointment extensions, so you can speak to your clinician for as long as you need
Same-day prescriptions
We'll send your prescription to your nominated pharmacy so it can be collected the same day.
Instant fit (sick) notes
If required, you will be provided with a fit (sick) note, which will be emailed directly to you.
Referral letters
Our clinicians can issue referral letters if onward secondary care is required.
Records in sync
Sharing your medical records ensures notes made in your consultation are available to your surgery
local_fire_department new
Accurate care
Tell us your symptoms so we can signpost you to the best care possible with a GP, Physio or Pharmacist.
local_fire_department new
In-person appointment credit
If our online GP refers you to an in-person GP, your next online appointment will be free.
What happens in a video consultation
PHOTOS
Use the camera on your phone, tablet or laptop to photograph visible symptoms, either before or during the consultation.
Video
See a clinian face-to-face through video, all without having to come into the surgery.
RAPPORT
Being able to listen and understand you helps to manage your symptoms in the best way possible.
MOVE
The clinician may ask you to feel or move the body part you are concerned about to help confirm their diagnosis.
Can we treat you?
We can treat many of the same conditions that traditional surgeries can, but if you want to be completely sure, take a look through our top treated conditions.
We're here to help!
What happens in the online video consultation?
Just like in a physical consultation, the clinician will discuss your symptoms and may ask you to move or feel certain areas of your body. As it's a video consultation, they can also take a look at any affected areas, or listen out for symptoms. Where medication is needed for you to get better, the GP or Pharmacist can issue a prescription.
How do I book my appointment?
Once you have created a Push Doctor account you can book a video appointment in our app or on the website. We will send you a reminder SMS 20 minutes and 5 minutes before your appointment start time. To start your apppointment you will need to enter the app if you are on a mobile device, or go to the Push Doctor website and login; you can do this by clicking the link in the reminder SMS.

Once you enter the app you will be asked to upload a photo of your ID and enter our online waiting room. When it is your turn to be seen, the clinician will connect with you and start the video consultation.

If you need any help getting set up, or you want a walk-through of our service, you can book a session with one of our digital ambassadors here.
How do I get a prescription?
If your clinician advises that you need medication for your condition, they will generate a private prescription and send this to your nominated pharmacy for you to collect. This will usually be ready in as little as an hour.

Please note, as these prescriptions are not NHS prescriptions, the price paid at the pharmacy may vary.
What if I already have an existing Push Doctor account?
If you already have an account with Push Doctor, you can still register for your corporate account. Simply follow the instructions in the email you recieve to create a coporate account, and this will then be set as your default account when using our service. If you wish to switch back to your other NHS or Private account, you'll need to get in touch with a member of our patient experience team on 0330 808 4702.
Do I need to de-register from my GP to use Push Doctor?
Absolutely not. Your corporate account works entirely separately from your GP practice. It is a service that is being subsidised for you by your employer to provide you with seven-day access to the care you need, when you need it. By using the Push Doctor service you won't be de-registering from your GP and will still have access to a physical appointment should you need one.
Who are the doctors?
All of our UK GPs are trained in the NHS and registered with the General Medical Council (GMC), the organisation responsible for overseeing medical practitioners in the UK.

They're experienced in treating a wide range of conditions, and can help with almost everything your regular GP could see in a physical surgery.
What if I need to see a doctor in person?
Push Doctor clinicians can treat almost everything over a video consultation, but if you'd like to be sure then take a look at what we treat.

In some cases, it may be more suitable to see a clinician face-to-face. In this case, you will need to contact your usual GP practice as normal and arrange an appointment with them.

If you use our service and the Push Doctor clinician thinks you require further examination in-person, they will always refer you back to a face-to-face appointment and will never proceed with prescribing or referrals if there is not enough evidence to do so.
Can my friends and family use my corporate account?
When you sign up for a corporate account, you will also recieve one extra invite to send to a family member or friend. They can follow the instructions on their invite and create an account, giving them access to video appointments, courtesy of your company.
Is there a minimum or maximum age of the service?
To be a Push Doctor account holder, patients must be 18 years old and over. There is no age maximum to use our service!

If you wish to consult on Push Doctor with a child, they must be between the ages of 2-17. They will also need to be registered at the same GP surgery as the account holder, have a valid NHS number and you must be able to supply valid ID for yourself and the child to consult. For more information on child consultations, head to our child consultations page.